Whether you're raising a round of financing or developing an annual plan, you'll define organizational requirements and make headcount assumptions as part of the budgeting process. Perhaps your demand generation programs call for beefing up content creation, so you're keen to add writers to the team. Or perhaps this is the year to establish a Lead (Sales) Development function to drive greater sales productivity. If you will be launching new products or entering new markets next year, adding product marketing resources may be necessary. Whatever your marketing strategy, fundraising and annual planning are great forcing functions to step back and examine how best to structure, organize, optimize and manage your marketing team for scale.
For growth-stage, B2B technology companies with the prospect of growing 30+% annually, there is a simple approach to marketing org design that puts the customer in the center and will scale as you move along the journey to market leadership and marketing maturity.
For eary-stage startups, it is common to begin with a marketing generalist or two, and all too common that these folks are tactically and qualitatively driven, i.e., not held accountable for revenue contribution. Alternatively, a senior marketing leader is hired - someone who is experienced and willing to roll up their sleeves for a while before truly building out the team. One way or the other, once your company hits $6M+ run rate, cross-discipline marketing coverage is needed, and the best way to ensure this coverage, and ultimately, scale, is to align your core marketing functions with goals throughout buyer and customer journeys, i.e., the outcomes to affect as a prospect moves through marketing and sales funnels, and a customer adopts and evolves usage of your solution.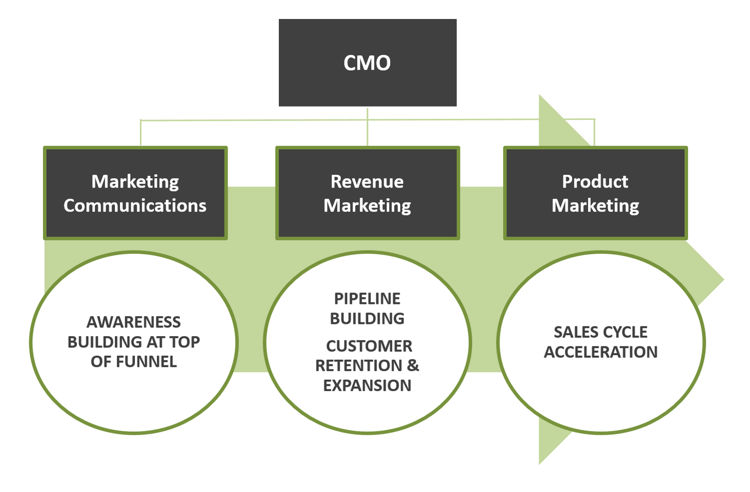 As illustrated in the above image, a growth-stage company's Marketing team needs three core functions.
1. Marketing Communications
This label makes me feel a little old, and while the definition has evolved from 15+ years ago, it still fits. The person, and eventually team, hired for this role focuses on educating and generating awareness with your target market. Marcom levers are PR, events, and that which drives traffic to your site (SEO, social, blog, great content). These folks are primarily measured on top-of-the-funnel activity, and press and analyst coverage. The most important metrics are the number of Inquiries (unqualified leads) and Marketing Qualified Leads (MQLs), and the Inquiry>MQL conversion rate, which is a strong indicator of whether or not your message is reaching your target audience.
Marcom also owns the brand, website, creative standards for voice and look-&-feel, and as such, creative resourcing and budget is managed here.

As the company grows and this function matures, it's feasible that the Content part of this role spins out to be it's own function.
2. Revenue Marketing
Revenue marketing is best segmented to focus on buyers and customers. The demand generation function is revenue marketing focused on buyers, turning MQLs into Sales Qualified Leads (SQLs). Activities include lead nurturing, lead scoring and lead development. Customer Marketing is revenue marketing focused on driving adoption/usage, retention, upsell/cross-sell and advocacy.
Great content is at the heart of revenue marketing, as is the Lead Development role. For demand generation, alignment with Sales goals is critical as the generation of an SQL marks the hand-off from Marketing to Sales and the kick-off of a sales cycle.. For customer marketing, alignment with Customer Success goals is needed.
(Sidebar: In this era of inbound marketing and content marketing, content is clearly a common thread in terms of the output from each of these functions. That said, when you're a startup or growth-stage business, content creation should not be left to just one or two people in Marketing. Getting more of your employees involved (even if only blogging) will promote a culture of knowledge-sharing and storytelling, and your Marketing efforts will be better -- amplified and more scalable -- for it.)
While marketing automation, i.e., Hubspot, Marketo, Pardot, supports the entire buyer journey and users span functions, ownership over the system of record, process and marketing funnel data lies here with Revenue Marketing. In the formative years of "Sales & Marketing Operations," it's also logical for CRM, i.e., Salesforce ownership, to sit here, as well.
3. Product Marketing
Product Marketing is a multi-faceted, strategic role that works cross-functionally to ensure consistency in and effectiveness of the go-to-market approach, with the ultimate focus on helping Sales accelerate sales cycles and close deals. Not only Sales, but the entire company, relies upon this function as a subject matter expert for: who is sold (segmentation, new markets), what is sold (packaging, pricing) and how (buying process, value proposition, objection-handling, setting competitive traps, selling tools). In alignment with Product Management/R&D, Product Marketing ensures what is built is competitive and represents market and customer needs. In alignment with Sales, the function is measured by the productivity and effectiveness of the Sales team.
So, there you have it: the growth-stage company's Marketing organization made simple and scalable. I also encourage you to reference The CMO's Guide to Marketing Org Structure published by Hubspot's CMO, Mike Volpe, which offers examples of modern marketing organizational structures across a handful of industry leaders and the rationale behind each. It's a useful resource as you think about evolving your organization over time. But, while on the journey to $50M, the above structure aligned with key stages of the buying process and the desired outcomes along the way should do the trick.