For growth-stage, B2B technology marketing organizations, delivering qualified pipeline and ensuring maximum sales productivity are critical to achieving business goals and fostering effective sales and marketing partnerships. And if yours is a business with the following go-to-market complexities, there's a secret weapon for your lead generation efforts:
1. Big ticket items (e.g., $100k+ ACV)
2. Recurring customer relationships (SaaS subscription model)
3. Long sales cycles (6+ months)
It's the role of Lead Development Representative (LDR).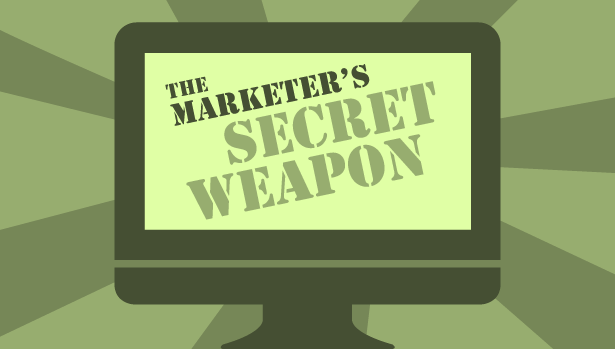 Instituting a Lead Development function within your Marketing organization (sometimes also referred to as Sales Development) speeds up the buying process and ultimately, reduces the cost of sale, as the LDR connects sales folks to prospects only when he/she is ready to start a sales process.
Responsibilities & Activities
LDRs perform outbound prospecting and nurturing activities, as well as serve as the main point of contact to build relationships with incoming calls and web inquiries. The seven key expectations of LDRs are as follows:
1. Deliver qualified opportunities (Sales Qualified Leads aka SQLs), enabling salespeople to focus on selling and closing deals at higher rate.
2. Leverage every possible lead generation source to meet SQL goals.
3. Serve as a critical "closed loop" function within the Marketing organization, leveraging inbound marketing activity, events, contact discovery, lead scoring, and other prospecting tools.
4. Support the testing and execution of programs that generate demand and start sales cycles for your company's products/solutions.
5. Invest time and effort in industry knowledge acquisition, advocating new ideas and offering insights into trends and new developments in the enhancement of prospecting campaigns.
6. Monitor, adhere to, and help evolve processes that ensure streamlined operations from demand generation activity to Sales hand-off.
7. Maintain meticulous record of contacts, communications and results in Salesforce.com (or other CRM system).
The below chart breaks down example LDR activities, time allocation and core skills needed to perform each activity. Certainly, activities and time allocations may vary by company. For example, as PR, content and other inbound marketing initiatives mature, certainly inbound qualification activity may exceed outbound efforts. (Note reference to Connect & Sell; while not a required LDR activity/investment, it's a lever for prospecting productivity gains, e.g., 5-6 connects per hour, 40-50% of connects become MQLs, 15-30% of connects become SQLs.)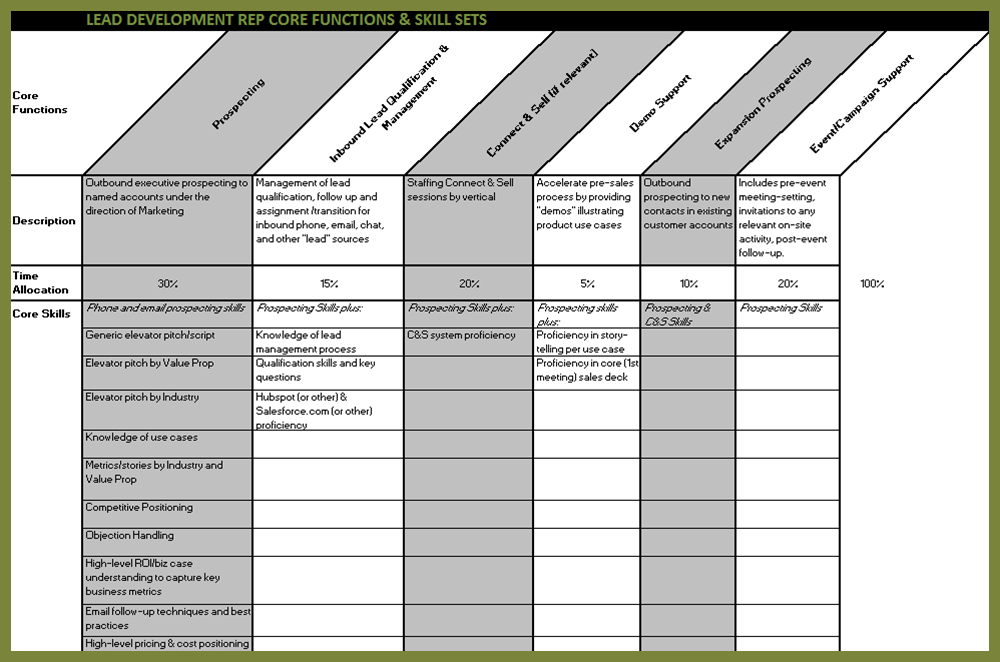 Measurement & Compensation
LDRs are measured by the number of SQLs delivered. Therefore, shared definitions and a clear lead management process are important to ensuring success for the role. Historically, I have defined Sales Qualified Leads as follows:
Fits with target customer profile (i.e., personas) in job responsibility, job level, named account and target vertical (i.e., a Marketing Qualified Lead)

Exhibits sufficient interest in the product/solution

Meeting is scheduled and held with the sales rep and results in a Stage 1 (minimum) pipeline opportunity in Salesforce.com or other CRM. There must also be a clear next step following this initial meeting.
LDR compensation typically includes an annual base salary ($35k-$60k, depending on experience) and a variable commission structure based on the number of SQLs generated. Considerations for setting commission per SQL should be based on your overall Customer Acquisition Cost (Marketing as a % of CAC), target cost per SQL and average or minimum deal size (Annual Recurring Revenue). At two of my prior companies, the minimum deal size was ~$150k and target cost per SQL was <$2k. LDRs were measured and paid as follows:
Annual SQL target: 200

Commission per SQL: $150

Monthly target commissions: $2500

Target annual variable commission: $30,000
What to Look for in an LDR Candidate
The LDR role is a great opportunity for someone with a career ambition for Sales. Excelling in this role can lead to an Account Executive position - whether inside or field-based. I have also seen LDRs develop to become LDR managers, as well as take a programmatic marketing path. In fact, Edison's very own Marketing Director, Elizabeth Warner, was a LivePerson LDR in a past life, and has held lead generation and field marketing roles since.
Regardless of an individual's career path, following are key requirements when evaluating LDR candidates.
Minimum 2 years of over-achievment in a marketing and/or selling environment

Demonstrated ability to use independent judgment and creativity in getting prospects' attention and breaking down barriers to execution

An effective all-around communicator who is high energy, results-oriented and independent, while able and willing to enlist the support of others

A strong digital citizen

A competitive spirit (bonus if former college athlete)

Someone who doesn't require a "script," rather thrives in an environment where he/she is helping to create or influence the script (especially important for startup and growth stage companies)
The Lead Development function is the Lead Generation secret weapon, enabling your Sales team to spend more time selling and closing deals. And now is the time to put it in place so to build stronger pipelines that impact 2015 revenue growth.