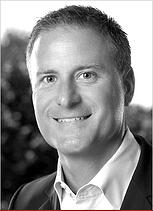 LAWRENCEVILLE, NJ, November 12, 2013 – Edison Ventures proudly announces that Chris Sugden, Edison Ventures Managing Partner, has been selected by a distinguished panel of judges to be the recipient of the John H. Martinson Technology Supporter Award. This award recognizes individuals who have had significant impact on New Jersey's technology industry. The award will be presented on November 21, 2013 at the NJTC Awards Celebration in Princeton, NJ.
The 2013 New Jersey Technology Council Awards Celebration honors New Jersey's top technology companies and their leaders for their business accomplishments in technological collaboration, partnership and innovation. Each year the NJTC selects an elite group of companies and individuals to receive these coveted awards.
"We are thrilled to have Chris Sugden accept this award," noted Maxine Ballen, NJTC President. "He has been instrumental in leading Edison's investments in some New Jersey's fastest growing companies. I would like to thank him for partnering with the NJTC to create our annual Financial Technology conference, a premier event in the region."
"This award is truly an honor as it reflects our team and our firm's success over the last several years", remarked Sugden. "I have had the privilege to lead Edison Ventures, which was founded by this award's namesake, John Martinson, for the last 4 years. John left large shoes for me to fill and made a lasting impact on New Jersey's venture capital community. I and our entire team look forward to building Edison to even greater heights in the coming years."
About the New Jersey Technology Council
The New Jersey Technology Council (NJTC) provides business support, networking opportunities, information, advocacy, and recognition of technology companies and their leaders. Founded in 1996, NJTC's member companies work together to support their own enterprises while advancing New Jersey's status as a leading technology center in the United States.
The NJTC offers its member companies access to networking, financing resources, expertise and more. A private, not-for-profit membership organization, the NJTC fosters and grows a vibrant entrepreneurial spirit and nurtures a community where great ideas take flight.
For more information visit: www.njtc.org