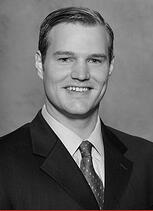 LAWRENCEVILLE, NJ, February 18, 2014 – The General Partners of Edison Ventures are pleased to announce that James Hill has joined Edison Ventures as an Associate in our Lawrenceville, NJ headquarters. He will be generating investment opportunities in Healthcare IT and other industries.

James joins Edison on a permanent basis following his time with the firm as a Business Development Summer Intern at Edison in 2013.
He will earn joint MBA and JD degrees from Michigan State University in May 2014 and will begin working with Edison during his final semester. James earned his BS in 2009 from the University of Wisconsin. James's relevant prior experience includes multiple family start-up companies, IBM's Watson Solutions group, and lead MBA fellow at MSU Center for Venture Capital, Private Equity & Entrepreneurial Finance.
"James showed strong judgment in qualifying companies for investment consideration," commentedMichael Balmuth, Edison General Partner. "We look forward to benefiting from James' energy, intellect and rapport with entrepreneurs in expanding Edison's Healthcare IT portfolio."

"James exceeded our expectations as a Summer Intern. His enthusiasm when speaking with entrepreneurs was not only genuine, but contagious," stated Chris Sugden, Edison Ventures Managing Partner. "James desire to learn and win every day sets the bar very high for future candidates."

James joins a long list of successful Associates who were promoted from within Edison. Michael Kopelman, General Partner, started as a Summer Intern and Ryan Ziegler, Partner, joined Edison as a Business Development Associate. Mike Cichowski and David Nevas, Principals, also began their Edison careers as Business Development Associates. Edison's Business Development program cultivates relationships with entrepreneurs and operating executives, as well as deal referral sources such as attorneys, accountants, bankers, investors and other service providers. The Business Development experience broadens our Associates knowledge and provides the firm with a more rounded experienced investment professional.