Key Performance Indicators. The term that strikes hope and fear into everyone from the CEO to the customer service representative. The Board of Directors always wants to see them, the CEO needs them, the CFO must tie them together, and the rest of the organization swings from joy to madness when using them.
At Edison's Eighth Annual CEO Summit, we started our program with a session on "Implementing a KPIs Organization." This was one of the highest requested topics from over 50 CEOs. Why do you think that is? Because KPIs are not about just measuring results - they are about getting all employees aligned and measured on what excellence looks like daily, weekly and quarterly, and sometimes even hourly. They are a management tool and a measuring stick. KPIs can feel like a MBO weapon or a BOD ruler, but they are really wonderful tools for span of control efficiency, teamwork, and speed.
Jim Szafranski, Chief Operating Officer and a member of the Board at Prezi, led our session demonstrating how his company uses KPIs with full orchestration across strategy, go-to-market, and financial perspectives. He provided models and metrics that focused on User Acquisition, User Activation, and even Growth Hacking KPIs for future road map proofing and monetization schemes. An example: Jim and Prezi created a Product Jobs KPI focused on user success in specific product workflows (200+ jobs with success or failure assigned), which was then connected to a Growth Hacking KPI focused on optimizing packaging, pricing, and payments measured in Lifetime Value of a Visitor. We all look at lifetime value of a customer – the famous CLTV metric. But Jim fused together a few KPIs to make a LTV/Visitor KPI. This preemptively wires the potential of a visitor's future usage and payments for all the field and factory to know and contribute. The big payoff was R&D, Product, Marketing and Inside Sales tied into a top of the funnel driver of revenue with just these two KPIs. The KPI tree is growing fruit!
Our session handout for our CEO community was a "KPI taxonomy" and organizational workflow process map. This is a blueprint for integrating your annual financial plan with sales, marketing, customer success and operational scaling. It included owner, primary audience, how to review, frequency of use, and how often to update.
We try to give our CEOs an Edge!
Second, I want to cover an often-repeated question at the Summit and in our daily work conversations. CEOs and teams know there is a difference between OKRs and KPIs. The confusion is,
"Which is more important?"
"What one should I do, or do both?"
"When am I big enough to take all this on?"
As we know in John Doerr's book "Measure What Matters," he is a big advocate for driving company performance with OKR methodologies. It is hard to argue the success of Google, Intuit, Adobe or the Gates Foundation who were all disciples of John and OKRs. Certainly, Kleiner Perkins and its neighbors, Accel, Andreessen Horowitz and Sequoia have great track records and their companies have used OKRs. We think OKRs are highly effective, too.
But size matters when choosing to do KPI, OKR, or both. First, you should not do OKRs before implementing, testing, and normalizing your organization with KPIs. KPIs are the most effective instrumentation model for a company from $1M to $25M in revenue. KPIs are more personal and faster to take up. The CFO of a $10M company can drive much of this KPI implementation him/herself along with the S&M and Product Management leadership. The argument for OKRs is that KPIs are soulless, and that OKRs are more passionate in nature because they state a big, broad goal, and simplify it into a couple metrics. That's great. And if you can do that, go for it. It is my observation that a $10M company growing 50% per year and hiring dozens of people every three to six months is already effectively inspired by the mission and CEO. A company that is sub $20M is in need of a more linear, narrow monthly measurement process. The people and the operation are still maturing into next phase "scale state" and usually secondary leadership management positions are still not filled plus the go-to-market model is still fluid. My little rule of thumb is: "The more unpredictable a daily workday is for people equals the more specific KPI map for the organization." Innovation should never be stifled and ideas should always flow. KPIs are your friend for actually speeding up the maturity and insights of your company.
Jim and I put the below chart together during the Summit based on questions and conversations. It captures the point about KPIs in an organization based on each phase of the company.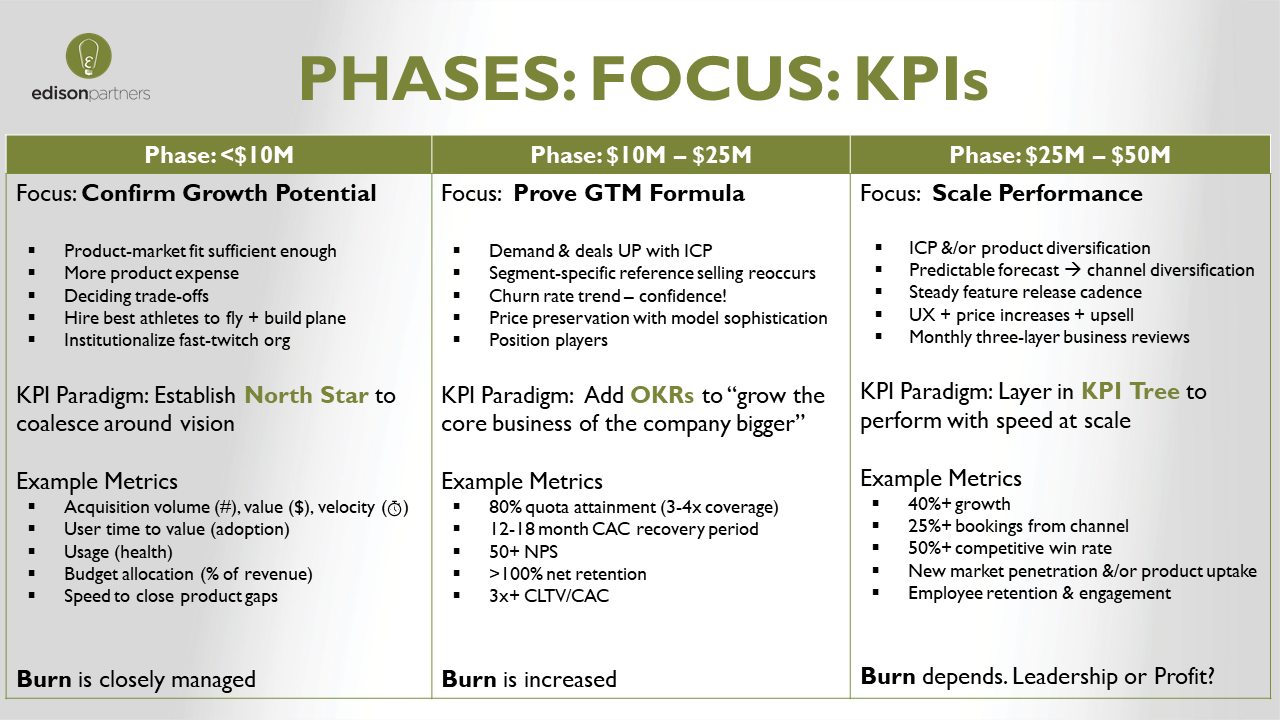 Finally, there is some art to KPI implementation. The art is in the Goldilocks game: not too much and not too little. As stated in the beginning, KPIs can be a morale drag if there are too many and they're tied in a binary manner to an employee performance review. This goes for BOD members too. Of course, everyone must be accountable and these measures allow a clinical read-out about your impact to the company. But the true beauty and nature of the KPI is when it nurtures collaboration to specific positive outcomes for every employee each and every day.