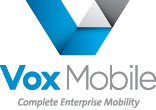 LAWRENCEVILLE, NJ, May 16, 2012 – Edison Ventures announces a $7.5 million investment in Cleveland, OHbased Vox Mobile. Edison led the financing, with limited partner Permal Capital participating. The proceeds will be used to accelerate sales/marketing expansion, increase product development, support channel partners, and increase international presence. Vox is a leading provider of managed mobility services, focused on mid-size and small enterprise customers. The company's unique end-to-end mobility solution combines software and services, encompassing the full mobility lifecycle from deployment, activation, management, and security, to applications, end-user support and reporting.
Sever Totia, Edison Principal led the investment noted, "We are excited to partner with Vox. The management team are thought leaders in this large and rapidly growing managed mobility services market" Chris Sklarin, Edison Investment Manager, added, "Vox's innovative offerings are achieving impressive market acceptance and growth." Rob Finn, Edison Vice President who led Edison's diligence said, "Customers raved about the quality, breadth, and end-to-end coverage of Vox's managed mobility service." Sever Totia joined the Board of Directors, along with Nick Manolis, Edison Director Network member.
"The financing comes at an inflection point in Vox's growth and we are excited to enter this partnership. Edison's knowledge of our space plus operating experience, particularly in sales, marketing and channel development are critical to accelerate Vox's growth," stated Kris Snyder, President and CEO of Vox Mobile. "With the adoption of mobility as a platform at an exponential rate, increased mobile complexity, employees bringing their own devices (BYOD) and security concerns, Vox addresses essential customer needs in the market that are woefully underserved."
Edison Ventures is actively investing from its seventh fund. Vox is part of Edison's Enterprise 2.0 portfolio. The Enterprise 2.0 industry segment includes investments in cloud, SaaS applications, infrastructure software, mobile and security software. Edison portfolio companies in this industry segment include: CallCopy, Tangoe, NSI, SanPulse, M5, Motionsoft, Archive, Neat and LearningGuide. Successful exits include: M5, Axent, Visual Networks, Vocus, Best Software, VirtualEdge, Presidium and POMS.
About Vox Mobile
Since 2004, enterprises in North America and around the globe have come to rely every day on Vox Mobile solutions to ensure their mobile connected workforces are productive, their mobile data is secure and their business models are benefiting from business anywhere capabilities. Vox Mobile has been a leader in defining mobile management services segment. As founding members of the Global Enterprise Mobiles Alliance (GEMA): a collection of top mobile services companies on each continent, Vox Mobile is able to provide companies with both local account management and global, multi-lingual services. For more information visit www.voxmobile.com.