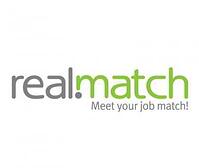 LAWRENCEVILLE, NJ, July 22, 2013 – Edison Ventures announced a $6M investment in a $7M total growth equity financing round in RealMatch, a leading provider of online recruitment advertising. Existing investor Carmel Ventures joined Edison in the round. The New York and Tel-Aviv based company will use the capital to accelerate sales and marketing, expand the product offering, and enter new markets.
RealMatch is changing the landscape of online recruitment by allowing online publishers to better monetize their communities using recruitment advertising. RealMatch applies many of the same principles that made display and search advertising thrive.
The Company has developed the largest recruitment ad network in the U.S. comprised of more than 1,000 job sites that RealMatch powers on behalf of its publisher affiliates. RealMatch utilizes proprietary ad optimization, targeting, and job matching technologies to significantly increase ad performance and qualified applicant response rates compared to traditional destination job sites. The network effect enables publishers to attract more advertisers and job seekers concurrently, which translates into more revenue and audience engagement.
David Nevas, Edison Principal who led the investment noted "The dramatic performance increase publishers experience with the RealMatch platform is compelling. By reducing inefficiencies in the recruitment advertising market, RealMatch has been able to drive a true win-win-win solution by improving the job search process for candidates, increasing monetization for publishers, and offering more targeted and effective solutions for advertisers". "RealMatch's extensive technology stack, including matching algorithms, ad optimization, and campaign management, is truly unique in the industry." commented Tom Vander Schaaff, Partner who led diligence. "We are excited to partner with such a talented team that leverages the strengths of both the New York and Tel-Aviv ecosystems," remarked Ryan Ziegler, Partner. Nevas joined the RealMatch board along with Diane Smith from Edison's Director Network.
"RealMatch is excited to have Edison Ventures as its new partner. We selected the Edison team because of their track record as a successful firm that brings great value in the form of support and domain expertise. Edison's investment will accelerate RealMatch's growth and further solidify it as a market leader." stated Gal Almog, CEO.
RealMatch is Edison's 19th investment in New York. It is part of Edison's growing Interactive Marketing and eCommerce industry practice, which includes investments in advertising and marketing technology, data services, digital media, consumer, eCommerce, mobile and the social media economy. Notable investments include ACT!, Arkadium, Dendrite, Fishbowl, Gain Capital, Liberty Tax, Lifebooker, Magnetic, MediaBrix, MotionSoft, Neat, NetProspex, Operative, PlumChoice, Snap One and Vocus.
About RealMatch
RealMatch is revolutionizing the online recruitment industry by building the largest and most effective recruitment advertising network designed to connect employers and job seekers much more efficiently, while helping digital publishers increase revenue and site traffic with online recruitment. RealMatch's white-label solution for digital publishers includes a highly-advanced job site platform, proprietary job matching technology, and performancebased distribution campaigns across its network of thousands of job sites that reaches over 100 million job seekers monthly. RealMatch's solution ensures digital publishers and media companies outperform their competitors on all fronts and earn more with recruitment advertising. Find out more at http://www.realmatch.com.