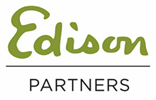 Bolsters Business Development and Edison Edge Teams
PRINCETON, NJ, July 5, 2016 – Edison Partners today announced the addition of three new associates to bolster its business development and Edison Edge teams. Jennifer Lee and Doba Parushev are primarily responsible for sourcing investment opportunities in the Enterprise 2.0 and Marketing Technology practices, respectively. Jonathan Reynolds joins the Edison Edge, Edison Partners' value-added services platform, team to assists portfolio companies with financial planning, budgeting and analysis.
"We are thrilled to have Doba and Jennifer aboard, both bringing strong operating and investment experience to the firm," said Chris Sugden, Managing Partner. "Jon brings a financial and accounting background which will add to the operating advice and support we provide our portfolio through the Edison Edge. Edison has had great success hiring and advancing associates to senior level investment professionals. We have tremendous confidence that Jennifer, Doba and Jon will continue this trend."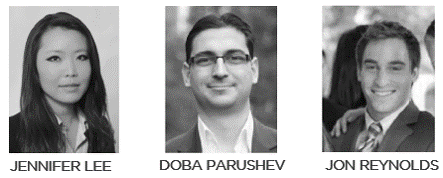 Lee most recently worked in sales at ForgeRock, a global leader in identity and access management. Prior to joining Edison, she received her MBA in Finance from Columbia University. "As a fellow alum, I was excited to recommend Jennifer to the firm," said Lenard Marcus, Partner. "Her experience in the enterprise software space is a tremendous asset to our Enterprise 2.0 industry team."
After graduating from Princeton, Parushev began his career with Endeavor in Chile, where he assisted in the search, selection and support of promising entrepreneurs. Before Edison, he served as a senior business analyst at McKinsey and earned an MBA from Harvard Business School. "Doba's combination of entrepreneurial and global experience in growing ecosystems for young companies make him a fantastic addition to the Marketing Technology team," said Ryan Ziegler, General Partner.
Reynolds joins Edison from EisnerAmper, a leading accounting, audit and tax firm. "Jonathan knows our business and the business of our investments; he is well positioned to advise portfolio companies on how to improve and scale their finance organizations," said Tom VanderSchaaff, Partner.
Edison Partners currently has 43 active portfolio companies and is actively investing from its eighth fund.
About Edison Partners
For 30 years, Edison Partners has been helping CEOs and their executive teams navigate the entrepreneurial journey and build successful companies. Through the unique combination of growth capital and the Edison Edge platform, consisting of strategic advisory, the Edison Director Network, and executive education, Edison employs a holistic approach to nurturing invention and creating value for growth-stage businesses ($5 to $20 million in revenue) in financial technology, healthcare IT, enterprise IT, and marketing software industries. Edison investment objectives also include: buyouts, recapitalizations, spinouts and secondary stock purchases.
Edison's active portfolio has created aggregate market value exceeding $5 billion. Its long-tenured team, based in Princeton, NJ and Cleveland, OH, manages more than $1 billion in assets throughout the eastern United States.