We had the pleasure to host Elay Cohen at the Edison CEO Summit last week for the Create a Repeatable Winning Sales Engine session. As the co-founder & CEO of SalesHood, former Senior Vice President of Sales Productivity at Salesforce.com, and author
of SalesHood: How Winning Sales Managers Inspire Sales Teams to Succeed, Elay is a savvy product guy who has spent his career bridging sales and technology to create fully empowered and productive sales professionals.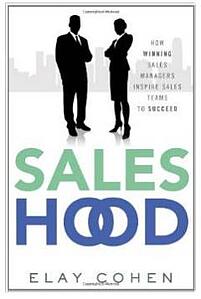 From the attendees' perspective, it was wonderfully coincidental that Elay's session reinforced David Marquet's leadership strategy -- to shift decision making as close to the point of information as possible. In the case of driving sales productivity, this encourages first-line sales managers to "think like a CEO and act like an entrepreneur." Easier said than done, right? Well, at Salesforce, with Elay's leadership, the company grew from $300M to $3B, due in part to this sort of sales empowerment and training while onboarding over five thousand reps. Authority was pushed down to front-line sales managers to enable them to make marketing and recruiting happen for their territories—and they owned the outcomes.
Elay shared a powerful metric -- that sales productivity is a $60B problem. Of course, there could be several drivers of this for any given organization, but the primary one is typically lack of sales and marketing alignment, or rather, partnership. Salesforce appears to have a Sales-driven culture and hence, not inherently an environment where Sales and Marketing are aligned in true partnership to drive sales outcomes. So, not surprising that Elay's organization resided in the Sales organization (more typically, sales content development and enablement is owned by Product Marketing) and aspects of marketing program spend was allocated to sales managers (vs. the Lead Generation team).
That said, Salesforce obviously has realized tremendous success with their culture. My experience suggests that when CEOs "own it" and can ensure Sales and Marketing execs are true partners working in lock-step with shared goals, and can marry that with an empowerment culture, this lays the most powerful foundation for a winning sales engine. Goes to show there is no absolute right answer. The key is recognizing what works (or what you want to work) for your company and architecting the machine to continually optimize for results and, ultimately, scale.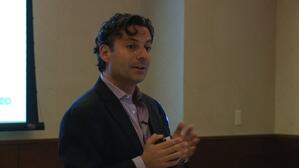 (Back to the session.) The audience represented on average $27M in revenue and sales organizations of roughly 15-25 reps. Here are some of my key takeaways:
1. Strike a balance between repeatability and personalization. There is a place for playbooks and scripts, but there's a balance to be struck between repeatability, message consistency and a salesperson's ability to personalize the pitch. There is no one-size-fits-all selling style, so Sales should have the freedom to personalize. And when creating the core deck, for example, Product Marketing should factor the most effective selling styles on the Sales team and how the best reps may make it work for them. A collaborative process in sales tool development will ensure adoption and productive iterations.
2. Make ongoing sales education, well, ongoing. And make it a collaboration between Marketing and Sales. At Salesforce, Elay instituted monthly themes for sales meetings.
Week 1: Theme kick-off & forecast
Week 2: Education topic & pipeline
Week 3; Education topic & pitch
Week 4: Close on theme & celebrate
This is a perfect opportunity for Sales and Marketing alignment where themes are devised together. Marketing tees up the theme, creates the content and, for example, on Week 2, presents it, then the team spends the week digesting/practicing the message for the next week, when what was presented gets pitched and the group provides feedback. Rinse and repeat each month.
3. Establish an onboarding discipline. At Salesforce, Elay's expectations were for SMB sales reps to put points on the board in 30 days and enterprise sales reps in 90 days, which are wonderful productivity targets. His recommendation is to focus on "the firsts first" by instituting a disciplined onboarding schedule that includes enablement, allocated time for practice, trainer/manager inspection, and inspection by others. Again, rinse and repeat week by week.
4. Measure and be transparent about it. Elay shared a solid framework for measurement: Activity, Pipeline, Revenue. Activity from an outbound prospecting perspective may be the number of emails/calls/connects required each week or month to create a certain volume of pipeline opportunities and ultimately a certain volume of new logos and bookings. Adding Marketing activity expectations that translate into Marketing's share of pipeline and revenue ensures a complete picture. And publishing a comprehensive scorecard helps foster a metrics-driven culture that promotes transparency -- and the recognition and shame that comes with it.
In tomorrow's post-CEO Summit blog, we'll continue this thread with an overview of Edison's new Sales & Marketing Acceleration program.