My first startup was in 1998 while at Lotus/IBM. I know what you're thinking... that's not a startup. Sure, we had the backing of IBM, but we were a newly formed, lean organization with our own P&L focused on new solution innovation. We sat between Product and Services. Our goal was to drive up margin and reduce time to delivery for Lotus solutions. To accomplish this, we obviously leveraged Lotus products at the core of every solution; we also layered on services assets (both tech and consulting), and in many cases, we licensed, integrated and bundled third-party products. These third-party products were sources of value to us as they filled feature gaps and/or met vertical-specific needs that our horizontal products could not easily address. Leaning on complementary software from other vendors increased our competitiveness, reduced time to market and drove up customer willingness to pay, i.e., deal size.
Fast-forward to June 2017: Edison CEO Summit at Harvard Business School discussing the Brighter Smiles for the Masses case (which pitted P&G against Colgate for millions of consumers' loyalty and wallets). The case conclusion presents an interesting twist, which brought me back to that time at Lotus and sparked the question: How are B2B tech companies incorporating complements as key levers in their growth strategies?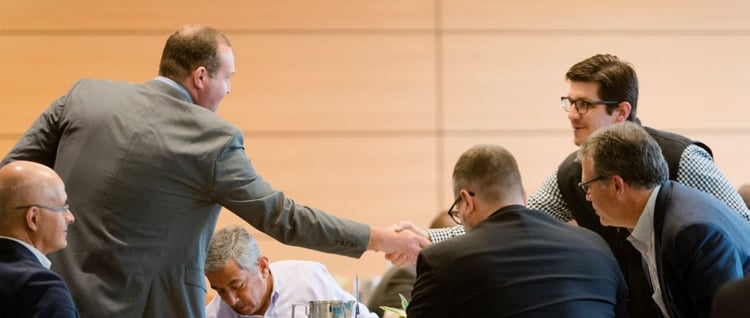 Break from class at HBS: Edison Director Network member and former CEO Uptivity, Jeff Canter greets Edison General Partner, Ryan Ziegler
For B2B organizations, complementor strategies can take several forms and be the fuel for both organic and inorganic growth. Following is by no means a comprehensive list, but some of the more common models for tech businesses:
MODEL

CHARACTERISTICS

VALUE

EXAMPLES

Bundling
Third-party product sold in conjunction with or as add-on to your own product(s) through own channels. Price break as bundle, vs. sold separately. Royalty paid on sales of bundled product, or other revenue sharing arrangement. Sales reps compensated as if your own product.

Drive up ACV
Competitive differentiation
Expand addressable market
Reduced time to market
Customer satisfaction
Expanded ecosystem

Oracle Supply Chain Management Cloud bundled Logfire warehouse management application prior to Oracle acquiring the company in 2016.
Ingredient
Third-party product as feature of your own product. May or may not have pricing or sales comp implications., but revenue sharing is common.



Competitive differentiation
Customer convenience
Reduced time to market
More economic control

Salsa Labs donation and event ticket payment processing capability via CardConnect (FirstData)
Bloomberg makes Predata data available via their terminals

Integration
Own product integrates with (or is built on top of) third-party product. Products sold separately from respective providers. Opportunity to upcharge for integration feature.

Increased usage
Increased stickiness
Drive up ACV
Thriving ecosystem
Innovation

Association
Marketing partnerships based on shared buyers, related capabilities and goals. Light integration, if any. Typically, no pricing nor monetary implications.

Brand
Referral lead flow
Reduced time to market
Side by side revenue lift

Terminus ABM Cloud for Salesforce is a collection of best-of-breed applications and tools from which to build an Account-Based Marketing tech stack
When considering complements to your business, it's essentially a buy vs. build question; the same question your potential strategic acquirer is asking itself. Complements are great inorganic growth sources -- what M&A is made of, especially in fragmented SaaS markets. If you have an inorganic growth strategy, using one of the above models is a great way test the waters prior to making a bid for acquisition. If your growth-stage business is a complement that is a potential source of inorganic growth, like Logfire was to Oracle as mentioned above, just make sure you're leveraging the relationship in a way that is building maximum enterprise value for your business while it's standing on its own, i.e., don't sell too soon.

Edison Director Network member and former CEO, Notable Solutions, Mehdi Tehranchi pictured at the 2017 CEO Summit
While my views are now heavily influenced by this growth equity world, I did learn a lot from Lotus and IBM about how they either build or buy themselves. Their acquisitive tendencies are when they see smaller companies with strong IP and execution bundle and integrate products that can expand their share of wallet. So, as a growth-stage business, consider a complementor strategy; it can secure more revenue, brand permission, and don't forget, attract large strategics.