It's that time of year again. The kiddies are back to school. Your summer glow has faded. You're hoping you did all of the right things to effectively plan for and deliver a strong Q4. And yes, it's already time to chart the course for 2015.
Annual planning tends to be a grueling exercise for all executives, but for Marketing leaders, perhaps the most grueling. How are we going to hit revenue goals? What percentage of revenue will be the budget that gets us there? How will product innovation impact the plan? How are we evolving our message for our target audience(s)? What are the necessary programs to measurably deliver our value proposition to target audience(s)?
First things first. Before attacking the above questions, you must lay a foundation for the overall 2015 marketing strategy and this starts with defining/updating your addressable market and go-to-market approach. Following are the three critical Sales & Marketing questions that must be answered before devising your Sales & Marketing plans for next year.
1. What is your total addressable market?
Industry analyst firms and market pundits publish secondary spending research for various market categories, and when fundraising, many early-stage companies use this data to help potential investors understand that the market is sizable. Some take it one step further to assert they are in a position to take x% of that spend. This does not constitute having a handle on your total addressable market (TAM).
In order to determine your total addressable market, you must first define the characteristics of your ideal customer profile. As a simple example:
Large enterprises selling and advertising online

Minimum monthly website traffic of 1M unique visitors

Minimum online revenue of $60M
Then, identify:
The vertical market sectors (and subsectors, if relevant) that support your ideal customer profile

How many accounts can be sold in each vertical

Which products can be sold to each vertical

Average ACV per account per vertical


Click on the below image to download a template that can be adapted to model your TAM.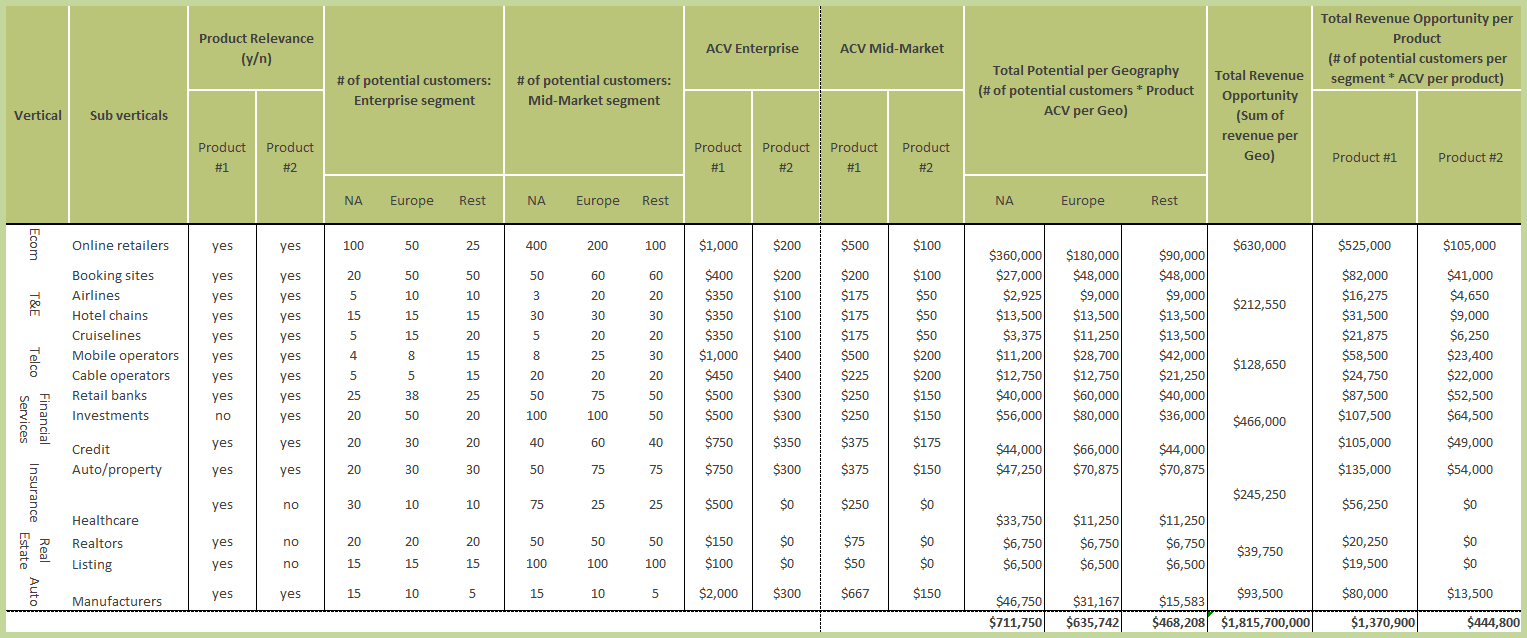 Assuming a percentage of market spend based on industry research is a top-down approach and marrying that with this a bottom-up sizing exercise not only provides a more thoughtful and informed total revenue opportunity, but also offers detailed and actionable segmentation upon which sales territory and lead generation execution can be driven.
2. What is the right sales model to support your addressable market?
The above TAM is the guide to your sales execution model and how marketing will build pipeline accordingly. For example, if your Annual Contract Value (ACV) is $100k+ and you're selling into a manageable number of accounts within multiple vertical markets (as the above TAM model example suggests), a field sales model with territories assigned as named accounts by vertical or across verticals will be the most effective model. Alternatively, if your ACV is $30k or less and your company is selling to thousands of potential accounts across small and medium-sized business segments in one vertical, an inside sales model aligned by geography is the way to go.
Another consideration is how you will grow ACV once you acquire the customer. If there is a "land & expand" opportunity next year, will your Sales team be responsible for upselling, or will it be your account management (success) team? In my experience, companies with a complex sale (long sales cycle, high ACV) most effectively land and expand when the sales executive who sold the account nurtures and grows the account. For more transactional sales models, it is best to keep the sales reps selling into new accounts and handing off the customer relationship to a success and sales-oriented account manager responsible for customer retention and growth.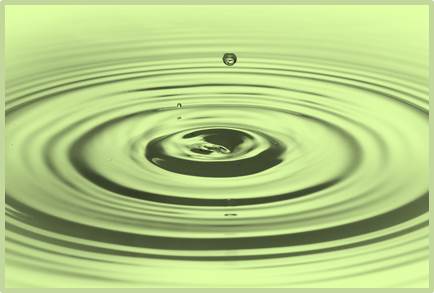 At the end of the day, what matters is that your sales model is aligned with what your prospects require in order to do business with your company, and at a price point they are willing to pay. Sorting this out sooner rather than later during the annual planning process will ensure focus in crafting the marketing plan, organizational design and budget.
3. How many leads will you need to make next year's number?
So, you now know precisely how many target accounts exist per vertical sector and market segment, and have aligned sales model and territory assumptions accordingly. Estimating funnel requirements is next.
To answer this question, model the following:
Monthly and annual deals required to hit the number

Conversion rate from SQL to closed deal

Conversion rate from MQL to SQL

Conversion rate from Inquiry to MQL

Use 2014 conversion rates as a guide and assume some improvement, even if you do not yet have a predictable lead generation machine in place. See below example, which reflects the funnel requirements of a company with a complex sale targeting the Enterprise segment. This model should be created for each of your target market segments.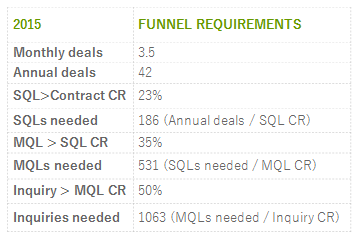 Again, this is a top-down exercise to later be married with a bottom-up model that is based on:
1. A determination of what percentage of pipeline (deals and revenue) will come from Marketing vs. Sales
2. A marketing program plan that delvers on Marketing's contribution to pipeline with specific MQL and SQL goals per program
Sales Benchmark Index recently released the results of research with 700 B2B executives, which revealed the top reason why CMOs had the wrong marketing strategy: "Marketing tactics masquerading as a marketing strategy." When Marketing is reactive and too tactically focused, it gets in the way of their ability to contribute revenue. Answering the above questions as the first steps in 2015 planning will ensure the entire executive team is aligned on the what is being sold to which accounts and how, as well as what the high-level expectations are of both Sales and Marketing to hit the number. Without these exercises, there's risk in devising Sales and Marketing budgets and execution plans.
This article is the first in a series of Sales & Marketing Planning articles in the coming weeks. Next up: Marketing Program & Budget Planning.