Today, Edison portfolio company Terminus announced the closing of a $90M Series C growth round. We're proud to say this marks our fourth investment in the company, having participated in every round going back to when we led a $5M Series A in 2016 when Terminus was less than two years old.

We invested then because we were struck by co-founders Eric Spett, Sangram Vajre, and Eric Vass' thought leadership and their simple but elegant solution to creating better alignment between sales and marketing teams. Their advertising and marketing product integrated with Customer Relationship Management (CRM) data to help support in-market sales efforts. They subsequently and quickly created an account-based marketing (ABM) movement and strong user community. We believed ABM would be the next major technology buyer shift, laying the groundwork for a modern Go-To-Market (GTM) software suite by harmonizing account level data management and a scalable suite of digital engagement solutions in one place. If you own the point of engagement, effectively map and efficiently target your ideal buyer set, then clients can properly orchestrate and execute their B2B sales and marketing playbooks at scale.

We invested early and we have invested repeatedly because we had faith in Terminus' ability to remake marketing automation from the ground-up into a scalable platform offering. We knew that journey would not be for the faint of heart and would be a decade -long process, but we wanted to be a part of it, helping to guide and provide our industry expertise and company building support along the way.

The lines of B2B sales enablement and marketing technology have been blurring for quite a while, and a new SaaS-based product powered by a fully-integrated B2B customer data management platform was needed. Email campaigns provisioned by marketing automation are hard to scale cost-effectively, nor the best method to engage with prospective decision-makers for purchasing goods and services in the digital era. Marketing, sales, and customer success tools are fragmented, leading to an explosion of point solutions and vendor fatigue. Many customer references preferred to deal with one platform that could ultimately connect customer experiences from awareness to opportunity generation, pipeline acceleration, to customer success and expansion.

We believe now -- as we did on our initial investment -- that Terminus is a category leading go-to-market solution that enables account-based transformation within the enterprise. To achieve this vision, Terminus had to evolve from a point solution to a platform offering, while scaling efficiently, and grow creatively in order to deliver on its brand promise and product capability.

Destination: Known

Incubated in the Atlanta Tech Village, the company's name speaks to its roots there, as Atlanta was once nicknamed "Terminus" for its role as a railroad hub and the ultimate destination for every train in America. Terminus was founded to provide sales and marketing professionals with the platform -- the destination, if you will -- to help them drive the growth of their business. Since those early days, Terminus has revolutionized full funnel account-based marketing.

Terminus has known where they wanted to go from the start and the team hasn't taken their feet off the gas from day one of our initial investment. Their innovation has educated the market about ABM and helped sales and marketing organizations operationalize ABM through the use of the Terminus T.E.A.M. framework to find the ideal audience, amplify their message, harmonize sales and marketing, and measure marketing performance.
The team also launched the wildly successful Flip My Funnel community to help foster an understanding of ABM. Today it is one of the top business podcasts in the world and a community of leading sales and marketing professionals and thought leaders.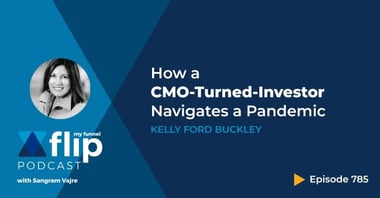 Meeting Customers Where They Are

Edison co-led Terminus' Series B round and led the acquisition of BrightFunnel to provide full funnel analytics and close the loop. In partnership with an incredible investor syndicate, we then helped architect the acquisition of Sigstr, which gave the platform email marketing capabilities, unique intent and targeting data, and expanded their employee presence to Indianapolis—giving the company dual headquarters in two of the top emerging tech hubs in the U.S. With the management team crystalizing around CEO Tim Kopp and the co-location strategy in place, the vision really started to come to life and the company surpassed 1,000 customers.

2020 threw the world for a loop, but Terminus kept on chugging like a steam train heading for its destination. As corporate event budgets were decimated and events were cancelled globally due to COVID-19, businesses realized the criticality of meeting customers where they are and called on Terminus to help them do so.

As a result, Terminus achieved record (over 35% year-over-year) growth and increased their net customer retention rate by 40%. The acceleration of digital transformation within the enterprise is undeniable and a sustainable trend in B2B sales and marketing.

Terminus continued to make acquisitions, such as predictive data company GrowFlare to offer a smarter way to find, prioritize and sell into your best fit accounts through AI; and account-based chat solution Ramble (now Terminus Chat), which made Terminus the first ABM platform to offer native chat, connecting clients to their most important audiences in real-time. The company has also partnered with Salesforce and Outreach to integrate the ABM capability into their CRMs and apply its data to power interactions on the Outreach platform.

Meeting Customers Where They Are

One of the first and original players in ABM, the category has grown into so much more than marketing. It's how companies bring GTM teams – marketing, sales, and customer success – together to drive long-term revenue growth.

Through its own evolution, customer-centric focus and growth, Terminus became a leading B2B GTM cloud and one-stop-shop for account-based execution and transformation. All of its engagement channels and products are integrated into the account hub, B2B account graph and Terminus AI engine.

With this growth round of funding, Terminus will continue to make bold moves and big product bets, build out their team globally, and deliver on their brand promise for customers. Our hats off to the co-founders, CEO Tim Kopp and all of Terminus Nation who have gotten us to this point; we know the best is yet to come.