Capitalizes on surge in demand for fraud prevention solutions as ecommerce skyrockets during COVID-19
The worldwide lockdown has forced millions of consumers to shop online, expediting the shift away from brick and mortar stores and towards ecommerce. The pandemic has also triggered a dramatic increase in cyberthreats and attempted fraud. Cybersecurity complaints have surged 400% in the last four months, according to the FBI's Internet Crime Complaint Center.
Demand for stronger ecommerce security solutions to combat hackers and other cyber criminals has never been higher.


New growth equity round to scale NS8 platform
Our portfolio company, NS8, has emerged as a powerful leader in fraud detection and prevention solutions for ecommerce. As an early investor in NS8, we've watched the company grow revenue 3x and headcount 4x over the last year. Through this phenomenal growth, NS8 continues to build momentum, expanding on popular platforms like Shopify, Magento and BigCommerce while also rolling out its products to the enterprise market segment.

We are thrilled to join with our Series A co-investors AXA Venture Partners and Lightspeed Venture Partners on a $123 million growth round to help Las Vegas-based NS8 expand its platform and technology.
Funds help accelerate fraud prevention technology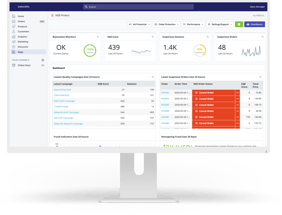 With this new financing, NS8 will look to accelerate product development and scale to meet the growing demand for fraud prevention technology in the global marketplace. NS8 will make significant hires in sales, engineering, marketing, and infrastructure. The funds will also help the company empower more businesses with enterprise-level fraud defenses, regardless of size or industry.
Since we led the $26 million growth round in NS8 in March 2019, the company has been well-positioned to add value to ecommerce stakeholders. Its platform helps businesses implement best-in-class point security solutions quickly and holistically to combat order fraud, advertising fraud and poor site performance. The net outcome is vastly improved profits for merchants as they avoid turning away legitimate sales that might have otherwise been flagged as fraudulent.
Together with our investing partners, we at Edison look forward to all that this added investment will bring to the future of NS8, now among the fastest-growing fraud detection and prevention platforms in the world.