Last week, Edison Partners sold Motionsoft, a provider of gym management software for clubs, studios, and wellness centers, to Daxko, a portfolio company of GI Partners.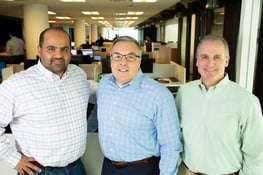 This is a great outcome for Maryland-based Motionsoft, a company founded in 2004 when Al Noshirvani and his brother acquired the assets of an IT contracting company, K1 Software.

Edison led a $7M investment in 2010 that helped Motionsoft acquire Conexion, a back-office services provider. The Noshirvani brothers then began to build and roll out MoSo, one of the first-ever cloud-based management solutions for helping gyms better integrate and streamline their operations—something that was sorely lacking in the industry.
Motionsoft brought its new platform to some of the nation's largest health club chains, including Equinox and Town Sports. Both took a big chance on Motionsoft, and Edison's involvement helped keep them calm as the product came out and matured over the years. More than 200 gyms, health clubs and wellness centers today use Motionsoft's technology to run their operations online.
CEO Rick Auletta was recruited in 2018 to take Motionsoft to the next level as a powerhouse SaaS provider for the health and wellness industry.
Bringing SaaS to more health clubs
Though several companies expressed interest in Motionsoft, Daxko was the most natural fit. Daxko has a number of brands serving the health club and fitness studio industry in more than 140 countries.

Motionsoft followed Equinox into the UK and Canada, and has sold software to chains in Mexico and Brazil. Together, the companies will bring their solutions to a larger international scale.

While we'll miss working with Rick and the Motionsoft management team, we know they have found the right partner in Daxko. We're certain the two companies will help health clubs and other consumer businesses around the world reach their full potential
.