Events, i.e., industry tradeshows and conferences, often represent the single largest program investment in the growth-stage B2B CMO's budget. Yet, too many companies are unable to prove the impact of events - whether the objective is viewed as awareness, lead generation or both. Kelly Ford and I subscribe to the "if you can't measure it, don't do it" rule of thumb, particularly for growth-stage businesses. This in no way rules out investment in awareness-building activities, but it does mean that with such activities should come expectations of measurable results.
Whatever your budget and objectives, I typically assess and plan for events using the below set of considerations to ensure each one is worthy of the investment.
For how many years has the event been in existence?
The first step in determining if an event is worthy of your budget is simple: Find out how many years the event has been in business.
Tip #1: If the show looks good, but is in the first year of existence, save your money and send a business development rep to attend and scope it out. Send him/her on a mission to network and generate leads, as well as chat with exhibitors to gauge their level of satisfaction with the show.
Tip #2: If the show has been around for a few years, ask to speak with a few companies who have sponsored in the past as reference.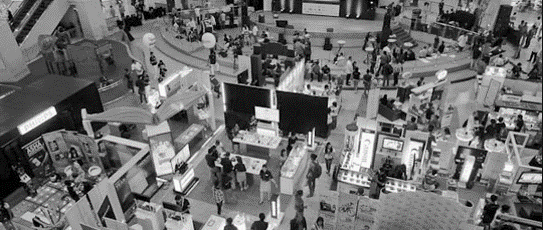 Who is lined up to speak, sponsor, and exhibit?
While it is never good to judge a book by its cover, you can tell a lot about the caliber of the event by looking at the headline speakers and other keynotes, as well as which companies have been willing to make the sponsorship investment. Ask yourself:
Are the keynotes lined up to speak A-listers, and/or are they even relevant?
With a celebrity-status keynote (in industry terms), chances are high that the level attendee will be good.
Is there more than one keynote?
If an event is dropping tens of thousands of dollars on keynote speakers, they are clearly focused on a high-quality event that will draw a crowd. More attendees = More leads for you.
How many of the non-keynote speakers are actually sponsors, i.e., trying to sell you something?
Many times, sponsorships come with a speaking slot. While it is reasonable to have some of these sessions, it is important that event content strikes a balance between editorial and advertorial.
How many sponsors/exhibitors are already lined up?
I tend to raise a red flag if there are only a few sponsors committed to an event when I am evaluating fit. Always ask for the full list of committed sponsors if they are not already posted on the event website. A lack of sponsors may be due to poor results in previous years, or that it is too early. Either way, hold off on any big commitment until you have a better sense of who else will be sponsoring.
Who is actually going to be at the event?
You know your target accounts and buyers best, and if they will not be at the event, then neither should you. There is nothing worse than spending lots of time and money on an under-attended event or one with the wrong level of attendee.
Tip: Get the list of attendees.
Ideally, you want a full pre-show and full post-show list WITH contact information; however, nine times out of 10, event managers will not provide this information. If this is the case, there are a few alternate paths:
Ask for pre and post-show lists without contact information. Company name and title will suffice.
If that is not an option, ask for the final list of the previous year's attendees - even if only company name and title.
If anyone in your partner network has sponsored in the past, they may have received the list and be willing to share it with you. If not, at the very least, they should be in a position to give a thumbs up or down on the event.
Any of these approaches can help gauge what percent of attendees are quality decision makers, junior attendees, or just sponsors, and ultimately, help determine the worthiness of the event.
If the event is deemed worthwhile based on a list without contact details, go get those contact details, or make an offer to the event producer to buy the list. Getting your hands on the contact details means you can deliver a series of pre-show promotions to help drive booth traffic, as well as reach out in advance to pre-arrange on-site meetings with key targets.
What is the total cost to sponsor/exhibit?
While each event offers a specific menu of sponsorship options, remember this: it's not as easy as it once was for these folks to put on a successful event, so everything is for sale.
The below chart is an example menu of four options: Platinum, Gold, Silver, Bronze. There is something for every budget, so to speak, but a marketer's options are rarely limited to the menu provided, so don't be afraid to get creative and order "off the menu."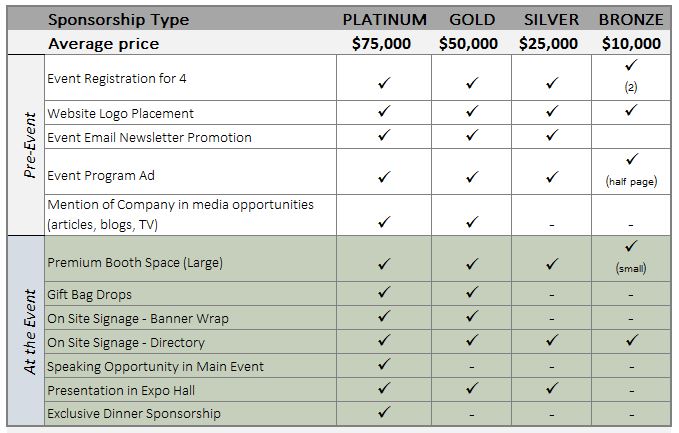 Tip #1: Propose a customized sponsorship that works for your budget and goals, including one or more of the following:
Registration list with complete contact details
Sponsored email to registrants
A raffle promoted at the check-in booth, where every attendee can drop their card in a bowl upon arrival
Panel participation or moderation
Extra signage
Branding on lanyards
Branding on show directories
Additional attendee passes
Tip #2: If the same event company puts on multiple relevant events per year, negotiate a better deal by committing to more than one event up front in one contract. This will help in the negotiation of the addition of future events as well.
Estimate ROI.
Before pulling the trigger on an event sponsorship, make the business case. Set goals that justify the spend and ensure results can be measured. Use past event investments as your guide to projecting ROI on future events:
How much did you spend?
How many leads were generated?
How many of those leads became pipeline opportunities?
How many of those leads became new customers, and at what value?
If you have not been to past events, be sure to track and measure any future events in detail so that you can answer these questions going forward.
Check out our tradeshow assessment infographic and use to assess if an event is worthy of investment.