I had the honor of facilitating a fireside chat with Rick Rudman and Al Subbloie at Edison's recent Director College. Both SaaS pioneers; Rick is the founder and former CEO of Vocus (NASDAQ: VOCS) and Al is the founder and CEO of Tangoe (NASDAQ: TNGO).
Al and Rick are rockstar entrepreneurs, innovators and inspirational leaders. They are active members of the Edison Director Network, serving as Board advisors and mentors to up and coming portfolio companies. They also represent the rare breed of entrepreneur who can start a business from scratch and take it to the promise land for everyone involved; going from private startup to public company and beyond.
Watch the fireside chat below:
I took away five company-building insights from my chat with Rick and Al:
1. Prove to yourself what matters and start as early as possible. Testing and selling your ideas in advance of market product is vital. Don't take undue risk and be sure to consistently test the market and sell into customers. Picking markets certainly matters, but getting ideas to market is fundamental to understanding how people buy. You need to lead or die in the tech space.
2. Great entrepreneurs don't think in terms of dollars. (Note: "Rich versus King" from Noam Wasserman's Founder's Dilemmas session.) It's the CEO's job to be a coach and get all constituents to win. Everyone is a partner on the company-building journey. Employees, customers, investors and shareholders are all viewed and communicated with as partners. The CEO should always drive the business vision, but consistently ask: "Are we winning?" There is a scorecard, but this is the mindset for building something great. Supporting a partnership mindset is the underlying vision and strategy.
3. There is no difference between achieving short-term goals and long-term vision. Short-term goals are just components of a long-term strategy everyone is accountable for. If you have a great strategy, people will want you to lead. Rick felt he had the same influence and control serving as a startup co-founder, running a VC-backed company, and a publicly-traded SaaS business. Each experience was based on agreement and conviction to aggressively execute upon the strategy.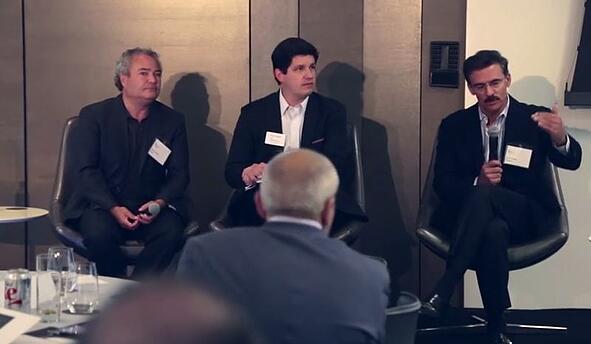 4. Boards can make or break companies. We held an additional panel discussion at the Director College about this point, specifically. Chemistry and the 'working relationship' matter -- big time. Strong board dynamics and getting value-add is the CEO's job to ensure all directors are on the same page. Governance and reporting are table stakes. Folks around the table must understand the business strategy, and then they can meaningfully contribute. Al emphasized "How do you change a dysfunctional board? That's tricky. You either have to take the dysfunctional members and get everybody aligned, or you've got to make some changes."
Spend the time with directors in between meetings and over communicate. It is well worth the energy and attention. Promoting an active committee structure among directors will drive more strategic discussion in board meetings.
5. Never stop evaluating. There is a need for constant evaluation of how much you spend to drive resulting amounts of growth within the bounds of reasonable customer acquisition and lifetime value metrics. Continue to evaluate all aspects of your business in this regard. Go meet and speak to your peers about how they run their respective business. You'll be surprised and delighted to find great insights, and learn how to improve your business across all areas.
According to Noam Wasserman, fewer than 25% of CEOs led their companies' initial public offerings. We've done quite a few deals at Edison, closing in on 200 this next year - and our data tells a different story. Our data tells us that 10% of investments deliver a 10X or greater return, and there is a 95% correlation to these outcomes where the founding CEO scales up and are still in the saddle as the top dog at the time of the liquidity events that create such great outcomes for shareholders. So, when these entrepreneurs and CEOs talk, we listen…
Be sure to watch the full session on Youtube for these and other company-building insights.