Edison turns 30 this year! Each Friday through year end, we'll be giving you a little blast from the past. True to the Edison Code, this photo blog campaign emphasizes an important fact that here at Edison we are candid -- refreshingly and uncomfortably.
Often dubbed the "quiet guy" of the office, our next featured Edisonian, David Nevas said if he ever had to be introduced to a board meeting as a realtiy TV star, he wouldn't want a tagline, just a video montage of all his ping-pong victories.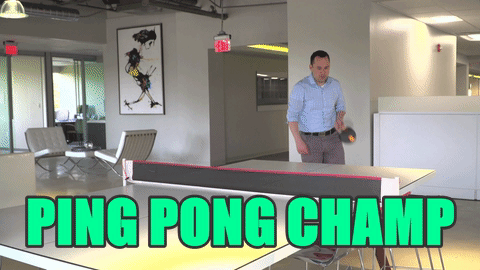 Edisonian of the Week: David Nevas - Then & Now
Q: Well, obviously the ping pong table at Edison Partners' new Princeton location is a bonus, but why did you originally choose to work at Edison Partners? What is your favorite aspect of working here?
A: I loved that there was a really diverse set of backgrounds and personalities among the people here, but also a shared purpose. We talk a lot about values here, and probably for the first time in my career, they are not just words on a wall. There is a sense of respect, decency, and transparency that the team here show in their actions, not just their words, that was incredibly appealing to me. Coming from a background in both startups and big companies in tech, I know how rare it is to actually find this, and I feel lucky to be a part of this unique group.
Probably of equal importance to me, they are an extremely competitive group of folks, and have seen fit to give us the opportunity to express that competitive spirit. Not just through our returns or financial performance, but through the one, true sport of kings. And by that I mean ping-pong. And I'm not too modest to say, I'm pretty damn good at ping pong…
Q: So besides Edison Partners moving to its current Princeton location and getting a ping pong table, what is your best memory or favorite event since working at Edison?
A: Although not a funny one, best memory since I've been here was the dinner we hosted in conjunction with our CEO Summit at West Point for a group of Wounded Warriors. Meeting those folks and hearing their stories… let's just say it was inspiring beyond words and recalibrated what you think of as important in life. I'm thankful to have gotten the chance to meet these people, and my respect and admiration for anyone who serves our country is now through the roof.
Q: So as a child of the 80's, what would you say is the biggest difference of 1986 and now?
A: The music was waaaay better back then! My favorite music: Billy Joel and Michael Jackson. And sticking with the 80's theme here at Edison, we should probably play The A-Team theme song every time we close a new deal.
Q: What did you want to be as a child? Did you always want to work in investment?
A: I was a skiing fanatic, and was convinced I was Olympics bound. Failing that, I was going to be a mechanical engineer – only because I had heard those were the guys who got to design the skiis!
Q: If you had an opportunity to interview anyone (dead or alive), who would it be?
A: Ben Franklin. Easily the most interesting figure in American history. He was a scientist, inventor, author, successful businessman, amazing political mind, rock-star level partier, and put his life on the line by signing the Declaration of Independence. He was also the first US postmaster (?!) Forget interview, I want to grab a beer with this guy.
Q: What is something people would be surprised to learn about you? Hidden talent? Surprising skill? Funny hobby?
A: I was a band geek in high school and went to college thinking I was going to major in music. I thought I was going to compose music for a living until halfway through junior year where a kindly music professor -- gently -- suggested I "give up the ghost" and focus on those comp sci classes instead!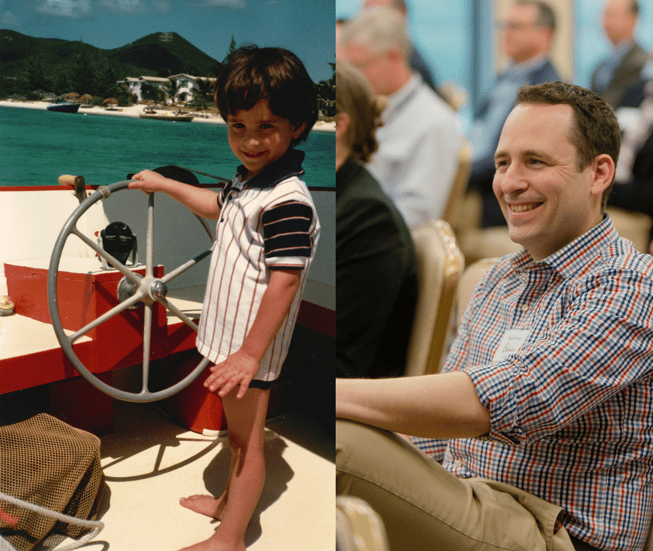 Even as a youngster, David had no fear grabbing the wheel to sail across the Atlantic Ocean. On the right, David enjoys the presentations of our most recent CEO Summit held at West Point.
We hope you'll join us on this #EdisonTurns30 campaign. Any and all contributions from our network are most welcome.