As investors, we live in interesting times. In the wake of the 2008 Financial Crisis, the past decade has seen a rally of consumer confidence, a relative lull in public market tech IPOs, and the emerging dominance of mega funds. Unsurprisingly, all of these have contributed to a vibrant M&A market – but, in the software space, there are a few unusual trends at play.
Tech acquisitions are on the rise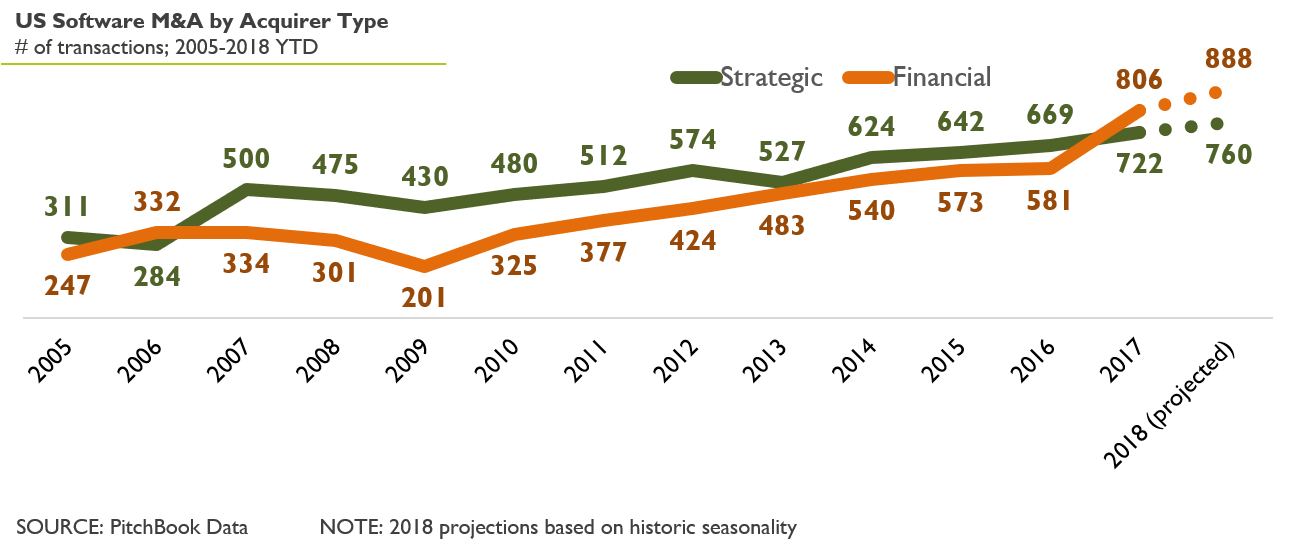 Not surprisingly, total transaction volume has continued to increase over the last decade, but the evolution of types of buyers is striking. Last year financial buyers eclipsed strategics and we expect that to persist this year. If you look last 10 years, transactions with financial buyers tripled, while strategics are up 80%.
While the 2008 financial crisis caused an expected slowdown in software M&A activity (decreasing by 24% from 2007 to 2009), by 2011 the market had recovered with both strategic and financial buyers posting transactions above their 2007 levels. The trend has continued since, and in 2018, we are on track to see double the number of transactions we did in 2007.
Financial buyers have overtaken strategic buyers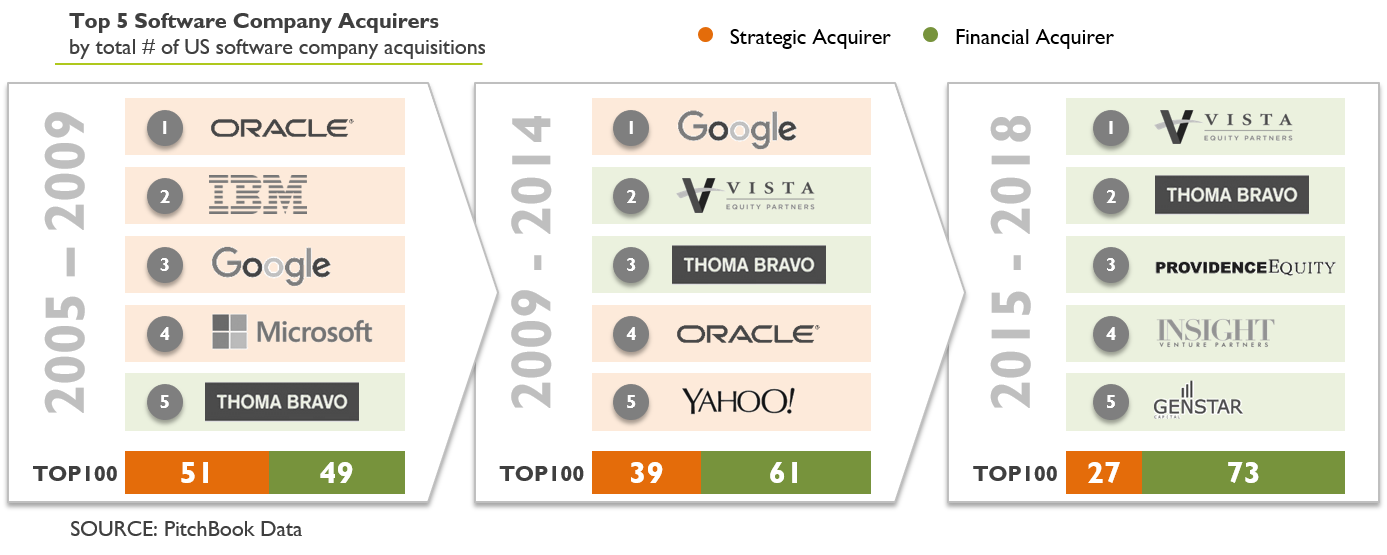 This trend is all the more prominent if you look at the evolution of the software acquisition leaderboards. In the 2005-2009 period, the Top 100 most active software company acquirers were evenly split between strategics and private equity shops, with the Top 5 representing mostly household software giants (Oracle, IBM, Google, Microsoft), and the honorable fifth place held by Thoma Bravo. Fast forward to the last four years, and we are faced with a drastically different environment where 73 of the Top 100 software acquirers are financial ones. Even more strikingly, the Top 5 are dominated entirely by PE firms, including Vista Equity Partners, Thoma Bravo, Providence Equity, Insight Venture Partners, and Genstar.
Lest we be accused of being too academic – the above trend has very much impacted Edison's own portfolio. Whereas between 2005 and 2014 sales to financial buyers represented a modest 11% of our exits, the last four years have seen that grow to an overwhelming majority of 72%.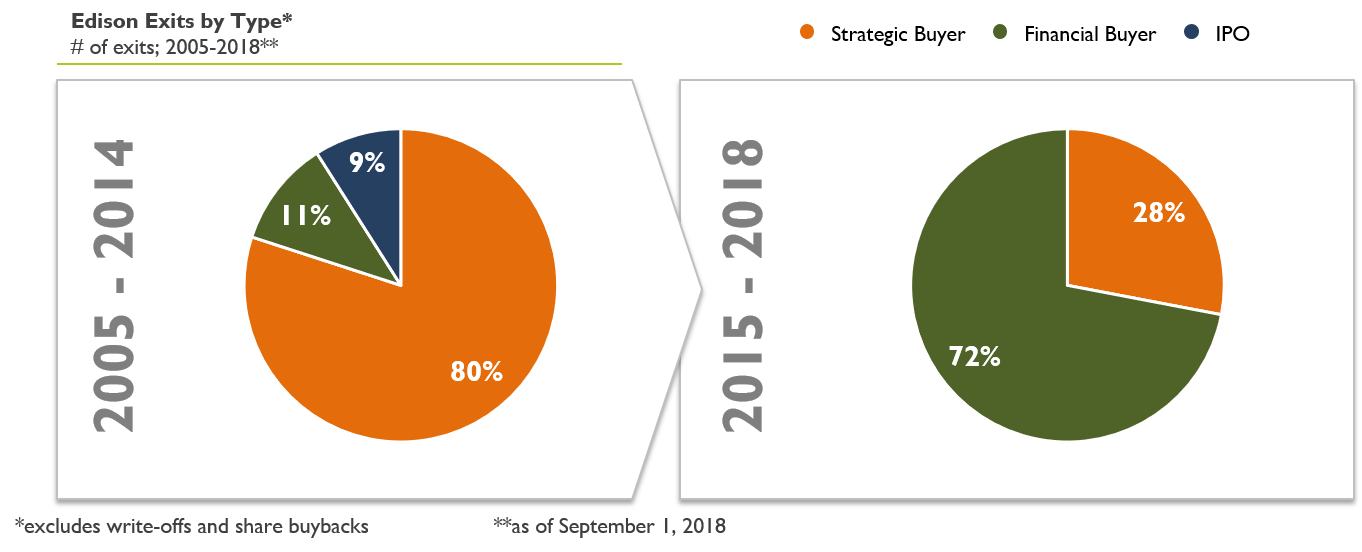 And, as expected, the buyers are the usual suspects discussed previously.

Pricing between strategic and financial buyers is converging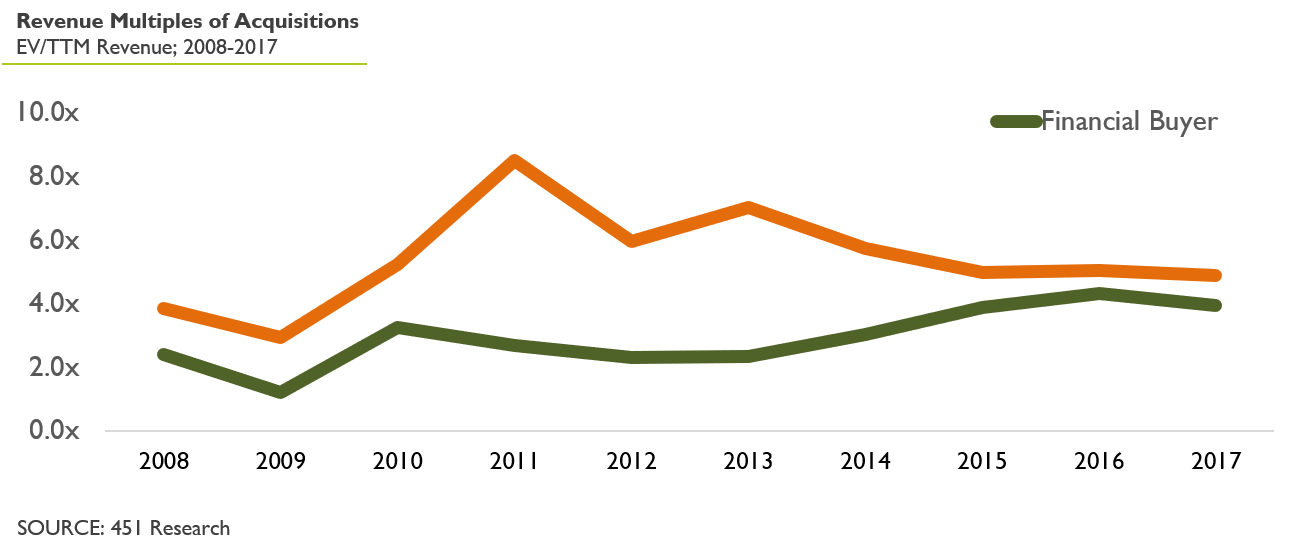 As can be expected, the changing acquirer landscape has been accompanied by a change in deal pricing levels. A well-worn adage in technology investing is that strategic buyers pay (significantly) more than financial buyers, largely because of operating synergies. While this is still directionally true, over the past decade we have seen convergence in pricing between strategic and financial buyers. In fact, in the current Edison exit processes, bankers are telling us that it is now a coin flip on who will pay top dollar.
Unpacking this specific trend is less than straightforward, so in the interest of length, we will cover it in our next installment – The Changing Exit Environment: Part II.
Blog Authors: Michael Kopelman, General Partner, and Doba Parushev, Vice President