Edison turns 30 this year! Each Friday through year end, we'll be giving you a little blast from the past. True to the Edison Code, this photo blog campaign emphasizes an important fact that here at Edison we are candid -- refreshingly and uncomfortably.
Edisonian of the Week: Lenard Marcus - Then & Now
Q: What is your favorite aspect of working at Edison Partners?
A: My favorite aspect is the people of Edison and the entrepreneurs. Working with people who are acutely focused on having a huge impact in business and beyond. Another favorite was our recent company trip to Disney World as a means of celebrating Edison VIII. The atmosphere and thought that went into the trip was amazing and I've never seen my kids happier.
Q: What is your best memory of the 80s?
A: The best memory was just being able to hang out with my brother and play football in the neighborhood, back when kids would actually leave their homes to play.
Q: If you had an opportunity to interview anyone, who would it be and why?
A: Definitely Muhammad Ali. I've always been fascinated with his life and admired how he held on to his convictions. His ability to forge his own path and focus on helping people was admirable.
Q: Besides his fancy footwork, Muhammad Ali is certainly memorable for his unique sayings, do you have any sayings of your own or a motto you live by?
A: Keep moving forward -- never look back. Something might be gaining on you.
Q: If you were stuck in an elevator with an e-reader and enough power for 1 book, what would you read?
A: The Bible -- with the hope that God would get me out of the elevator!
Q: Speaking of almighty powers, if you could be a superhero and have any superpower what would it be?
A: Ability to read minds. I think people almost never actually say what's on their mind. It would be great to know what they are really thinking…
Great point! Well, no mind-reading here but thanks Lenard for giving us a glimpse of your world. Besides sports and football, Lenard loves pancakes, the color blue, and the movie The Untouchables.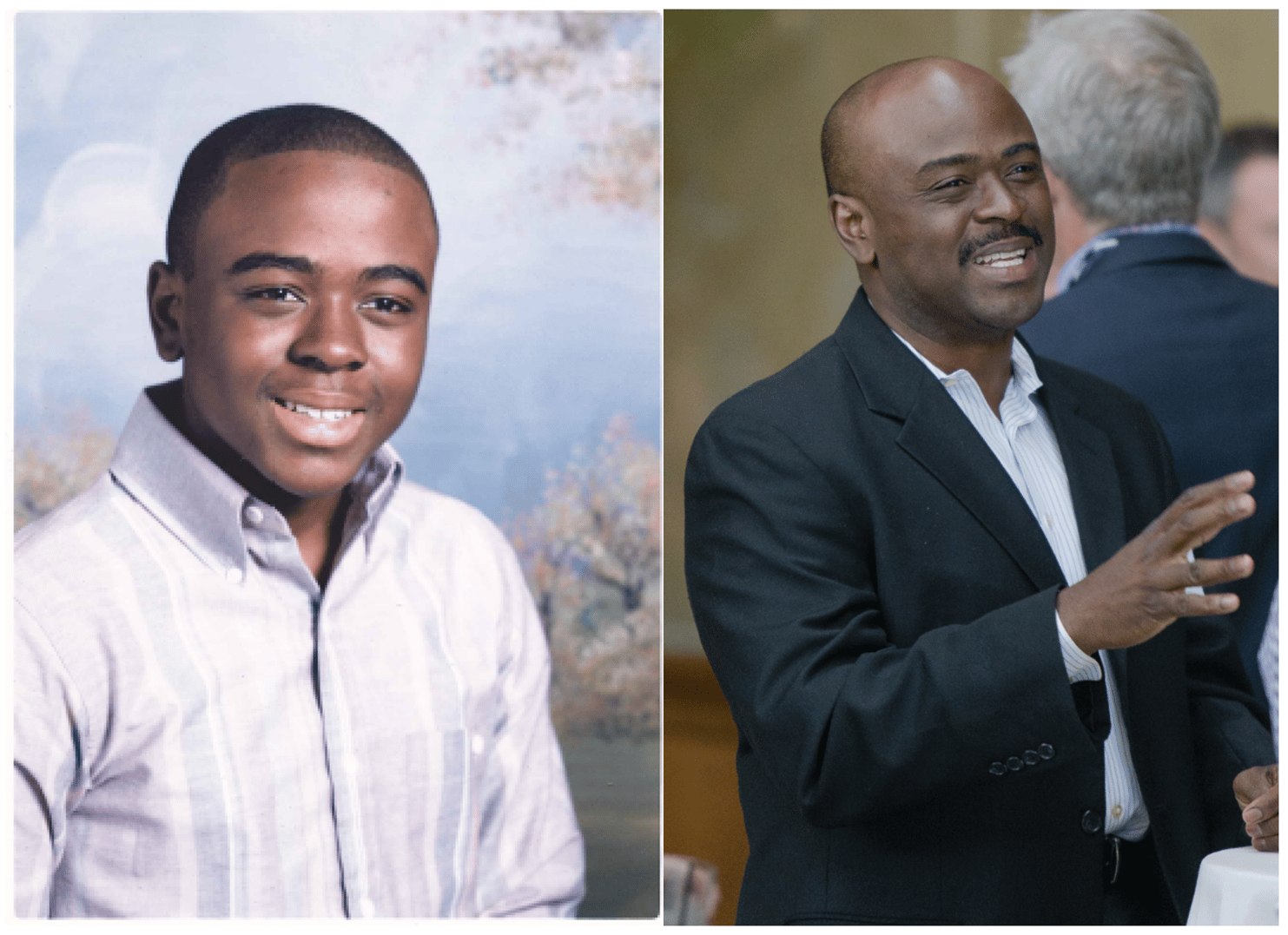 Luckily Lenard's love of sports hasn't affected those pearly whites! On the left, Lenard happily sits for his 8th Grade class photo. Fast forward from Ms. Kutzer's 8th grade classroom to receiving an MBA from Columbia Business School, Lenard is now happily married with 2 sons and a successful career at Edison Partners that keeps him smiling!