Edison turns 30 this year! Each Friday through year end, we'll be giving you a little blast from the past. True to the Edison Code, this photo blog campaign emphasizes an important fact that here at Edison we are candid -- refreshingly and uncomfortably.
Edisonian of the Week: Joy Whitney - Then & Now
Q: 1986 vs. Now: What is the biggest difference?
A: Consumer access to the World Wide Web changed everything in 1996 and the first smart phones in the mid-2000's changed everything again. As someone who does research for a living it's hard to convey to digital natives how painstaking it was to find information in the pre-internet and pre-mobile era. For a point of reference, in 1996 Americans with internet access spent fewer than 30 minutes a month surfing the web.
Q: What is your best memory at Edison?
A: The recent Edison Family Vacation. It was my first time back to Disney World in 30 years.
Q: What is your best memory of the 80s?
A: Great times with college friends at Rutgers and so few responsibilities!
Q: Best movie to represent 1986?
A: The funniest movie from 1986 was Ferris Bueller's Day Off. My favorite line from that movie: "Life moves pretty fast. If you don't stop and look around once in a while, you could miss it."
Did You Know?
The 1986 hit movie Ferris Bueller's Day Off was written in just six days.
Since arriving to Edison Partners in 2002, Joy hasn't concocted any elaborate plans to play hooky but she certainly appreciates not having to use dial up modems anymore.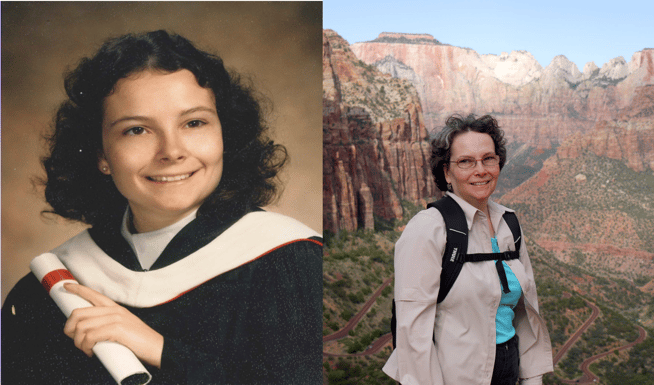 In the photo on the left, Joy Whitney is all smiles for her 1986 graduation from Rutgers with a degree in Computer Science, ready to start her first job at AT&T in software design & development – before digital technology and texting even existed! On the right, Joy is living on the edge after a hike at Zion National Park in Utah.
We hope you'll join us on this #EdisonTurns30 campaign. Any and all contributions from our network are most welcome.