What does 10% of your marketing budget look like to you? Does it fund more events? Hire more people? Finally get you that analyst engagement? Does it fund one or more new pieces of technology for your marketing program?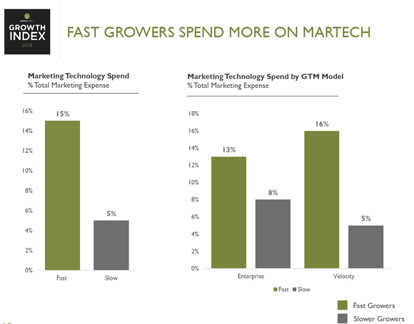 10% of your budget is a significant dollar amount, and according to the 2019 Edison Partners Growth Index, it's also the delta in investment in marketing technologies between high-growth companies and slow-growers. For high-growth companies, 15% of their budget is dedicated to tools compared to a 5% investment for more sluggish companies.
So the questions are: why do high-growth companies invest more in tech and how do those tools propel growth?
As a B2B marketing technology provider (and an Edison "fast grower," btw), we have conversations surrounding those questions with future customers every day. Sigstr inserts targeted ads in every email that your employees send, so while it's not a core component of a B2B marketing tech stack, it's a powerful addition with loads of integrations and possibilities. Essentially– we're a point solution that would fall in that additional 10% of budget that fast growing companies put towards software.
Our fastest-growing and best customers all have four things in common when it comes to how they evaluate and adopt new tools:
Their Tech Stack Supports Specific Goals
There are well over 7,000 marketing technologies in Scott Brinker's latest MarTech Landscape report. Having such a dense landscape of tools also means that there is a cacophony of hype and aggrandization muddying the waters (and because they're all marketing tools, they're pretty good at it, too). It's easy to be wooed by impressive customer stories where a piece of technology helped a company realize phenomenal results. Maybe the same thing will happen for you if you buy that software, too! But simply bolting more technology together isn't necessarily going to drive results unless it's lined up with your specific marketing goals.
B2B marketers can suffer from option paralysis. Beyond the baseline technologies of Marketing Automation and CRM, these tools can help them do anything they want. Fast-growing companies have intense focus on what they want to achieve and only add on tools that will support their specific goals.
One of our customers, Snowflake Computing, is running an award-winning account-based marketing (ABM) program with a relatively small tech stack. One of their primary goals in their ABM program is driving engagement and their tech stack is built specifically to do that: They use Terminus to run 1:1 display ads, Sigstr to run 1:1 inbox ads, and all of those ads lead to personalized, account-specific Uberflip streams. It's simple, but it works because it aligns to a clear goal and they're able to achieve a remarkable 100% account engagement rate.
Their Tech Stack is Tightly Integrated
Gone are the days of manual process and downloads and uploads to make tools work together. These days, a B2B marketing program is built on a solid foundation of Marketing Automation or CRM that serves as a data hub that allows all tools to interact. Where sophisticated and fast-growing programs differ are how tightly their tools are working in concert throughout the entire customer journey. Each new piece of technology added to a tech stack should make the sum greater than it's part by increasing its efficiency or effectiveness. Fast growers understand how bringing new marketing technology into their stack will improve the utility of the rest of the stack. Their tech stacks are always creating a 1+1=3 equation.
Event marketing technology provider, Cvent, is using Sigstr and PathFactory together to drive more value out of each piece of software. Over half of the Sigstr campaigns that Cvent runs, point to a PathFactory content stream because the volume of emails they send result in a big increase in traffic. PathFactory is geared to drive visitors to 'binge' on content, so that additional traffic becomes multiplicative to Cvent. Because Sigstr deanonymizes the visitor on their PathFactory streams, it allows them to deliver more personalized content and analytics. In short, they're getting more out of both tools together than they would used alone.
Their Tech Stack is Appropriately Resourced
This is the most important one on here. When a vendor is sharing case studies and customer ROI examples with you, they're showing you customers that are not only using their product as intended, but are aggressively leveraging it as well. Sure, there are a handful of hands-free tools out there, but tools that promise big rewards require lots of elbow grease to achieve them. Take stock of your team and their ability to care for and feed your tech stack. If you're not able to reliably resource a technology, hold off on adding it to your stack until you are (and bear in mind that to really make it work it will probably take more time and effort than you think).
Companies whose marketing teams can be dedicated and motivated to make tools work are precisely why we see fast-growing companies making outsize investments in marketing technology: they've got smart, hardworking marketers that can make these tools deliver meaningful, measurable results. Sigstr has neither a large marketing team nor an impressive marketing budget. Our two largest line items in our marketing budget are headcount (40% of marketing budget), followed closely by marketing tech subscriptions (~20% of the marketing budget). We're fortunate to have incredibly talented marketers and we've made the investments in technology because we know it will be used in a way that amplifies their skills.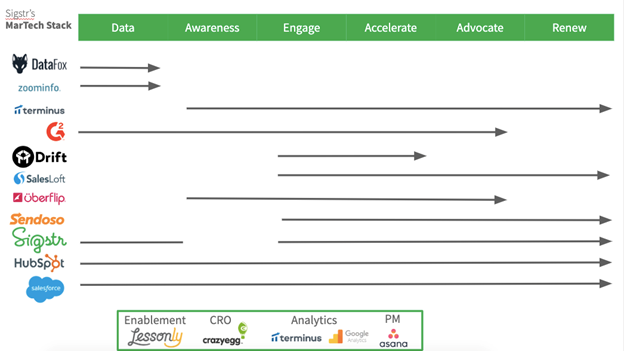 Sigstr's marketing tech stack is aligned with stages of the customer journey and associated goals.
The right software investments can be a strong enabler of a faster growing company. Fast growers with clear goals are best positioned to cobble together simple, elegant marketing systems that help them get there. Most importantly though, they've got whip-smart marketing teams that understand how to make disparate technologies work together to drive both efficiency and effectiveness -- and to give them a leg up in beating their revenue goals.
About the Author
Justin Keller leads the award-winning marketing team at Sigstr, a B2B marketing technology provider. He's got over 15 years of experience running marketing teams, driving revenue growth, and creating brands that people fall in love with. When he's not at work, he's either in the kitchen as an amateur chef, behind the board as a music producer, or high-fiving his mutt, Lemmy. He's got 3 BAs from Indiana University, an MBA from Purdue, and is a digital marketing lecturer with San Francisco State University's MBA program.