By now, it's well known that we're in the midst of the largest inter-generational wealth transfer in history, as the Baby Boomers pass down their assets to the next generation in the form of inheritance. Over the next 25 years, roughly $68 trillion is expected to change hands, with much of that money ending up in accounts belonging to members of the Gen X and Millennial generations.

It won't happen overnight. Boomers will continue to be the wealthiest generation in the U.S. until at least 2030 when Gen X takes over, growing from 14% of total net wealth to nearly 31% in that time. The Millennial generation will see the fastest growth rate of net wealth accumulation, though, starting from today's lower level continuing to grow their share over the next 50+ years.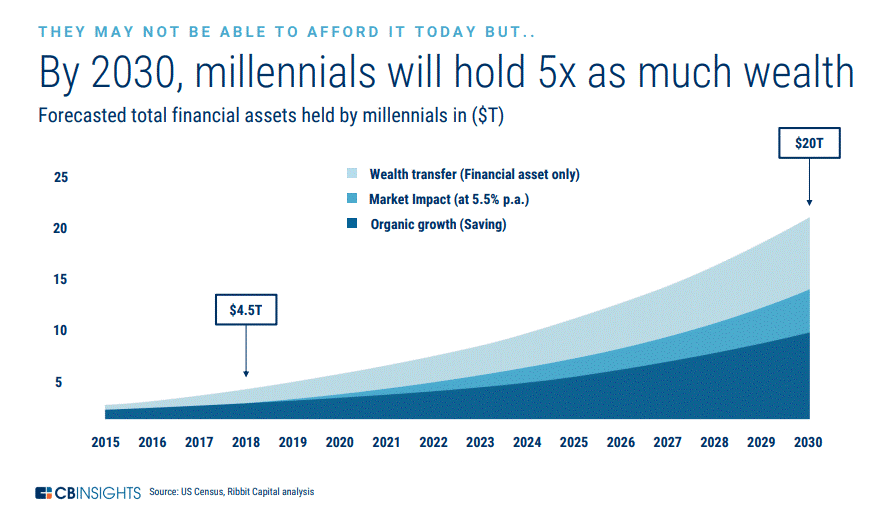 The result? Things are going to have to change.

Investment behavior has for the most part remained fairly steady for the better part of a century. People generate wealth over the course of their lives, saving and investing it as appropriate, and the financial services industry has grown up over that time period to help them accomplish these goals. The basic assumptions are pretty simple: a portfolio of stocks and bonds works for most people, a solid 401(k) or IRA is a good solution for retirement, and the threshold of risk avoidance shifts with age. There's some variability from client to client, but generally that is what the industry has offered for decades.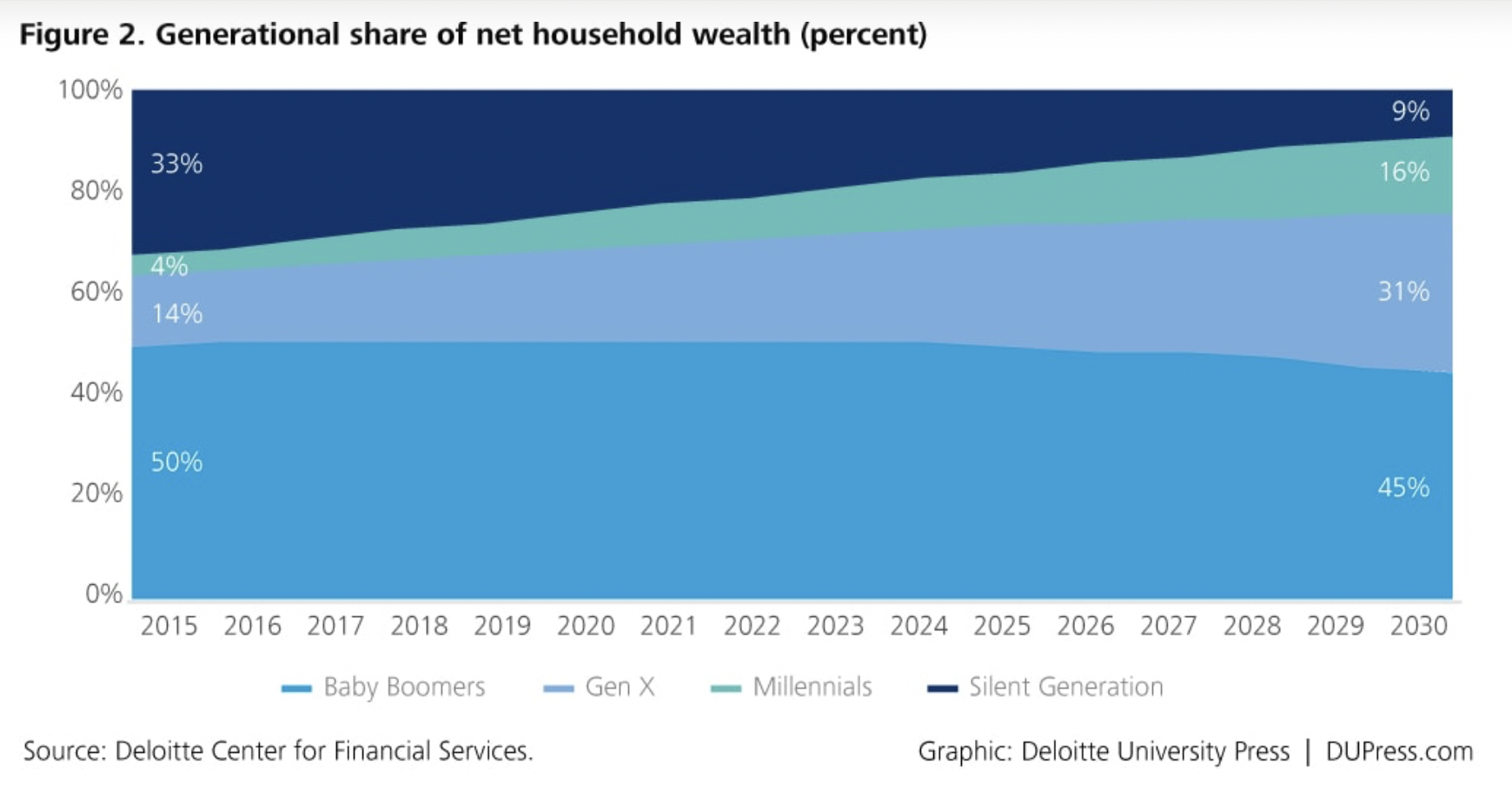 Not for long.

The younger generations think differently about their money in their personal and professional lives, and they think differently about how they want to manage it. Financial management as an industry will have to change with them.

We're already seeing this play out in our current and exited fintech portfolio. MoneyLion has rewired the American banking system, making it easier to borrow, invest, save, and earn; Yieldstreet is making alternative investments more accessible; and payments providers like Zelis and Billtrust are changing how buyers and sellers do business together. These names, and others, are helping expand financial services in new directions by leveraging the same types of technologies that have revolutionized other industries -- personalization, artificial intelligence, digital transactions, and more.

A focus on financial wellness

Younger investors are more engaged in financial wellness than previous generations, putting them more in touch with their overall financial health. Maybe it's because they entered the workforce in the middle of a recession (the Dot Com crash for Gen Xers and the 2008 Financial Crisis for Millennials), maybe it's because they just lived through another one, or maybe it's because they're still struggling to catch up to where their parents were financially at their age.

Whatever the cause, the financial services industry, and subsequently fintech, needs to meet these future clients where they are with the tools and guidance they need to live a healthy financial life.

This reality drove our recent investment in gohenry, a Visa- and MasterCard-backed debit card and money management app designed exclusively for 6-18 year olds and their parents. One of the first entrants in the Family Financial Management ("FFM") market, gohenry includes full parental controls while also enabling children to earn an allowance, set savings goals, and spend their money in-store and online (and even withdraw it from ATMs), ultimately teaching them the value of money and good budgeting habits.

Digital-first, across the board

Although Millennials have a reputation for preferring digital communication over face-to-face, Gen X is also very focused on convenience when it comes to managing their portfolios. According to a recent report from Spectrem Group, a market research firm for financial advisors, 28% of Gen X investors communicate with their advisor by text, outpacing email at 20%.

But even that may be changing. The group also found strong interest among Gen Xers in increasing communication via text and even video chat, with nearly 50% of respondents indicating that they would use these platforms if available.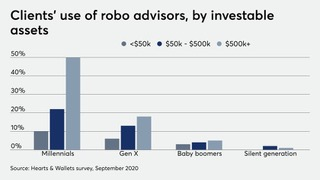 This preference shows up in the use of robo advisors across both Gen X and Millennials, with accounts over $500,000 much more likely to utilize these digital financial management services than their parents. And, while Millennial investors are far ahead in their preference for digital platforms, according to a 2020 survey from Hearts & Wallets a growing minority of Gen X investors are following suit.

Making an impact with alternative investments

Millennial and Gen X investors want to leverage their money to make a positive impact on the world, and they understand that their parents' asset classes might not get them there. That's one reason why 83% of Millennials say they are open to alternative investment strategies like digital currencies, venture capital, real estate, collectibles, and more. That's 30% more interest than Boomers.

They're also more flexible in how they invest.

Having grown up with technology, from apps to Artificial Intelligence, nearly half of Millennials say they are open to using tech-based investment platforms, according to Accenture. That's why digital-first services like Robinhood have taken off in recent years.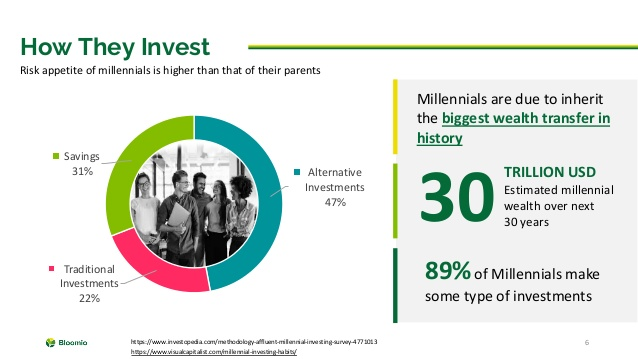 All of these preferences will be coming to a head over the next 25+ years as Gen X'ers and Millennials receive their inheritance from those that have come before them. It's up to fintech to get ahead of these demands and be ready to serve this market when the time is right.

That's why we continue to invest in Yieldstreet, which recently closed a $100 million Series C. Yieldstreet is a digital investing platform that unlocks access to previously unattainable alternative investments, hitting two of the leading drivers of Millennial investment at once.

As CEO Milind Mehere recently said: "We're on the brink of the greatest wealth transfer in history as Baby Boomers pass the torch to new generations. The consumer has changed, yet the tools and infrastructure in wealth management haven't kept pace. It's a new world—a mobile-first digital one—so we've created a platform to eliminate the built-in friction points to better connect with consumers wherever they are, help educate and provide access to investments to fuel their life goals."

That's exactly what we see in Yieldstreet and the fintech opportunity at large: A changing market, new investor demands, and a future that doesn't look much like what's come before.