The Next Big Re-commerce Market: Why We Invested in The Pro's Closet

My brother and I are avid cyclists. I'm an aspiring weekend warrior, but Jason is a competitive cyclo-cross athlete. When I found myself in search of an upgrade amid the pandemic-induced bike shortage, Jason recommended that I check out The Pro's Closet (TPC) based in Boulder, CO. With supply chains cut off and in-store shopping inaccessible, I found The Pro's Closet to be a seamless and unique buying experience. Not only was I able to compare every performance bike in detail, but the bike that I purchased was also delivered days later, assembled and ready to ride in five minutes after attaching the front wheel. The Pro's Closet expert Ride Guides and certified pre-owned (CPO) offering was a game-changer for me, all powered online while sitting at my kitchen table.
Between this experience and learning about the company's growing popularity from bike and outdoor enthusiasts, I grew curious and we reached out to Founder and CEO Nick Martin. I also tapped my partner Gregg Michaelson who, in a former life, built and ran Bicycling.com for Rodale within their family of wellness brands. His domain and performance marketing chops helped confirm a killer brand with a big upside and an exciting business model, one in which they own their supply chain to deliver an elevated customer experience. The proof is in the pudding here, boasting a net promoter score (NPS) of 78.

With the growing sophistication and availability of digital technology, re-commerce is a massive growth and green industry solution - a natural evolution for considered purchase categories. Vertical marketplaces have been successfully built in other large categories such as auto (Carvana), guitars (Reverb), luxury goods (The RealReal), and fashion (thredUP). By 2023, the retail apparel market alone is projected to more than double at $51B.

The Pro's Closet powers the world's largest re-commerce marketplace for buying and selling used 'high-end' performance bikes, components, accessories, and gear. They span road, mountain, gravel, and e-bikes and have built a rapidly growing, scalable, and profitable company with not a lot of capital. This is music to our ears here at Edison. Given this, the positive customer experience and after conducting our due diligence, I'm happy to say that we joined Foundry Group to co-lead a $12M growth investment in this exciting business.

What TPC is Doing That No One Else Is


High-end bicycles are very similar to cars. When purchasing a bike, consumers are faced with a dizzying array of brands, models, specifications, components, and modifications, including getting the right fit. They have four basic options: eBay, Craigslist, IBDs (independent bike dealers), and a handful of direct from manufacturers, the majority of which are not well suited for expensive bike purchases. Listings are often inaccurate, bikes can be damaged, warranties are not provided, and transactions are final.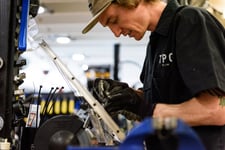 The Pro's Closet solves all of these consumer pain points. Its brand promise is bringing the ease and confidence that comes with the certified pre-owned experience, started in the auto industry, to the bicycle market. TPC's proprietary database of secondary market valuation and part interoperability power listings provide a condition matrix and highly-detailed pictures for complete transparency.

The Pro's Closet joins other category-leading marketplace businesses in Edison's portfolio, such as TripleLift and LawnStarter. Plus, given their innovation around transforming the supply chain, they join like-minded logistic technology experts such as Overhaul, Superpedestrian, and Suuchi.
The TPC Backstory

In the early 2000s, Founder Nick Martin lived in Colorado and raced mountain bikes professionally after graduating from business school in Wisconsin. To pay for his living expenses, Nick began selling his sponsor equipment at the end of each competition season on eBay. Eventually, he started reselling fellow cyclists' equipment out of his home – hence the name "The Pro's Closet." Fifteen years ago, Nick set up an eBay business, which ultimately evolved into eBay's largest store for used cycling equipment, and he did a few promotional commercials for them. In 2017, after raising some seed capital to buy bike inventory directly, he and his small team began certifying and reselling them. Seeing the massive opportunity, Nick and his team moved away from eBay and launched their own direct to consumer (DTC) branded website. Going direct enables TPC to own customer data to deliver a personalized experience, and build a world-class lean manufacturing process and integrated facility to support every interaction, from product order to delivery to your home.

In the 18 months since launch, The Pro's Closet's sales are growing at more than 175% year-over-year; its sell-through rate is 13 days; and it's expanding its headquarters and operations to a larger 130K square foot facility in Louisville, CO, tripling its current processing facility.
Multiple Winds At TPC's Back

US bike sales are around $6B annually, and the addressable market for TPC is growing rapidly, estimated at $2-3B. Americans are biking now more than ever before, with bike commuting growing 47% between 2010 and 2020, and 73% in the largest cities. The pandemic has further juiced interest and sales in the bicycle market as people seek alternatives to mass transit and outdoor fitness options. E-bikes have also made cycling more accessible to a larger addressable market of consumers. Despite a downturn in the jobs market and a shortage created by disrupted global supply chains, bike sales jumped 63% in June (NPD 6/2020). And that increase was driven primarily by higher-end purchases by enthusiasts.

TPC's proprietary platform lays the groundwork for scaling this high-growth verticalized marketplace with both DTC and B2B channels, partnering with some of the largest bike OEMs. They're able to aggregate key specifications and compatibility data that will help them deepen customer relationships and customize bikes, parts, and gear over the lifetime of the relationship. In fact, they brought in a consultant from Toyota to design and implement their lean manufacturing process to perfect processing bike purchases, reconditioning to like new and sales, which is very hard logistically to do at scale. Every step in their supply chain is digitally documented, from product valuation and sales to inspection and processing with mechanics, technicians, and ride guides.
The Leadership


We're excited to join Foundry Group, early seed investor Ridgeline, and TPC's management team to help this exceptional company reach new levels. We're inspired by Nick's entrepreneurial story and his foresight in building from scratch and serving the emerging re-commerce bike market.

The business model is proven and market opportunity is exploding, but the #1 reason we partnered with TPC is because of Nick and his management team. The company's leadership is infused with not only highly likable, business savvy professionals, they're also bike enthusiasts themselves. Nick is joined by tenured CFO Merle Waterman, CMO Matt Heitmann, whose career has been focused on leading marketing efforts for outdoor and cycling brands. And TPC's heavily tattooed CRO, Travis Erwin, has spent his career and executive experience in bicycle sales roles and shares Nick's passion for solving the industry's challenges, helping consumers, and getting more people outside.

Our new partnership with The Pro's Closet happens to coincide with the Tour De France that just wrapped up and broadcasted live on NBC Sports. They were a sponsor and had some very cool 15 and 30-second TV spots running, like this one: Buy it. Ride it. Trade it in. Repeat.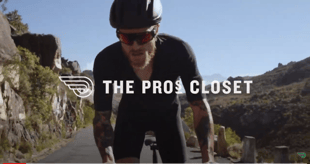 Want to hear from CEO Nick Martin himself? Check out this interview with Crunchbase News or his live chat with Yahoo Finance.