During our 37th Annual Meeting, Managing Partner Chris Sugden held a fireside chat with Zelis CEO Amanda Eisel. Amanda shared her own "rollercoaster" story and advice for CEOs who take the reins from founders.  
First, to preface the story of Zelis and Amanda's path to CEO, Edison first invested in Bedminster Township, NJ-based clinical billing company PHX in 2010. Six years later, PHX merged with Stratose, GlobalCare and Pay-Plus Solutions via Parthenon Capital to form Zelis Healthcare, a comprehensive billing and payment platform that bridges gaps in the healthcare financial system and aligns interests across healthcare insurers, providers, and consumers. Bain Capital later invested in the business in 2019, which is when Amanda entered the picture. 
With an undergrad from UVA, an MBA from HBS, nearly a decade of experience as a consultant at McKinsey, Amanda was an operating partner on the value creation team at Bain Capital for almost a decade before working with Zelis following Bain's investment. In 2021, as someone who had never personally managed a P&L, Amanda freely admitted to being a risky choice as CEO of a rapidly growing, several billion-dollar enterprise value and billion-dollar revenue business. She was also stepping into a company that was an amalgam of several other businesses (with various permutations of founder personalities and desires to be involved—or not). In her work with the company, Amanda built a reputation as both a tenacious and caring leader, these descriptions by her management team might seem like a contradiction, but they were the perfect combination for the Company. The management team, founders and investors discovered these traits to be exactly what Zelis needed. While she's gone on to perform as an exceptional CEO, she admits that the past couple of years have had their share of ups and downs. Amanda shared valuable, insightful advice at our annual meeting. 
Acknowledge that you are on a rollercoaster.
Wars, pandemics, civil unrest, recessions, bank failures, natural disasters, interest rate and stock market volatility, and being present for three young children…life is twisty and unpredictable. Sometimes, these events creep up sporadically over the course of a decade. Other times, you speed-run through all of them… as we collectively have in the past three years. Amanda advises CEOs to prepare their team accordingly: Be transparent in your communications, create an environment where you can all respond quickly, and stay nimble.  She doesn't shy away from communicating what is going well and what isn't. Her team has taken the challenges as opportunities due to their desire to win and her open approach.
Align all stakeholders on a strong mission.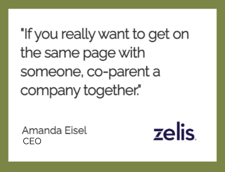 Management teams, the entire team, investors, and founders must understand and believe in the "why" of what they are doing. From the outset, Amanda defined the purpose of the organization: To transform the business of healthcare and modernize the modern healthcare financial experience. Once aligned, she turned her focus to getting Zelis humming.  

Identify and embrace the "spheres of influence" in your organization

. 
According to Amanda, "There is magic in founders." Founders care deeply about the success of what they've created and bring important "spheres of influence" to the table. She worked to understand who was good at what, then made sure everyone leaned into their strengths. That level of self-awareness empowered her to unleash a whole new side of her team. She also realized founders weren't the only ones with spheres of influence. Long-tenured team members present an amazing opportunity to carry forward entrepreneurial, "get shit done culture,", if they feel like they are part of the team and go-forward journey.
Self-awareness of your limitations is as important as your strengths

.  
Recently on our podcast, Amanda shared a sentiment that we've heard echoed by many other CEOs over the years: It is lonely at the top and you won't always have the answers to the questions being asked of you. At our annual meeting, she spoke on the importance of having people to lean on: "I am often conscious of part of what makes me able to do this job is that so many other people around me, certainly everyone on my team, but also board members are playing roles behind the scenes to make the engine keep running." Amanda also leans on her CEO coach, her mentors, and her deep network of relationships developed with other female leaders. There is strength in self-awareness. CEOs may feel like they need to have all the answers. Remember you are only human. Challenges without readily identifiable answers present amazing opportunities to bring people together to win!
Self-generate positive energy

. 
We have all heard about the tone at the top. Morale throughout an organization reflects the morale at the top of the organization. Leaders must be cognizant of the example they set (again, self-awareness). They must be able to self-generate positive energy and exude it throughout the organization. However, it's a delicate balance, as "high energy" can sometimes evolve into toxic positivity, the pressure to only display positive emotions and suppress negative emotions, feelings, and reactions. Keeping focus on the overall mission, expressing healthy enthusiasm, and keeping your people engaged is a winning combination for maintaining elevated organizational morale. Amanda reflected on Zelis continuing to celebrate the wins across the entire organization, something small companies often do but with scale sometimes is left behind, as an example of keeping energy levels high.
6. Be fiscally conservative. 
Leaders cannot stay nimble without a pragmatic approach to setting realistic objectives, budgeting, and cash management. Avoid chasing "shiny objects" unless there is a clear business rationale, a plausible plan for how said object will be obtained, and, critically, a plan for what do to with it once you obtain it. The last thing a leader wants is to spend resources chasing something and find themselves with the "dog that caught the garbage truck" problem. Maintaining clear goals and fiscal conservatism allows a company to quickly pivot and make changes without needing to confront the "sunk cost fallacy" associated with unwinding expensive initiatives that didn't go anywhere. The blessing and curse of leading a company with the financial success of Zelis is taking things for granted. Amanda shared that the recent economic volatility provided an opportunity to ask tough questions about where resources were being directed and what priorities are for the leadership team.
We could have spent the entire day learning from Amanda. Her Zelis story isn't finished. Amanda is still on the rollercoaster, navigating the twists and turns as they appear, making it look easy, armed with the lessons of her time spent on the ride. We thank Amanda for taking the time to share her thoughts with us at our Annual Meeting and we want the entire Zelis team to know how much we appreciate the amazing results they continue to deliver.