My partners Gregg Michaelson, Robert Dickey, and I are excited to have led Take Command's recent $25 million Series B and to partner with this uniquely qualified team of technologists and health insurance experts. Since the launch of ICHRA (Individual Coverage Health Reimbursement Arrangement) in 2020, Take Command has rapidly capitalized on the shifting dynamics in group health insurance. It is well-positioned to capitalize on a variety of industry tailwinds. Health insurance costs continue to rise for employers, and limited solutions have emerged to combat premium increases. Utilizing Take Command, employers can offer health insurance via an ICHRA, which can control premium costs and increase employee choice by offering tax-free reimbursements for individual health insurance.
Edison has been investing in innovative healthcare solutions for decades – including PurpleLab, CapitalRx, Zelis, HRS, Lokavant, and Virtual Health, to name a few. We see Take Command as the next step in this evolution.
Massive Opportunity to Disrupt Traditional Group Health Insurance
Today, over 160 million lives are on employer-sponsored health insurance plans in the US. The market potential for Take Command to sell is massive and can transform the status quo group health offerings.
Since ACA was enacted, the individual health insurance market has continued to grow, but there have been limited ways for employees to participate in a tax-advantaged way. When ICHRA was put into law in 2020, it unlocked the ability for employers of all sizes to offer health reimbursements to offset individual health insurance premiums. Historically, employees have had to enroll in coverage from prescribed, one-size-fits-all group insurance plans, paying for benefits they may not need. Take Command instead offers plans based on a defined contribution model, which provides employees with a tax-free stipend they can use to select the best health plan for themselves and their families. Conversely, employers mitigate or avoid costly rate increases entirely that are otherwise common each year for those offering traditional group insurance plans.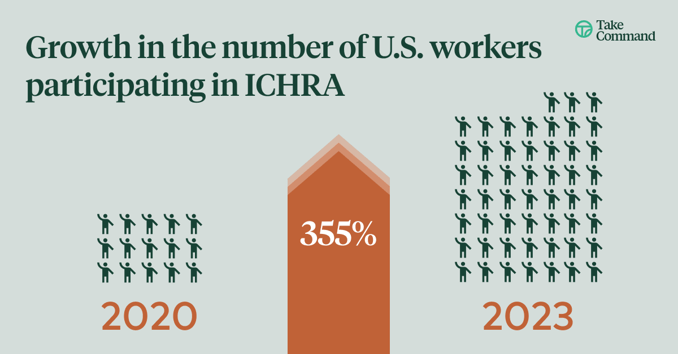 Given its benefit to employers and employees, ICHRA adoption has been more than doubling yearly since 2020, and there are no signs of stopping. The government estimates that there will be over 800,000 employers and 11 million lives utilizing ICHRAs by 2029, which we consider conservative. As ICHRA becomes better known, more brokers, strategic partners, and competitors will offer ICHRA. As a result, we anticipate adoption rates to multiply from where they are today.
Although ICHRA has its roots in small employers with under 50 employees, via QSEHRA (Qualified Small Employer Health Reimbursement Arrangement), which was passed in 2016, we strongly believe the benefit of ICHRA expands to all employers, irrespective of size. In numerous cases (primarily driven by a specific state's insurance marketplace), ICHRA is a superior employee offering. ICHRA allows maximum insurance choice and affordability by allowing the selection of plans that are best for the employee, not the employer.
Additionally, Take Command has unlocked TAM in employer segments that have previously not offered or could not afford group health insurance. The beauty of an ICHRA is that it can be designed to be more affordable than group health via fixed reimbursements by age and isn't subject to participation limits like traditional group health. For numerous employers that couldn't afford group health plans, Take Command helps offer reimbursements that weren't otherwise available to employees. Employers can offer benefit reimbursements not previously provided, a win for employees.
Via Take Command, companies move out of managing the insurance risk of their employee population. Companies can set a fixed reimbursement amount that doesn't change each year so they can get back to doing what they do best, which isn't managing health insurance benefits.
Leading Technology Provider to Power the Future of Employer-Sponsored Benefits
We strongly believe that Take Command will become the de facto technology platform for employer-sponsored benefits. To date, Take Command has built the '401k of health insurance', but they're not stopping there. Via their best-in-class administration and support platform, Take Command is uniquely positioned to capitalize on ICHRA's monumental growth and the entire spectrum of benefit offerings, including benefits such as Dental, Vision, and Life Insurance. We believe the future state of benefits will be one where the employee 'owns' their policies, not their employer. The beauty of ICHRA policies is that each plan is portable if an employee leaves, which can extend to traditional benefits.
It wouldn't be possible to accomplish the impossible without best-in-class technology and support infrastructure. Benefits are complicated, and Take Command has built its organization around supporting employees in helping them select the best options with their technology platform. Take Command has also built its technology to support employers in accelerating the learning curve on what is a new product for most HR and Benefits teams. With our funding round, we believe the current Take Command platform is only the beginning.
Lastly, a key differentiator of Take Command is their own in-house payment and payroll integration capabilities. Historically, payment integration was a gating item for employers offering ICHRA. With autopay functionality, it alleviates the hassle around employee reimbursements and ensures employer money is being directed to premiums. Take Command's growing fintech offerings overlap with our expertise in backing leading platforms such as Dash, Solutions by Text, and BillTrust. We're tremendously excited about the upside in additional payment and banking capabilities, which also help deliver a seamless user experience to employers and employees alike.
Lead by a Team of Industry Experts
All of this wouldn't be possible without an all-star team. We're proud to back Take Command's CEO and Founder, Jack Hooper, whom we've known and watched him build his business since 2019. Jack has been instrumental in helping design the ICHRA regulations on Capitol Hill and shaping ICHRA into what it is today. He is a founding member of the HRA Council, an industry group focused on ICHRA, which has been instrumental in garnering bipartisan support. ICHRA benefits both political parties – it offers both employee choice and encourages a new employer population to offer benefits when they historically haven't. Much of the momentum and support in Washington is attributable to Jack and his leadership.
Jack has also surrounded himself with an all-star lineup of C-level executives from across the spectrum of software and insurance. We are excited to roll up our sleeves and get to work with them side by side with our Edison Edge platform. Take Command is at the early innings of this transformative moment in group health insurance, and coupled with our operating prowess, the sky's the limit.