These are the early days of COVID-19 business impact and SDRs have been on my mind. Overnight, it seems, the prospect doors these folks work to open, have been slammed shut and bolted tight with worry and distraction. Concern over the virus itself is just one variable, with preoccupations of online schooling, market conditions and even food provision wreaking havoc on day-to-day routines and saturating mental capacity. For many, taking prospect calls will fall to the bottom of a daily priority list now blurred by personal and professional to dos.
But there are ways to navigate and create a new normal. Here's my take on things SDRs can do to survive, and even thrive during this transitional period.
Show Me Your Profile
Now is the time to be hyper-selective in account targeting; prioritizing those companies with the greatest likelihood of buying AND using your product in the near-term - and this list is probably different today than it was just weeks ago. So, what's the best way to go about retooling your agenda through the haze of COVID-19? Consider it through the eyes of your audience and the current impact to their businesses and lives. Begin by evaluating each company based on what they do, how they make money and whether the virus will have a positive, neutral or negative influence on their growth, and subsequently, determine if your product can better that outcome. For each of the cohorts, consider how funding for your product and category is likely to shift, and segment based on your findings. Be sure to highlight accounts with strong growth and thought leadership potential and strategize how your solution helps to advance these opportunities. The image below maps this process and can serve as reference as you step through the exercise. This is wartime ICP refinement, and as all companies scramble for revenue, drawing these distinctions early will help center attention on those accounts best suited to purchase your product. Scour your database for look-alike targets and keep the machine cranking, making refinements to the profile as you learn.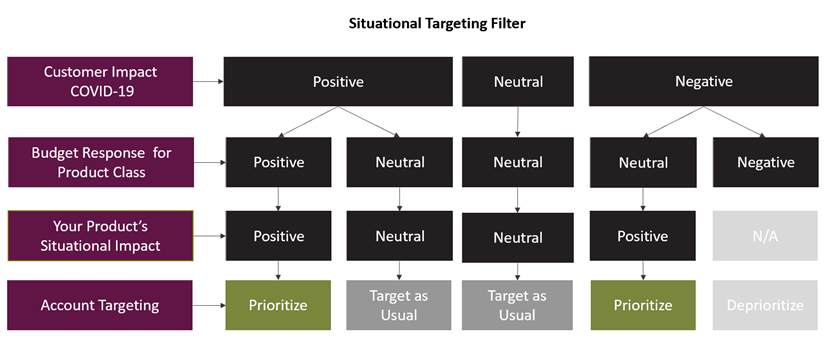 Double Your Fun(nel)
By no means am I recommending pulling back from existing call patterns and conversion goals, but I do recommend creating a parallel dashboard in which metrics are tracked including calls, conversations and conversions by sector, segment and rep to surface patterns of positive outcome. It's also advisable to track engagement by channel (more on this later) to establish a set of situational programming practices, and to track performance relative to the norm during this period. In the end, if there is a need to modify goals, the data collected will help you do so intelligently.
Ghost Bust Your Contact Lists
The sudden transition to WFH has caught many by surprise. For both SDRs and prospects, email is often the preferred communication method - and the most convenient to ignore when distraction occurs. Make sure, as part of account qualification work, that access to personal cell phone numbers, social media handles and other alternate modes of communication are confirmed, should email communication go dark completely.
Change the Channel
Multi-channel targeting is a tactic employed by successful marketers, and SDRs will benefit from subscribing to this approach as they fight for mindshare in the coming days. While most events have been cancelled or delayed, webcasts, social media and personalized emails are still effective ways to connect and engage. Webcasts educate at any stage of the buying cycle, and attendance or recording downloads in today's climate will be an indication of stronger interest than usual. Social media is a great place to monitor prospect activity and can be a treasure trove of insight into prime periods of activity, areas of interest and general engagement. Integration of these signals to your qualification framework will help map activity; always against a backdrop of what you know about the prospect, their current mental state, and the need for your product at this stage.
Be the Namaste in Your Prospect's Day
As weekends bleed into workdays and the concept of work life balance is redefined, make it your mission to be flexible, thoughtful and targeted in each interaction. If personal circumstances allow for contact during off hours, say, after the kids are in bed, or even on weekends, offer and accommodate these exceptions. Instead of forwarding a generic webcast invite, call out key points relative to your customer's current situation, and how it will benefit them or their company. Better yet, send them the playback with a time stamp of the salient points and note that you're doing so to be mindful of their time. If budget permits, send top targets a pre or post call token through Amazon or other online retailer to bring ease or enjoyment to their day – and while we're on the topic, make personal address acquisition part of your ongoing ghost busting exercise, so that you're able to leverage this channel as desired.
Just as people have routines in the office, so will they establish preferences for their time at home. Be open and on the look-out for tactics that work to foster connection and remember that it's your job to make hearing about your product timely, informative and digestible in the context of the current events and all that is going on for your prospects.
So, there you have it, my top tips for helping SDRs hang tight during the COVID-19 crisis.
Steve Richard, Founder & Chief Evangelist at ExecVision, gives great tactical tips on how to message to prospects in his COVID-19 Call Camp. Take a listen and let me know what's working for you.