It all seemed so clear as recently as a few months ago. The pandemic had fundamentally shifted how America works, work-from-home was here to stay and the relationship between employers and their workers had changed forever.

There was even data to back up these assumptions.


According to research by employee engagement platform provider and Edison portfolio company 15Five, more than 85% of organizations said that work-from-home would continue after the pandemic and 59% said that flex scheduling will also remain as an option. By the end of 2021, as much as 30% of the workforce expected to continue working from home more than once a week. The data also reported that manager/employee relationships remained unaffected, with 92% reporting the level of trust they enjoy from their managers has increased or stayed the same.

But by this spring the world began its pivot towards normalcy, and the future of work came into focus. Since then, the return to offices has accelerated and one thing is becoming clear: the "new normal" doesn't look too different from what we left behind pre-pandemic. According to an April 2021 survey of 350 CEOs and human resources directors by the staffing firm LaSalle Network, 70% said they plan to have employees back in the office by this fall, if not sooner.

Short story: The shift to endless flexibility that was predicted last year may begin to fade as the vast majority of people find themselves back in the office at least a few days a week. It appears we are coming full circle, back to a world where working remotely means the occasional Friday from home, and that's about it.

Need proof?

Google began bringing most employees back to its offices in April, pumping the brakes on the work-from-home structure that most of its 135,000 employees had enjoyed since last spring. Starting in September 2021, any of the company's employees who want to work remotely for more than 14 additional days per year will need to formally apply.

JPMorgan Chase took a similar step more recently, telling its U.S. employees in late April that they are expected back in the office on at least a rotating basis by July and opening its buildings to all employees by May 17.

None of this should come as any surprise. Companies have been wrestling with the realities of work-from-home and hybrid work arrangements for months, delaying future plans until the trajectory of the pandemic became clear. During our recent CEO Forum, we hosted a session: Preparing Your Post-Pandemic Workplace, in which we explored these realities, the role of vaccination in the workplace and trends in real estate; our CEOs had a lot on their minds as they contemplated not only redefinition of workplace, but of the workforce, too.

Click here to download the infographic.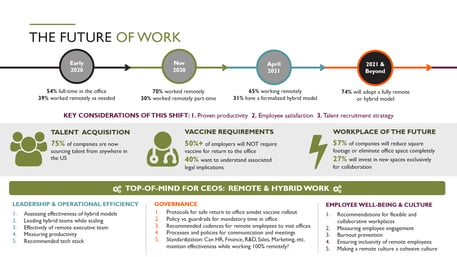 Over the last year, we proved that we could handle most of our business over Zoom, hold board meetings outside of a physical location and make investments from afar (like gohenry, which was done 100% remotely in late 2020), coming back to the office was never in question at Edison. We've been open in a limited capacity from the outset of the pandemic, with a small staff coming in to maintain operations. We did it safely and we did it distanced, but for us it was important to maintain in-office culture because it is so central to who we are as an organization and the relational approach we take with each other and the work that we do.


Not all companies will share our credo, and many will do well with remote work long-term. In fact, last month we surveyed our portfolio companies on their post-pandemic workplace plans, and many are electing for a formalized hybrid model. You can access the results of our survey here. But if the trend back to the office is telling us anything it is that others are finding out, like Edison, that the trade-off isn't worth it and there are real, quantifiable reasons to return to the office.

And the cliché of water cooler conversation isn't one of them.

Click here to download the State of the Workplace Survey Report.