Global supply chain integrity company looks to accelerate growth to redefine supply chain operations
PRINCETON, NJ. (Mar. 10, 2020)— Edison Partners, the growth equity investment firm, today announced leading a $17.5 million investment in Overhaul, a real-time supply chain integrity technology solution.
Launched in 2016, Overhaul leverages visibility to detect and automatically correct noncompliance within supply chains and has grown to be a trusted provider of integrity solutions for pharmaceutical, high-tech and food industry Fortune 100s moving freight globally.
Overhaul plans to use the investment to achieve its aggressive growth goals in 2020, bolster product offerings to support broad market use, grow its team in North America as well as in its new European headquarters in Ireland, and expand reach into other key global markets. Overhaul tripled in size in 2019 and is set to repeat this growth in 2020.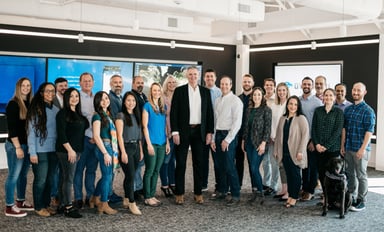 By 2023, at least 50 percent of large global companies will be using AI, advanced analytics and IoT in supply chain operations, according to Gartner. Supply chain leaders are considering year on year cost-cutting measures while examining how emerging technologies such as AI, robotics, and blockchain will potentially have long-term impact to their bottom lines. Deciding where and how to invest can be a challenge, as many business intelligence tools promise ROI that is unattainable without the benefit of a fully visible supply chain network across business-critical teams such as logistics, sales, security, quality and risk management.
Companies that aggressively digitize their supply chains can expect to boost annual EBITDA growth by 3.2 percent—the largest increase from digitizing any business area—and annual revenue growth by 2.3 percent, according to McKinsey & Company. "Every company is looking for a way to use data to increase productivity while decreasing costs and risk; their UPS left turn. Overhaul is continually disrupting the logistics industry by arming our clients with the tools and transparency to cut supply chain risks and inefficiencies, enhance quality and control across their supply chain and improve overall customer satisfaction to stay ahead of the curve. We're excited to team with Edison Partners to leverage their expertise in accelerating growth, which will enable us to bring supply chain digitization and risk mitigation solutions to companies around the globe," said Barry Conlon, Overhaul CEO and Founder.
Conlon, a former member of the Irish Defense Forces, Irish Special Operations Unit, Army Ranger Wing, gained unique security operations experience in all aspects of Special Forces Operations during his eleven-year tenure. He moved from Ireland to Texas and became a citizen in 2011. He is the former CEO and President of FreightWatch, which was acquired by United Technologies Corporation in 2012.
"Amazon easily demonstrates how world-class supply chain management is a powerful advantage. Today, true supply chain visibility is non-existent for most global businesses. Overhaul's device and data-agnostic solution approach generates the actionable oversight and real-time data that global companies need to gain a competitive advantage, along with the ability to mitigate risk and significantly reduce costs," said Ryan Ziegler, General Partner, Edison Partners, who led the investment and heads the Enterprise Solutions practice. "CEO Barry Conlon has the domain expertise and vision needed to solve complex supply chain problems. As a former member of Ireland's Tier-1 Special Operations Unit, he demonstrates tremendous grit, entrepreneurial drive, and the leadership skills needed to succeed in this market. We look forward to helping Barry and his team quickly scale as the industry-leading software solution for supply chain visibility."
Edison Partners has financed and guided more than 235 private companies, a third of which have been in the enterprise solutions space. Edison's current enterprise solutions portfolio includes Anons, All Traffic Solutions, Blue Medora, Bricata, Emplify, ExecVision, Giant Oak, Jornaya, Northpass, NS8, PathFactory, Predata, Suuchi, TripleLift, Terminus, and Zagster. Notable exits in the sector include Archive Systems, Billtrust, eSentire, ItemMaster, InSoft, Kemp, Logfire, Notable Solutions, Operative, Tangoe, Telarix, Virtual Edge, and VFA.
About Overhaul
Overhaul is a supply chain integrity solutions company that allows shippers to connect disparate sources of data into the first fully transparent platform designed for the logistics industry. The result? Data that is transformed into critical insights that can instantly trigger corrective actions, impacting everything from temperature control to handling requirements or package-level tracking, ensuring cargo arrives at its destination safely, undamaged, and on time. All active shipments, all corresponding data sources, all in real-time through a single unified view. For more information, visit www.over-haul.com.
About Edison Partners
For more than 30 years, Edison Partners has been helping CEOs and their executive teams grow and scale successful companies. The firm's investment team brings extensive investing and operating experience to each investment. Through a unique combination of growth capital and the Edison Edge platform, consisting of operating centers of excellence, the Edison Director Network, and executive education programs, Edison employs a truly integrated approach to accelerating growth and creating value for businesses. A team of experts in financial technology, healthcare IT and enterprise solution sectors, Edison targets high-growth companies with $5 to $25 million in revenue; investments also include buyouts, recapitalizations, spinouts and secondary stock purchases.
Edison's active portfolio has created aggregated market value exceeding $10 billion. Edison Partners is based in Princeton, NJ and manages more than $1.4 billion in assets throughout the eastern United States.