We're now in the fifth year of a fintech boom. I can say it: Investors are legitimately bullish on this sector. But not all fintech areas will attract investment dollars in 2018—some verticals are overfunded and play in a crowded space.
This distinction matters to us as growth equity investors (listen to Chris Sugden's Tearsheet podcast on the role of growth equity in fintech). We've been a big supporter of fintech for more than 30 years; hype cycle trends never interested us, but returns do. We invest when there's an opportunity to accelerate growth through sales and high- quality revenue—not marketing and buzzwords.
In recent years, the lion's share of attention and capital has gone to consumer fintech businesses as opposed to institutional fintech. This makes sense. It's easy to understand consumer finance as we encounter it on a daily basis with our own money. High technology and product adoption—driven by customer experiences that cater to Millennials—has made it easy to acquire new users faster than ever. And companies, like MoneyLion, are also turning to rebundling of fiduciary products, offering a more holistic solution to what consumers need, increasing consumer entry points and adoption rates.
Because I like numbers, facts, and pretty graphs, I wanted to see where the growth equity money in US – aka the universe in which we, at Edison, play – went across various fintech sub-verticals over time, and produced the following using Pitchbook data to look at investment trends: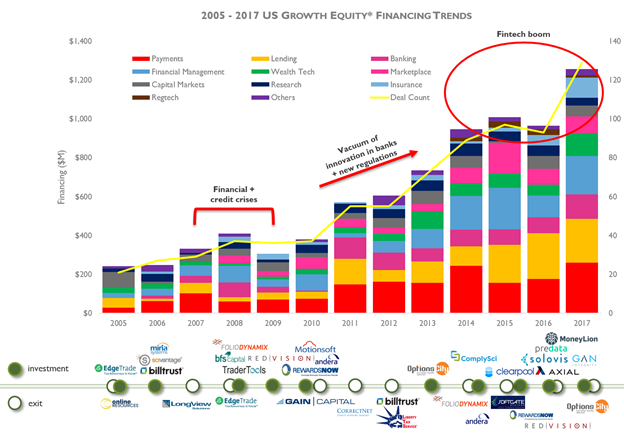 *Growth equity transactions defined as $5M-20M check size, where we at Edison play
During 2014 and 2015—the first two years of the fintech investment boom—more than one-third of all growth equity fintech checks ($1.96B) went to mobile payments and online lending. But, we also saw the financial management sub-vertical, like B2B billing, accounting and tax solutions, start to take off during this time (a sector we picked more than a decade ago with investments in companies like Billtrust). And in 2015, the marketplace sub-vertical—two-sided B2B marketplaces like Axial—saw a brief burst of interest. There's now a glut of startups in these popular sub-verticals.
Don't get me wrong; I'm still very excited about aforementioned sub-verticals and ongoing evolution of these markets. At the same time, our job as investors is to understand trends and find favorable investment spaces, and I think institutional fintech deserves more attention than they've been getting previously. Here's why:
Institutional fintech sub-verticals are generally underfunded. From the $8B of growth capital invested in fintech during 2005-2017, only around $90M were made in regtech. That's 9 out of 777 deals. Investment dollars for lending were more than double that of capital markets sub-vertical, with 112 and 53 deals, respectively. There are also more companies addressing those highly funded areas, such as consumer fintech dominated by payments and lending solutions. It makes sense: when new service providers cater to individuals, they'll at least try it. Consumers' speed of acceptance and adoption of new technology and product is certainly much faster than before.
Several areas of institutional fintech is not well understood by many growth investors. It is arguably easier to grasp consumer finance concepts (because you do it every day, knowingly or unknowingly) and have a position on it, versus a market microstructure company with all kinds of regulatory facts-of-life and nuances that you may not have had exposures to previously. It's also easier to understand a billing and accounting system versus a structured notes platform.
Institutional fintech is ripe for a breakthrough and disruption. This is key. While institutional end users—banks and financial institutions—have a slower technology and product adoption rate than users of consumer fintech, institutions are feeling economic pressure, and the needs of their clients are evolving. At the same time, regulators are advocating for best of breed: best execution, best governance, best transparency, best security—best anything. They're asking incumbents to collaborate and democratize access. Buyer psychology and behaviors have changed when evaluating solutions. Both fintechs and institutions are implementing directives relevant in their verticals.
If consumer fintech has been an example of capitalism at work, institutional fintech has been stubbornly socialistic.
The good news is that the landscape for institutional fintech has been changing for the better. It's ironic that regulators are acting as catalysts for capitalism in institutional fintech, and are compelling investors to finally take a deeper dive.
Edison has been at the forefront of regulator disruption. In 2012, we invested in ComplySci, risk management and compliance software used by more than 1000 global institutions. In late 2015, we invested in Clearpool, a cloud-based algorithmic trading platform that provides pre-trade compliance, risk checks and advanced analytics for transparency and control throughout the electronic trade lifecycle. In early 2016, we led a growth round in Solovis, a multi-asset class portfolio management and reporting platform, which since has grown revenue 300 percent. These companies benefit tremendously from regulators acting as much-needed accelerators.
This year, we see blue skies ahead for consumer fintech, and even more so for institutional fintech. Check out Chris Sugden's recent Yahoo! Finance interview for more on where and how we're looking to invest next.