The Lighthouse Series features a weekly Q&A where we ask five simple questions to one of our CEOs. These questions are matters of the heart, mind, and business. We hope that this is helpful to fellow CEOs as they muddle and model their way through the fog, winds, and frightful waves currently underway.
THIS WEEK'S CEO:

STEVE CORNWELL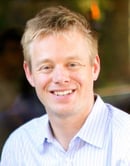 Steve Cornwell is the Founder & CEO of Northpass, a learning platform uniquely designed for line-of-business operators seeking to empower distributed workforces and customers. He is an experienced SaaS leader with more than 15 years of experience building and scaling software companies — from the ground up — helping brands like Airbnb, Nike, and Uber transform their learning and analytics programs into world-class centers of excellence.

Before founding Northpass, Steve served on the executive team at Edifice, where he helped grow the business from bootstrapping to over 100 employees, which led the company to an acquisition by SPS Commerce in 2013.

In addition to his business ventures, Steve is a husband, father and board member of the Cheerful Heart Mission — a Christian humanitarian organization dedicated to improving the lives of the people living on the border of the Dominican Republic and Haiti.
1. You chose to build a company around learning management and education. Why are you passionate about this?
I'm passionate about what we're doing at Northpass for three reasons. First, learning programs can be the most significant force multiplier of business performance. Vision, strategy and people are the key ingredients of what makes a business "go." Assuming vision and strategy are in place, nothing fuels growth more than equipping great people with the right knowledge and skill set needed to continue thriving in their respective work.
I see a much bigger market for Learning Management Systems (LMS) than what exists today. Today, the space is too tightly bound to traditional Learning & Development (L&D) and Human Resource (HR) buyers. That never made sense to me. Every operator can benefit from learning technology, but they need solutions and platforms that work for them.
The Northpass team is especially fired up about building a product that expands conventional market boundaries and welcomes new buyers seeking to accelerate and elevate their business. This has been a part of the vision all along. For us, we're equipping these new lines of business that previously didn't have access to these types of solutions. Take, for example, leaders of the customer experience (CX), workforce operations and product development orgs.
Last, on a more personal level, it's been tremendously rewarding to enable companies with the ability to assist their personnel in the pursuit of professional growth. By doing so, we're essentially serving as a conduit to provide people the opportunity to obtain financial freedom. And that's just awesome.
2. Your tagline is "Learning Software for Today's Economy." What do you mean by this, and please share how you adjusted your product strategy for the COVID-19 crisis?
We define "today's economy" as companies that operate a cloud-first business model (e.g., SaaS, Telehealth/Telemedicine, Digital Real Estate, Gig platforms/services, etc.) These businesses connect high volumes of providers and customers worldwide. For them, ensuring users succeed, enjoy their interactions and remain loyal is imperative. This translates to effective onboarding and continual learning playing a critical role in the creation of world-class customer experience. Enter Northpass.
Before COVID-19, our roadmap included a mix of customer issues, sales opportunities and product differentiators. After COVID-19 emerged, we decided to strictly focus on solving the challenges our customers face in this new world. Our roadmap now ranges from cleaning up user experience (UX) quirks to developing new features that help customers continue building effective learning programs in the COVID-19 era. Essentially, COVID-19 has accelerated the normalization of distributed, online learning for businesses both small and large.
We've always prioritized customer centricity at Northpass, but I've been so proud of our team, which has doubled down to rally around making our customers as successful as possible in these extraordinary times. We're supercharged and on a mission to solve the problems our customers are experiencing today. Our staff is leaning into user issues and shipping faster than ever.
3. Overall, now that we are ten weeks into the Swan, how are you feeling about the company?
Northpass is fortunate to be in an industry experiencing a rising tide in demand. I remain bullish about our short-term performance and long-term outlook. We've felt a bit of softening in individual segments of our customer base, but, generally speaking, we're benefiting from an increase in new customer demand from a broader audience than we've previously targeted.
Our focus in this crisis has centered around figuring out how we can fully capitalize on the increased need for digital learning. We've ramped up our voice of the customer program and allocated additional time to scrutinizing the customer segments realizing the highest ROI from our platform. These insights enable us to spin up all-new campaigns that reach a broader audience through additional channels. It's a challenging, yet exciting, time.
4. How far out is your planning horizon these days?
Our horizon is 18-24 months. Each week, we update our financial models with the most current data about customer acquisition and retention, and our most recent perspective about market sentiment.

Our go-to-market planning window is much shorter. The marketing and sales teams are as agile as ever, and are adapting campaigns and programs based on weekly performance data.
5. How do you keep yourself sustained and ready week after week during this high-stress phase?
To stay fresh and motivated, while facing these macroeconomic headwinds, I've established a few guidelines:
Keep the Northpass vision front and center. While we're sailing through stormy waters today, our destination hasn't changed. It's beneficial that our staff is reminded of this every day. It's a powerful message.
Not burning out on Zoom. Most of the Northpass executive team lives within a 30-minutes drive, so, I meet them weekly for one-on-one, walking meetings — keeping socially distant, of course. We're all benefiting from getting outside, off screens and connecting in person.
Taking days off to embrace relationships. This Swan is a once-in-a-lifetime opportunity to get creative with family and spend valuable time together.
Maintaining faith and exercise. In the context of this pandemic, faith has remained steadfast and comforting as we're surrounded by uncertainty. Additionally, staying active with my fitness routine helps get my blood pumping and readies my body for the day.