Company is the largest digital, one-stop shop for on-demand outdoor home services; investment accelerates the rollout of new service lines across hundreds of U.S. markets
PRINCETON, NJ. (Nov. 12, 2019)—Edison Partners, the growth equity investment firm, today announced leading a $10.5 million growth investment in Austin-based LawnStarter, the largest on-demand platform for outdoor home services. The company will use the financing to continue to broaden its service offerings and further expand across the 120 markets it serves in the U.S.
An estimated $99 billion will be spent on lawn and landscape services in 2019, according to an IBIS World Report. The industry is highly fragmented with more than 500,000 businesses of which 70 percent are owner-operated. Millennial homeowners are purchasing outdoor home services at a higher rate than previous generations and prefer a digital interaction. However, most service providers lack the time and resources needed to attract new customers, evolve the customer experience and grow their businesses.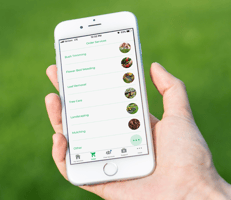 LawnStarter connects highly qualified outdoor home services professionals to homeowners in a digital, on-demand marketplace, where they can order, manage, and pay for services all on a mobile app. The company's platform is actively used across the U.S. and operates in 120 cities, including Austin, Tampa, Denver and Atlanta. The new investment will accelerate LawnStarter's plans to expand the types of services they can offer in its effort to create the most complete on-demand platform for outdoor home services.
"LawnStarter is moving a fragmented industry towards a high quality, innovative and integrated set of service providers. They are bringing all the benefits and familiarity of on-demand consumer experiences to outdoor home services," said Daniel Herscovici, partner at Edison Partners who led the investment and joined the LawnStarter board of directors.
"Running a lawn care business and hiring outdoor home services pros is hard. Homeowners and renters typically rely on word of mouth or hire whoever is mowing the lawn next door. LawnStarter only accepts highly qualified pros and has amassed more than 5,000 service providers to create the largest, on-demand platform for outdoor home services," said Steve Corcoran, co-founder and CEO of LawnStarter. "Edison Partners and Daniel Herscovici bring us the growth capital needed to help us take our business to the next level of growth and further expand across the hundred-plus markets we already serve."
Herscovici is a recognized leader in Smart Home, Internet of Things and digital transformation, with more than 20 years of experience at Fortune 500s including Motorola and Comcast, where founded and led Xfinity Home, Comcast's Smart Home and IoT business unit, as well as Xfinity Wi-Fi. As Edison Partner's newest partner, Herscovici is focused on enterprise solutions that smartly connect home services and address unmet market needs in innovative ways.
LawnStarter is also the latest Edison Partners investment in large fragmented markets ripe for disruption and a differentiated customer experience, such as in real estate investment and funding platform Fund That Flip, micro-mobility company Zagster, and the financial membership platform MoneyLion. In all, Edison Partners has financed and guided more than 230 private companies.
About LawnStarter
LawnStarter is the leading online marketplace for consumers and lawn care professionals. Through its online presence and its app, the company provides instant quotes for consumers, who can schedule lawn mowing and related lawn-care services from insured professionals. LawnStarter is headquartered in Austin. For more information, visit LawnStarter.com.
About Edison Partners
For more than 30 years, Edison Partners has been helping CEOs and their executive teams grow and scale successful companies. The firm's investment team brings extensive investing and operating experience to each investment. Through a unique combination of growth capital and the Edison Edge platform, consisting of operating centers of excellence, the Edison Director Network, and executive education programs, Edison employs a truly integrated approach to accelerating growth and creating value for businesses. A team of experts in financial technology, healthcare IT and enterprise solution sectors, Edison targets high-growth companies with $5 to $25 million in revenue; investments also include buyouts, recapitalizations, spinouts and secondary stock purchases.
Edison's active portfolio has created aggregated market value exceeding $10 billion. Edison Partners is based in Princeton, NJ and manages more than $1.4 billion in assets throughout the eastern United States.