Funds will help advance telemedicine provider's go-to-market capabilities and best-in-class technology platform
PRINCETON, NJ. (September 5, 2019)—Edison Partners, the growth equity firm, today announced leading a $10 million investment in Health Recovery Solutions (HRS), a market leader in remote patient monitoring. The funds will be used to accelerate the company's go-to-market capabilities and augment its best-in-class technology platform within the $12 billion telemedicine market.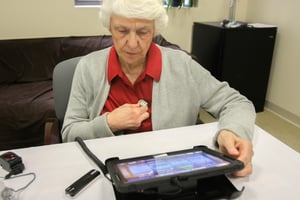 Chronic disease continues to drive up healthcare costs and is the leading cause of hospital readmissions. Remote patient monitoring (RPM) is becoming a fundamental tool for decreasing readmissions, improving outcomes, and reducing the overall cost of care. Hoboken, N.J.-based HRS provides an RPM platform that allows health systems and home care agencies to reduce hospital readmission rates by up to 80% while improving patient and caregiver satisfaction.
"As the U.S. healthcare industry shifts to a value-based care model, providers are more incentivized than ever to decrease readmissions and improve patient outcomes," said Gregg Michaelson, Partner at Edison Partners who led the investment and will join the HRS board of directors. "CEO Jarrett Bauer and his team have built a superior technology solution that has allowed HRS to quickly scale in a capital efficient manner. Jarrett, along with his co-founders Rohan Udeshi and Dan Priece, are singularly focused on building the market leader and we're thrilled to have the opportunity to help them achieve their goals."
"We're delivering a comprehensive solution to costly chronic disease management," said HRS CEO and Co-founder Jarrett Bauer. "Our partnership with Edison Partners will allow us to further accelerate toward our ultimate goal of positively impacting millions of patients who are unnecessarily readmitted to the hospital every year. We're thrilled to partner with the Edison team as they bring healthcare and technology expertise along with operational capabilities to help us drive toward a premium outcome."
The HRS software platform connects post-acute patients with clinicians and family caregivers, allowing for daily performance tracking, video visits, dietary guidance, and a host of other engagement and communication tools. Clinicians utilize the platform to track vital statistics, manage patient recovery, and intervene directly or through a family caregiver when necessary. The software is customizable with more than 40 treatment plans for conditions such as: diabetes, COPD, congestive heart failure, and chronic kidney disease.
The company has more than 140 customers across the healthcare provider network including
recognized names such as Banner Health System, Penn Medicine at Home, Well Care Health, Northwell Health, and Medstar Health. The company was listed on the 2018 and 2019 Inc. 5000 lists of America's fastest-growing private companies.
HRS marks the fourth healthcare technology investment for Edison Partners in the last three months. Additional recent investments in the sector include: CapitalRx and PurpleLab. HRS is also the 49th investment in the firm's home state of New Jersey.
In all, Edison Partners has financed and guided more than 220 private companies since 1986. Noteworthy Healthcare IT exits include Premier Health Exchange (PHX), Dendrite, Cadient, Health Market Science, and Verilogue. Current Healthcare IT portfolio companies include Lincor, TrialScope, and Zelis.
About Health Recovery Solutions
Health Recovery Solutions (HRS) supplies leading health systems with the most advanced remote monitoring platform and technology-enabled management services focused on changing patient behavior to reduce readmissions and improve clinical outcomes. HRS' disease-specific engagement kits are customized with educational video, care plans, medication reminders while integrated with Bluetooth peripherals to engage clients. For clinicians, HRS' software allows for the management of high-risk clients and provides seamless communication with them through video chat, wound imaging, and text messaging. For family members and caregivers, HRS' software gives them the ability to be fully involved in their family member's care and well-being. To learn more about Health Recovery Solutions, visit www.healthrecoverysolutions.com.
About Edison Partners
For more than 30 years, Edison Partners has been helping CEOs and their executive teams grow and scale successful companies. The firm's investment team brings extensive investing and operating experience to each investment. Through a unique combination of growth capital and the Edison Edge platform, consisting of operating centers of excellence, the Edison Director Network, and executive education programs, Edison employs a truly integrated approach to accelerating growth and creating value for businesses. A team of experts in financial technology, healthcare IT and enterprise solution sectors, Edison targets high-growth companies with $5 to $25 million in revenue; investments also include buyouts, recapitalizations, spinouts and secondary stock purchases.
Edison's active portfolio has created aggregated market value exceeding $10 billion. Edison Partners is based in Princeton, NJ and manages more than $1.4 billion in assets throughout the eastern United States.