Reinforces Commitment to Strategic and Operational Development for Portfolio Companies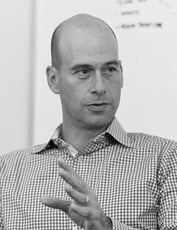 Lawrenceville, NJ, June 22, 2015 – Edison Partners today announced it has appointed Gregg Michaelson as Operating Partner. Michaelson, a 20-year veteran of leading global health and wellness media organizations, brings deep experience in developing and executing innovative business strategies that deliver bottom line results. In this role, Michaelson will be responsible for helping Edison portfolio companies enhance their corporate strategies, business models, market expansion opportunities, and operational efficiencies.
"We believe that growth-stage technology businesses need more than capital to establish and sustain themselves as market leaders," said Chris Sugden, Managing Partner of Edison Partners. "Gregg's operating expertise in the media and healthcare industries significantly enhances our ability to build more scalable, successful, valuable companies through our Edison Edge value-added services platform."
In his most recent position, Michaelson served as CEO at Linkwell Health, a leading consumer engagement company in the healthcare industry, where he built a proprietary content marketing system licensed by 16 major health plans to improve digital engagement, brand satisfaction, and care utilization. Before Linkwell Health, Michaelson was president and chief marketing officer at Rodale, growing international brands, such as Men's Health, Women's Health, and Prevention into category leaders.
"The firm's Edison Edge platform and dedication to accelerating growth and scale for its companies aligns perfectly with my experience as a CEO and an operator in high-growth organizations small and large," said Michaelson. I am thrilled to join the Edison team and look forward to rolling up my sleeves with current and new portfolio companies."
Last week, Edison announced an $8 million investment in TripleLift, the first investment for Edison Partners VIII, and the twenty-fourth investment by its Interactive Marketing & Digital Media practice. Last month, the firm led a $25 million round of equity funding in support of the Magnetic-MyBuys merger.
About Edison Partners
For 28 years, Edison Partners has been helping CEOs and their executive teams navigate the entrepreneurial journey and build successful companies. Through the unique combination of expansion capital and the Edison Edge platform, consisting of strategic advisory, the Edison Director Network, and executive education, Edison employs a holistic approach to nurturing invention and creating value for growth stage businesses ($5 to $20 million in revenue) in financial technology, healthcare IT, enterprise IT, and interactive marketing industries. Edison investment objectives also include: buyouts, recapitalizations, spinouts and secondary stock purchases.
Edison's active portfolio has created aggregate market value exceeding $5 billion. Its long-tenured team, based in Lawrenceville, NJ, New York, NY, McLean, VA and Cleveland, OH, manages more than $1 billion in assets throughout the eastern United States.