Edison turns 30 this year! Each Friday through year end, we'll be giving you a little blast from the past. True to the Edison Code, this photo blog campaign emphasizes an important fact that here at Edison we are candid -- refreshingly and uncomfortably.
This Friday not only marks National College Colors Day, but also the NCAA kickoff weekend, so what better time to feature our Managing Partner, Chris Sugden, a bleed-green-and-white Michigan State die-hard.
Edisonian of the Week: Chris Sugden - Then & Now
Q: Let's talk football. If Edison Partners were a team, what would our mascot be?
A: This is a layup and you know it! The Edison Partners Spartans has a nice ring to it, don't you think? As everyone at our firm knows, when Michigan State wins on Saturday, my mood on Monday is always a little better. Also, we have three Spartan alums on our team already. Finally, Spartans were not only considered some of the greatest warriors in history, but they were way ahead of their time as women were afforded very similar rights to men. Likewise, nearly one-third of our firm is female -- a very high percentage in our industry. We are much better investors and decision-makers because of our diversity.

Q: Edison green is pretty close to Spartan green, too. Did you always know you were going to be a Spartan at Michigan State University?
A: No, and I guess this is an opportunity to go public. I actually went to University of Michigan my first year (*GASP*), and then transferred to Michigan State University. Growing up in Michigan, this is a rivalry to the death. I guess I wasn't always a crazy MSU fan, but going to Michigan for a year is enough to turn you into one.
Q: Did you ever receive any advice in football that you later found applicable to business?
A: My dad was my favorite coach and he told me from day one that I wouldn't like Michigan, so I advise my kids, "Listen to your father better than I listened to mine. Father DOES know best."
On the field, my dad's big saying was "hit or be hit." In business, I think this translates to being the first mover and taking risks when all the answers are not yet known.
Personally, I think football is one of the best metaphors for life. You know who the winners and losers are every play, and when you get knocked on your ass, you're challenged to line up and win the next down.
Q: While you're on a roll of bringing things to light, let's talk 80s. Did you ever rock any fun or embarrassing fashion trends?
A: I wouldn't say embarrassing, but Lacoste was big then. My nickname was "Mr. Alligator" because I was the flipped-up-collar guy. One funny memory: in high school, my friends and I dressed up as DEVO for a Battle of the Bands and lip synched "Whip it." The next year, Quiet Riot's "Cum On Feel the Noize" was a crowd favorite. Good times, but some pretty bad pants.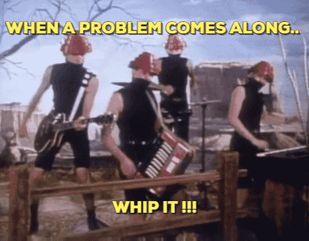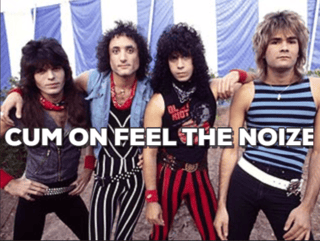 QQ: From rock & roll footballer to your first job as an accountant then start-ups, we are lucky your path led you to Edison Partners in 2002. Since then, what have been some of your best memories or favorite stories of working here?
A: There's been a lot of them in 14 years. For those who think I'm a workaholic, closing my first investment (which, for the record didn't turn out to be a great deal for Edison) was one of the most memorable events because I was at the hospital and my first child was born an hour later. Next, I'd say the most recent and best memory was our firm having enough success to take not just the team, but also all of their families, to Disney World.
Two additional milestones are also stand-outs: 1. Completing my first good exit. 2. Closing our most recent fund, Edison VIII, the largest fund in Edison's 30-year history and the next Edison generation's first fund. The faith and trust our Limited Partners have placed in us is truly humbling and incredibly gratifying.
Q: If you had an opportunity to interview anyone, who would it be and why?
A: It can't just be one. First, Ronald Reagan and for those who know my politics, the "why" is easy. From Hollywood actor to California governor to winning the Cold War and the wall coming down, what's more 80s than Reagan?
Very close second, Alexander Hamilton—Yes, I've seen the musical play—and Lin-Manuel Miranda was right: "Hamilton's life story is truly better than anything Hollywood could ever dream up."
Ultimately, I pick these two because they are quintessential "American dream" stories.
Q: What is something people would be surprised to learn about you? Any interesting hobbies or hidden talents?
A: This is my chance to give my wife some credit. If you haven't seen our new office, Debbie Sugden clearly has a knack for interior design.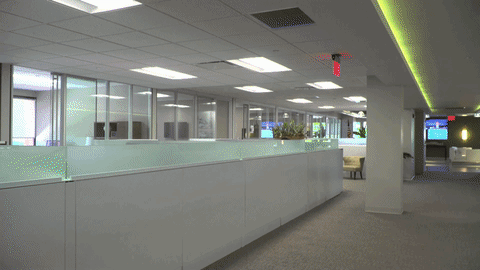 I don't think it's a big secret, but having been the deputy mayor of Montgomery, NJ... I would say it cured my need for political office...for the time being...
There you have it, from Captain on the football field to Managing Partner of our firm, Chris has always been a leader and we are all excited to see what he will do next.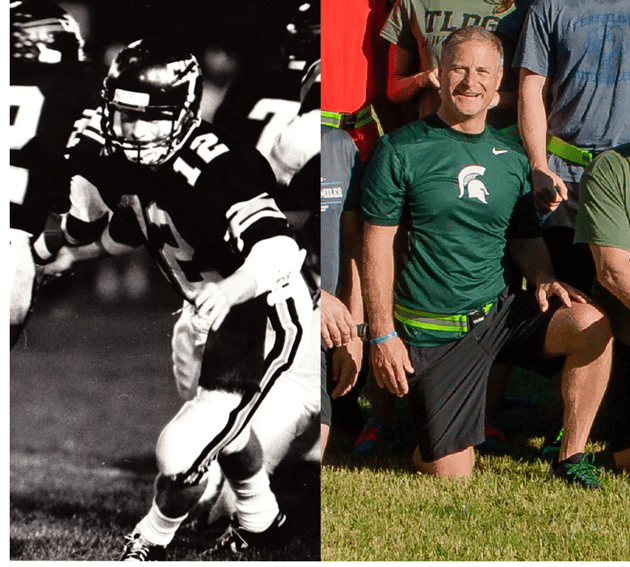 Taken in the fall of 1986, we have to thank Chris's mom for this picture from the Lansing State Journal. Chris was on the cover showing off his QB strength (handing off) as a junior in high school. On the right, Chris looks calm and collected after an early morning PT Bootcamp at the 2016 CEO Summit at\ West Point, NY.
We hope you'll join us on this #EdisonTurns30 campaign. Any and all contributions from our network are most welcome.