Edison turns 30 this year! Each Friday through year end, we'll be giving you a little blast from the past. True to the Edison Code, this photo blog campaign emphasizes an important fact that here at Edison we are candid -- refreshingly and uncomfortably.
Since joining Edison Partners in 2006, this week's featured Edisonian has more than 25 years of experience in senior-level support. Not only does Judi assist with our Limited Partner relations, but she has mastered the art of working at lightning speed providing executive-level support to our Managing Partner, Chris Sugden.
Edisonian of the Week: Judi Contursi - Then & Now
Q: What's your favorite aspect of working at Edison Partners?
A: My favorite aspect of working at Edison Partners is the people. I work side-by-side with some very intelligent, energetic and motivated people. We are all different, but that just makes it more interesting.
Q: What did you want to be as a child? Did you always want to work in investing?
A: As a young child, I loved skiing in New England and Colorado, so I wanted to be an Olympic skier. My backup plan? A forest ranger! Honestly, I didn't chose the investment industry, it choose me. I'm a seasoned facilitator and the financial/private equity world is the perfect place for me.
Q: Based on your 1986 picture below, how did you get started as a Flight Attendant? Was this your first "career"?
A: Yes, flight attendant was my first career. I was working for Hilton Hotels while attending school and saw an Eastern Airline ad on TV. I mailed my application (not email, U.S. Mail), got through two interviews and was off to training in Miami, FL.
Q: What do you like to do in your free time?
A: So many favorite things to do and so little time! Love sports: swimming, skiing, and running top the list. Other favorites are hiking and biking -- really anything outdoors.
Q: What is something people would be surprised to learn about you?
A: I was a triathlete and dabbled in marathons in my 30s and 40s. Two and a half years ago, I was diagnosed with AS a form of Rheumatoid Arthritis. It is an invisible disease, but a painful one. My goal in 2016 is to run a 5K this fall.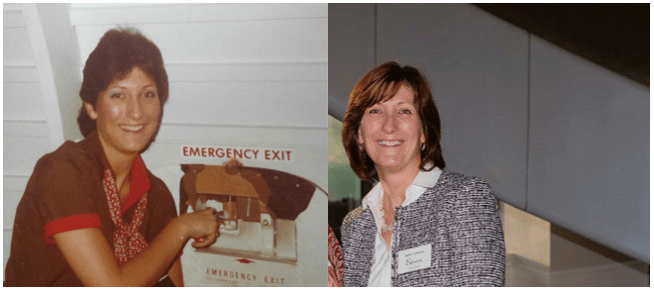 In 1986, Judi was single and flying around the country as a flight attendant. Now, she is married with high school- and college-aged children and she drives into Princeton everyday.
We hope you'll join us on this #EdisonTurns30 campaign. Any and all contributions from our network are most welcome.