Edison turns 30 this year – and this week, so did our newly promoted Senior Associate, James Hill! Each Friday through year end, we'll be giving you a little blast from the past. True to the Edison Code, this photo blog campaign emphasizes an important fact that here at Edison we are candid -- refreshingly and uncomfortably.
Edisonian of the Week: James Hill - Then & Now
Q: Happy Birthday, James! We heard you turned 30 this week. When you were a child, what did you want to be when you grew up? Did you always want to work in investing?
A: Growing up, I wanted to be a pilot or a lawyer. I never expected to work in Venture Capital, but I really enjoyed working with my father and many of the small businesses he worked with growing up, so jumping into Venture Capital felt like a natural fit. I did go to law school, and have my pilot license, so I kind of have the best of both worlds!
Q: What year did you start at Edison and why did you choose to work here?
A: I joined Edison as an intern in the Summer of 2013. I wanted to work at Edison because it seemed to be a great fit for both business and law; it was also a place where I was able to quickly get involved with multiple businesses and learn how to help them accelerate their growth in multiple industries.
Q: Where do you see yourself 30 years from now?
A: Retired in Northern Michigan lounging on the beach with an airplane nearby ready to fly to a bunch of great cities that are waiting to be explored.
Q: What is your best memory of the 80s?
A: I don't particularly remember the 1980s, but while I was growing up in South Carolina for a few years, I did remember having a really awesome treehouse. The biggest difference between then and now is that now I can walk and talk on my own (some might suggest I need to keep practicing the talking part though).
Q: Best 1986 movie to represent you and/or your time at Edison?
A: Best movie of all time – Top Gun. I didn't see it until I was much older, but it did convince me I needed to get my pilot certificate. I may not have ever flown jets, but I have flown aerobatics.
Trivia 1986: Did You Know?
Top Gun was the highest grossing film of the year. In its first weekend, it made more than $8 million dollars.
James Hill - Then & Now: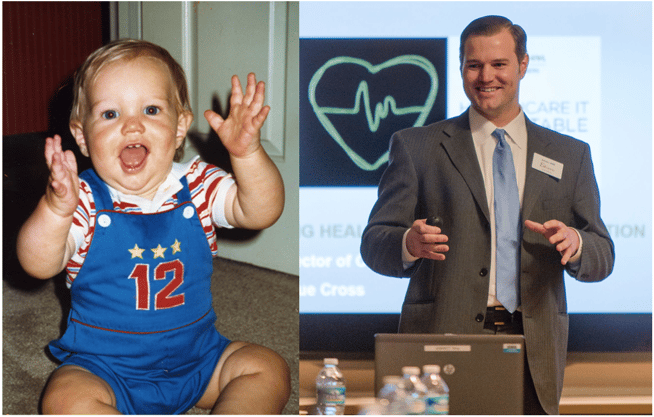 James is quite the charmer as a baby and was probably just happy to be sitting up. On the right, James speaks at last year's Healthcare IT Roundtable; all grown up and still talking with his hands!
We hope you'll join us on this #EdisonTurns30 campaign. Any and all contributions from our network are most welcome.