Edison turns 30 this year! Each Friday through year end, we'll be giving you a little blast from the past. True to the Edison Ethos, this photo blog campaign emphasizes an important fact that here at Edison we are candid -- refreshingly and uncomfortably.
Halfway through the countdown to Christmas, most people are in a frenzy making their lists and checking them twice, but for our next Edisonian it's a bright time and the right time for some Q&A because all her holiday shopping is done, and she didn't even have to step into a mall. #OnlineShoppingRocks
Edisonian of the Week: Eileen Covey - Then & Now
Q: What brought you to Edison Partners?
A: I began my career at Edison in 2005 as a part-time accountant. At the time I had a 5 year old son and did not want a full-time position. I welcomed the break from the full time frenzy but it didn't last long. As my child grew so did my duties at Edison.
Q: Speaking of children, what did you want to be as a child?
A: I always wanted to be a teacher. Even now I enjoy facets of my job where teaching is involved. I think sharing knowledge is invigorating. I never really thought about Investments as a target career but it's probably one of my favorite industries that I have worked in due to its fast-paced tempo.
Q: What is your best memory of the 80s? Any favorite events, movies, or songs?
A: My favorite memory of the 80s is hard to nail down as it was probably my favorite decade. I loved the bouffant hair, black rubber bracelets and basically anything Madonna. My favorite TV show in the 80s was Remington Steele, I liked detective shows and it didn't hurt to have Pierce Brosnan as the lead. Did I mention I had a Dolph Lundgren poster on the wall in my bedroom, you know the muscly Soviet boxer in Rocky IV. My favorite movie actually came out in the late 80s, Dead Poets Society (1989), while some might think of it as a sad movie I see honor, camaraderie and passion for standing up for what you believe in. My favorite line is Robin Williams' "Make your lives extraordinary."
Q: Well making an extraordinary life is hard work and calls for an extraordinary vacation now and then. What would be your ideal vacation?
A: My favorite vacation was to Ireland, especially the Cliffs of Moher, what a sight! It was a very memorable trip. Some might say it was an electrifying experience, and by that, I mean I actually got shocked by an electric fence on the walking tour at the cliffs, which made this trip even more memorable. In the future, my ideal trip would include picturesque views and a good book series. Preferably something in paranormal fiction, I love escaping reality through reading.
Q: What is something people would be surprised to learn about you?
A: People would be surprised to learn that I love doing remodeling projects. I have tiled bathrooms, built window benches, hung sheet rock and fixed plumbing. I enjoy the destruction as much as the finished product.
Q: Finally, in the spirit of the season, any favorite holiday memories you can share?
A: My favorite Christmas movie is the classic claymation TV special The Year Without a Santa Claus (Ironically, it originally aired one day from today in 1974). Especially love the Snow Miser and Heat Miser battling duet. It's the ultimate showdown between fire & ice, but of course, Mother Nature forces them to compromise because mother always know best. Even in my family, my love for Christmas all started with my mom and her need to have us believe in Santa. Looking back her dedication is both impressive and hilarious to the extent that she took my father's boots and made footprints in the snow and reindeer tracks on the walls of our house leading up to the chimney. Granted I probably believed in Santa way longer than I should have, but it's things like being with family and seeing other people smile, make the season so special.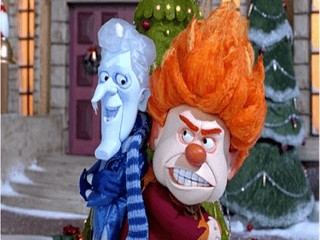 80s Trivia: Did You Know?
During the holiday season of 1984, supergroup Band Aid, founded by Bob Geldof, recorded the single "Do They Know It's Christmas?" in a London studio to help raise money to assist famine stricken Ethiopia. The group included big artists and hit bands such as U2, Phil Collins, The Boomtown Rats, Spandau Ballet, Ultravox, Duran Duran, Paul Young, Heaven 17, Marilyn, Bananarama, Shalamar, Paul Weller (The Style Council), Kool & The Gang, George Michael (Wham!), Francis Rossi (Status Quo), Culture Club, Sting (The Police), Holly (Frankie Goes to Hollywood), Paul McCartney (The Beatles, Wings) and David Bowie. The British project inspired supergroup, USA for Africa's "We are the World" a year later.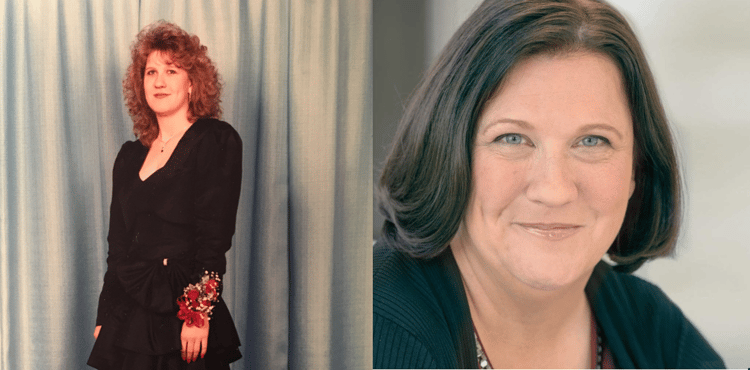 On the left, Eileen epitomizes 80s fashion with big teased hair and shoulder pads. Today, Eileen may look composed in the picture to the right, but inside she's ecstatic for the upcoming holiday season, celebrating with family, and keeping Bobby Helms' Jingle Bell Rock on repeat for all to hear.
We hope you'll join us on this #EdisonTurns30 campaign. Any and all contributions from our network are most welcome.