Edison turns 30 this year! Each Friday through year end, we'll be giving you a little blast from the past. True to the Edison Ethos, this photo blog campaign emphasizes an important fact that here at Edison we are candid -- refreshingly and uncomfortably.
Edisonian of the Week: Chris Sklarin - Then & Now
Q: How did you come to work at Edison Partners? Any favorite memory or event since working here?
A: I networked my way to Edison through connections I had in the Midwest. Initially connected with Michael Kopelman in 2010 and then met the whole team and came on board in early 2011. My favorite aspect of working here is the people. High caliber, curious, and really motivated people make Edison an exciting place to be. My favorite event at Edison so far is the 2016 CEO Summit. Really great to mix it up and have the time at activities outside the office around team building at West Point. A close second was the CEO Summit where Adam Grant (from Wharton) spoke. His talk and book "Give and Take" was a great conversation starter and he filled us in on the research showing "givers" really were the best team builders of all.
Q: What is your best memory of the 80s?
A: I loved the rock bands -- yes, Queen, etc, and now my teenager is also into 1980's music. Everything old is new again, I guess! Star Wars. Great music and action. Love the whole series.
Q: What are some of your favorite activities to do in autumn?
A: I love hay rides and corn mazes. When the kids were smaller, we would go apple picking and carve pumpkins each year. Kind of tailed off this year as I think the homework is catching up with them (they are now in 9th and 6th grade). I grew up on a family 4-H farm. So I think I was influenced by having to do chores in elementary school. Not just take out the garbage, but "feed/water the chickens" and "milk the goats" kind of chores. That really taught me that being dependable and getting the job done really matters. So I think people sometimes miss out on opportunities because they don't realize that they require so much work.
Q: Speaking of opportunities, if you could have any superpower, what would it be? Why?
A: I would want to be a super-fast, so a bit like the Flash. I ran track in high school (and wasn't the star) so this would give me back a number of races I did not quite win. I enjoy speed these days on a bicycle, versus running.
Q: If you were free to try anything you want on Thanksgiving, what would you do?
A: I grew up going to the Thanksgiving Day parade in NYC. If I could do anything it would be to watch the parade from some great balcony overlooking the route with friends/family and then have our Thanksgiving day meal. Great to then spend the day at the museums in NYC or perhaps a show over the weekend on Broadway. This year, though, I'm thankful for a happy and healthy family first and foremost. Without that not much else really matters.
Q: Besides Thanksgiving, it's also "NoSHAVEmber" or "Movember," a challenge designed to "change the face of men's health." Do you plan to participate and let your hair grow out?
A: Despite my 1986 photo, I'm staying clean shaven this year but of course I'll donate to our team who is supporting the Movember Foundation to tackle significant health issues faced by men. I also help raise money for cancer research in the summer through a bike event in Cleveland. It's been running the last three years and I've done this the last two.
Q: So beards are a thing of the past for you! Is there something you are dying to try but have not yet?
A: I love to travel and have never gone to Jerusalem. Luckily we are planning a Thanksgiving trip there this year so I am really looking forward to it!
Q: How exciting! What is something people would be surprised to learn about you?
A: I play the French horn. I have played since I was in fourth grade, starting with Trumpet and then moving to horn in fifth grade. I really studied pretty seriously and went to several music competitions and played all through college and in community groups afterward. Since graduate school and kids, I have not played as much given the time it takes to be in an organized group.
Timely Trivia to Give & Share: Did You Know:
Turkeys are Native to North America.

Male turkeys are called Toms, female turkeys are called Hens and baby turkeys are called Poults.

And, for a little NoSHAVEmber fun: on November 15th, 1904, King Camp Gillette was issued a US patent (#775,134) for his invention of a safety razor using disposable blades.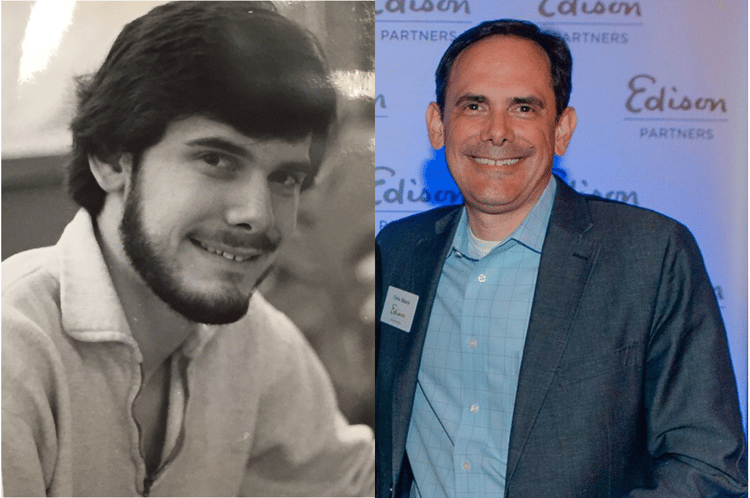 Obviously Chris didn't mind NOT shaving back in 1986. As seen on the left, he rocked a full beard for ten years through college and most of his twenties. Today, Chris prefers a clean shaven look as shown on the right, at the 2015 CEO Summit at The Water Club, Borgata Hotel Casino & Spa in Atlantic City.
We hope you'll join us on this #EdisonTurns30 campaign. Any and all contributions from our network are most welcome.