Edison turns 30 this year! Each Friday through year end, we'll be giving you a little blast from the past. True to the Edison Ethos, this photo blog campaign emphasizes an important fact that here at Edison we are candid -- refreshingly and uncomfortably.
Every year since 1975, the 11th day of the 11th month has been dubbed Veterans Day to honor the millions of American veterans for their patriotism, love of country, and willingness to serve and sacrifice for the common good. At Edison Partners, we are very familiar with one such veteran who has continued to exemplify his leadership in so many ways.
In the Spotlight: John Geraci - U.S. Veteran & EDN
Q: Since you first started working with Edison Partners in 2005, how do you think your relationship with us has evolved?
A: My Story with Edison began when I met Chris Sugden over 12 years ago at the Miami International Airport. We both were traveling to Princeton and naturally struck up a conversation. Chris was the Fintech Partner with Edison Ventures and I was just leaving Advent Software after over 30 years as a software operating executive. We just seemed to connect and decided to find some real projects to work on and see how they went.
To me, Edison is not just another VC company and you have to know them to "get the uniqueness." Although it is true that they, like all other venture or private equity companies, provide capital, their culture sets them apart.
Q: You certainly have experienced many different roles over the course of the Edison relationship : LP, CEO, Managing Partner, and board director. What would you say is a defining characteristic of how you personally have evolved?
A: Over the last 12 years, I have been on 5 Edison Boards, conducted training or coaching for 10-15 of the portfolio companies, and eagerly attended their Director Network and CEO events. I have personally invested in several companies and am also an LP. It has been a fabulous and exciting journey for me of serving, learning and growing with this team. In terms of how I've evolved, I learned how to act as an effective board member by asking CEO's questions to get them to come up with their own solutions vs being directive.
Q: It's certainly great to hear you look forward to our events. What has been your favorite Edison event thus far?
A: Edison Partners' CEO Summit at West Point this past June.
Q: That was kind of a giveaway since you graduated from the United States Military Academy at West Point. How was it to return to campus, any favorite locations you were excited to see again? What is your best memory of your time spent at West Point?
A: It was great to go back and for such an inspiring event. My favorite place on campus is Trophy Point (pictured below) and my best memories include sitting in the mess hall as a Senior discussing politics, Vietnam and our futures with great friends. Of my time spent there, I learned you will be a better leader if you know how to follow, and that being "Right" and being "Effective" may be two different things. People take action on their own choices.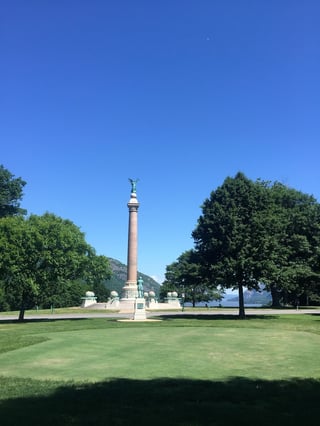 Q: In the season of giving and sharing, what is your favorite Thanksgiving tradition?
A: We celebrate at our table at the end of the meal by sharing stories of memorable moments of the year that we are thankful for.
Q: And, because Edison turns 30, what is your favorite memory of 1986?
A: In 1986, I was a Sales Manager for Management Science America in Atlanta. My favorite memory of the time would be of my wife running the Boston Marathon.
Veterans Day Trivia: Did You Know?
Veterans Day was originally called Armistice Day to commemorate the truce signed between Allied nations and Germany in the First World War on the 11th hour of the 11th day of the 11th month in 1918.

In 1986, Paralyzed Veterans of America led the charge for the Air Carrier Access Act, making airline travel more accessible for all

There are approximately 21 million military veterans in the United States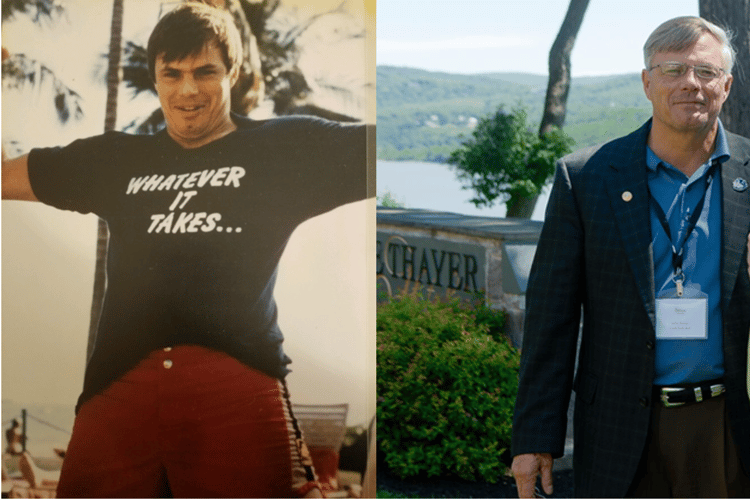 In the photo on the left, John is pictured doing "whatever it takes" in Maui in February 1986. On the right, John is pictured outside the Thayer Hotel at West Point for our CEO Summit this past summer, still doing "whatever it takes."
We hope you'll join us on this #EdisonTurns30 campaign. Any and all contributions from our network are most welcome.