Edison turns 30 this year! Each Friday through year end, we'll be giving you a little blast from the past. True to the Edison Ethos, this photo blog campaign emphasizes an important fact that here at Edison we are candid -- refreshingly and uncomfortably.
This week, everyone is talking about the upcoming Presidential Election and eggs - that's right, just two days ago was National Deviled Egg day, so we had to feature our Marketing Director with a personal blog dedicated to all things egg-celent.
Edisonian of the Week: Elizabeth Stotler - Then & Now
Q: You've been at Edison Partners for a little over two years. What has been your favorite aspect of working here?
A: Having worked historically at growth-stage or larger enterprise tech companies, I have personally enjoyed learning from the investor perspective. My other favorite is the people – a solid team of A-players who work really hard and care about each other!
Q: What is your best memory of the 80s? Rock any fun 80s fashion trends? Have a memorable game or toy?
A: Oh gosh, the 80s! I spent my 'younger years' in the 80s. I remember Cabbage Patch Dolls, Big Wheels, and my favorite purple corduroy jumper made by OshKosh B'gosh. Toward the end of the 80s era, it was all about MC Hammer pants.
Q: What did you want to be as a child? Did you always want to work in marketing?
A: When I was really young, I wanted to be a hair dresser and would "practice" by cutting my Barbie Doll's hair, which always ended in Barbies with ugly spikey hair 'fros. By ninth grade, I wanted to be an architect until I realized you had to actually build what you designed out of foam board in class. I guess I didn't necessarily know I wanted to 'work in marketing' per se, but was always drawn to technology and tech companies. After majoring in Spanish undergrad, I got my masters in Communication and Media Technologies. It led me to opportunities at Oracle, LivePerson, DataXu, NICE, and now I get to sit on the investor side of the table at Edison. Marketing is great because it's a broad field.
Q: So you are into technology, but I also hear you're into eggs and have a blog of your own. Why do you love eggs so much and when did this idea/interest come to you.
A: Yes, eggs are a hobby of mine. As for when it started, my first job out of college was in Boston and my roommate at the time and I decided to try and be vegetarian (she is now full vegan). After giving up meat, eggs were the staple of our diet…and one of the only things we actually knew how to make. We made many creative breakfast and non-breakfast egg dishes, so I guess you could say, that is where my love of eggs started. The 'being vegetarian' trend lasted about a year for me; I love bacon way too much. I started my blog as a personal creative project and I definitely think it has some true potential! www.yolkery.com
Q: What is the best egg sandwich you've ever had?
A: If you're ever in Portland, OR go to a place called Fried Egg I'm In Love. Hands down the best egg sando. Their signature breakfast sandwich is called the Yolko Ono: fried egg, sausage, pesto, and cheese on sourdough. They also have some other delicious sandwiches on the menu including: Egg Zeppelin, Smells Like Protein Spirit, Free-Range Against the Machine, and Sriracha Mix-A Lot.
Q: What motto do you live by? Or what's the best advice you ever received?
A: G.S.D. (Get $#!% Done.) is a good motto. Best advice, I'd say: It's important to be an active listener.
Q: If you got stuck in an elevator with an e-reader and enough power for 1 book, what would you read?
A: I am more of an audiobook or podcast fan. Just finished "Boys in the Boat"–best book ever! Favorite podcasts include TED Radio Hour, This American Life, NPR's Fresh Air with Terry Gross, WTF with Marc Maron, and this great trivia podcast, Good Job, Brain! Was also a huge fan of Serial, season 1.
Q: What is something you are dying to try but have not yet?
A: There are a few things on my bucket list I haven't done yet: learn how to sail, Italian wine tour, and get to a World Cup match, to name a few.
Q: Without any implication for political views, if Edison Partners represented an entirely fictional/new political party, what would our party mascot be? Why?
A: Spartan would be an obvious answer for this crew. But I think a close runner up would be a Puma. A few key attributes of a Puma are: Action, Strength, Nobility, Patience, Decision, and Leadership.
Q: What is something people would be surprised to learn about you?
A: Couple random factoids: My senior year of high school, I placed 5th in the state of New York in the Discus. I played both Basketball and Track & Field (Discus and Triple Jump) in college. And, I almost went to Oberlin College on a French Horn scholarship. (Where would I be today if I went that route?)
El-egg-tion Trivia: Did You Know?
The Political mascots of the elephant and donkey that symbolize the Republican and Democratic party respectfully stem from the 1828 election of Andrew Jackson vs John Quincy Adams. Back then, oppontents of Jackson nicknamed him "Jackass." Surprisingly, Jackson embraced the imagery of a donkey knowing it to be a strong-willed work animal. This image alongside an Elephant however wasn't made popular until Thomas Nast's symbolic cartoon in 1870s.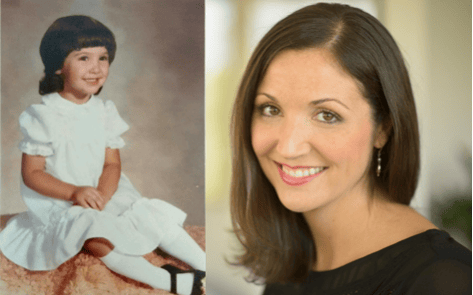 Photo on the left, circa 1986, Elizabeth shows everyone just how cute a Carol Brady femme mullet can be. Today she's traded in her Mary Janes for some chic pumps but good luck keeping up with her when she's walking down the street, whether in the city for Sales & Marketing events or for morning workout routine with her hubby Ryan and favorite pup, Jax.
We hope you'll join us on this #EdisonTurns30 campaign. Any and all contributions from our network are most welcome.