Edison turns 30 this year! Each Friday through year end, we'll be giving you a little blast from the past. True to the Edison Ethos, this photo blog campaign emphasizes an important fact that here at Edison we are candid -- refreshingly and uncomfortably.
There's only 10 days until Halloween, and because it's his favoite holiday, this week we feature Clearpool Group CEO, Joe Wald. Not only does he offer great advice from his 11 years of working with Edison Partners, but he has some pretty good costume ideas as well.
In the Spotlight: Joe Wald & Clearpool
Q: As you know, we shared plenty of 80s memories and music at our 30th Annual Meeting in celebration of Edison turning 30 this year. What is your favorite memory of 1986?
A: In 1986, after spending all my life in private school I started my freshman year in NYC public schools. I had dreams of high school being like Ferris Bueller's Day Off. Since then I am extremely grateful that I have had the opportunity to stop and take a look around, because as Ferris said "Life moves pretty fast. If you don't stop and look around once in a while, you could miss it."
Q: Time certainly flies! Since first working with Edison Partners in 2005, how do you think your relationship with us has evolved?
A: It has been a tremendous experience. When we first partnered, I was a young CEO not fully understanding or appreciating the role of a strategic VC partner. I knew very little about the VC world and the role they can play in the growth, maturation, and validation of an organization's business model. Through my experience with Edison, I appreciate how you help entrepreneurs like myself achieve their vision and objectives. The difference between now and then, was in 2005 I did not know what we needed in a VC partner but when the opportunity arose to present Clearpool, I had no doubt that the next strategic push for our company was VC partnership with Edison. That is a direct result of what I learned from partnering with Edison back in 2005.
Q: How do you feel your company has changed?
A: Clearpool has changed dramatically since the Edison investment, it is as if an accelerant has been poured over our already positive momentum. Since partnering with Edison this time around the company has grown in personnel and clients. We have a formal board in place that provides us the advice and validation that you can only get from professional outside investors committed to the success of the organization.
Q: How do you feel you, as a CEO, have evolved?
A: I was 23 when I started EdgeTrade and very much a rookie CEO. Today, I am still an extreme optimist but with some battle scars. Over the years I have been able to maintain that optimism and in business I have certainly matured. In an industry where electronic trading was in its infancy and a niche for equity trading. I am extremely proud of the hand we had over the years in helping its evolution in financial markets in multiple asset classes. As an agent and proponent of that change, I too have evolved and grown.
Q: What is the best advice you ever received?
A: The best advice I received was to look at every deal, every product and platform with an eye on how to engineer a win-win on both sides of the transaction. That is a guiding philosophy for me when it comes to negotiating a deal. I have found if followed, that those deals and the relationships will last and evolve with me. That is definitely the same advice I would give to others. Your life and career are both hopefully long and prosperous, when you engineer a win-win for all, you are setting the foundation for continued growth and success.
Q: What is your best memory in the 11 years of working with Edison? Any favorite event?
A: I have two. 1) Having the board vote for the acquisition of EdgeTrade, clearly a life changing experience. 2) Presenting Clearpool to Edison in Sept 2015. It has been a career long experience for me having built and sold a company with Edison, working with other companies in your portfolio, and sitting on portfolio company boards. Being able to come back and present Clearpool was an awesome experience. Having the opportunity to recently present Clearpool to the LPs at the Annual Meeting was an event I really enjoyed.
Q: Since it's your favorite holiday, do you have a favorite Halloween memory or costume?
A: Halloween definitely is my favorite holiday. I have plenty of memories and costumes but none are appropriate to share. By far my favorite Halloween was when I traipsed around NYC as Borat (not in a suit, use your imagination.)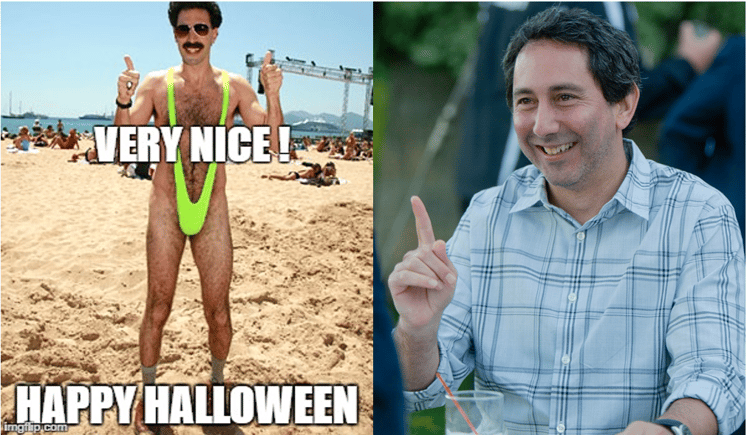 On the left, no it's not Joe Wald but we heard that he successfully pulled off this Halloween costume. To the right, Joe enjoys the CEO Summit at West Point in New York this past summer.
We hope you'll join us on this #EdisonTurns30 campaign. Any and all contributions from our network are most welcome.