Edison turns 30 this year! Each Friday through year end, we'll be giving you a little blast from the past. True to the Edison Code, this photo blog campaign emphasizes an important fact that here at Edison we are candid -- refreshingly and uncomfortably.
Our next Edisonian is celebrating a milestone of his own this month as this September marks his 15th Year Anniversary working at Edison Partners.
Edisonian of the Week: Joe Allegra - Then & Now
Q: Big congratulations on 15 years, what brought you to Edison Partners? What is your favorite aspect of working here?
A: Some background: The software company that I co-founded had been sold. I was chairman of the Board of the NJ Technology Council when we decided to raise an early stage fund. I did much of the early fundraising but wasn't sure I wanted to be a VC and was asked to come to Edison and work part time to see if I liked being a VC. After about six months, they asked me to join as a partner. This was 2001, an auspicious time to start in the venture industry as the tech bubble was bursting and terrorism came to our shores. In fact, my first official full time day at Edison was September 10, 2001.
I really enjoy working with the people at Edison. I have been involved with hiring or mentoring many of the staff over the 15 years that I've been here and have learned a lot from them. It is a great group of people that work together well to help build companies. It is a privilege to work with so many talented people that all bring their own skills, strengths and energy to the team.
The other great part of this job is that we get the chance to meet hundreds of bright, driven, enthusiastic entrepreneurs every year who are working hard to build their companies and our country's economy. If you are having a bad day, the best way to turn it around is to visit a new company where entrepreneurs are betting on themselves to create something new.
Q: I know you love sports and dabbled in a bunch of different ones. If Edison Partners was a sports team, what would our mascot be? Why?
A: Yes, I played hockey my freshman year in college. Not too many 6'5" hockey players then. I wasn't a great skater but I was good at knocking people down. If Edison Partners were a sports team, I would say a St. Bernard—because we help entrepreneurs travel through the treacherous mountain passes to success in their businesses.
Q: How about your success, do you have a particular motto that you live by?
A: Just do it. I was using it years before Nike :-) ! Came from working in a larger company where politics froze everyone into inaction. I feel like you have to evaluate your options, pick one and move forward. If you make a mistake, recognize it early and change course.
Q: Going forward, what 3 goals do you have set for yourself?
A: I think it is less important to set goals than to have a system—how to act every day to take you the places you want to go. Adopt a system that works for you and then improve on it over time.
Q: I agree, and speaking of time, what is your best memory of the 80s?
A: The best events were our son's birth in 1983 and our daughter's birth in 1986. In some ways the 80s were a bit of a blur while raising two children. I don't think the music was as good as the 60s and 70s! There were some memorable movies that have stood the test of time—Back to the Future, Raiders of the Lost Ark, Ghostbusters, ET, the last 2 movies of the original Star Wars Trilogy.
The big event in 1989 for me was leaving a good job and co-founding Princeton Softech which was a fabulous experience. The big tech event of the early 80s was the IBM personal computer—about $2500 for a really slow, non-graphical computer with a 10MB hard drive. VCRs, CDs, cell phones and the Sony Walkman came out in the 80s. The big world political event of the 80s was the fall of the Berlin Wall and the end of the cold war.
Q: If you could have any superpower what would it be?
A: Fly like Superman. When I was a kid, I thought this would be a great way to see the world from a different perspective. Now it would be great to be able to see my kids who live far away more often.
Trivia 1986: Did You Know?
The experimental airplane Voyager, completed the first non-stop, around-the-world flight
In Scotland, a full survey is carried out of Loch Ness hoping to find proof that Nessie exists.( No Proof Found )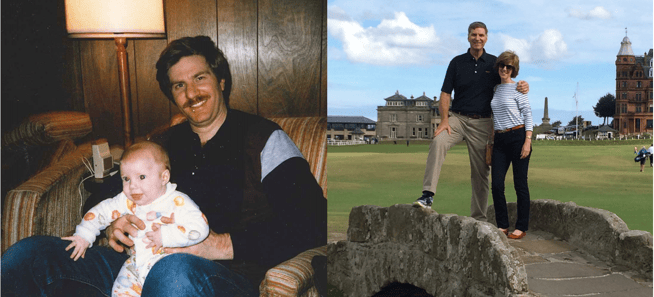 With his two babies all grown up, Joe is happy to have some extra time to spend with his wife and travel the globe. On the left, Joe is all smiles with his daughter in late 1986. Now, Joe has his arms around his favorite travel companion, his wife, Bobbie as they toured London, here standing atop one of the most famous golf courses in Scotland.
We hope you'll join us on this #EdisonTurns30 campaign. Any and all contributions from our network are most welcome.