I recently joined Edison as an Operating Partner and my main responsibility is to help our portfolio companies enhance their strategies and business models, further develop market expansion opportunities, and advise on operational efficiencies. I also am responsible for prospecting new deals and performing operating due diligence on those companies we opt to invest in.
It truly is the most exciting role I have had in my career primarily because my 20+ years of experience operating large and early-stage companies aligns with Edison's industry focus and investment criteria. And, most importantly, Edison is literally "walking the talk" by adding senior, experienced business operators to the firm to further differentiate them in the crowded growth capital investment space.

In my short time with Edison to date, I have learned so much about the entrepreneurial journey from the investor perspective. I intend for this and future posts to be an honest assessment and update of my journey from operator to Operating Partner.
After two weeks here in my new role, I took on an interim-CEO role for a very cool company in the Healthcare IT space. My experience in this role after two months has been eye-opening. With strong revenue growth and significant global market penetration, the company is poised to breakout over the next two years. Of course, the company doesn't come without a few operational problems —and that's why I'm on the case. For those of us who have faced similar situations as operators or investors, we all know the easy way to fix the problem: Cut staff and cut other operating expenses.
Easy, right?
Not so fast. And that's why I'm really enjoying myself as we fix these problems and position the company for success.
Let's start with alignment. In my experience, a company can have a great model, killer CEO, and terrific growth strategy, but it won't matter if the team doesn't execute because of unforced errors. One of the most glaring errors I have seen in some 'problem' companies is a lack of C-Team alignment on strategy and tactical priorities.
Why does alignment matter?
In order for the company to achieve its full potential, the CEO must not only articulate the company's priorities, but also provide clarity on each of the senior team member's responsibilities and accountabilities. If C-level execs don't understand their roles and responsibilities, then the CEO is usually at fault.
Ever heard this saying: "The fish stinks from the head."

If execs aren't willing to focus and own their areas of responsibility and be accountable for results, then that exec probably isn't going to help catapult the company to the next stage and a successful exit.
Unfortunately, it's never black and white. In my assessment during my current interm-CEO role, it seems that responsibilities weren't made ultra clear and some individuals weren't willing to focus on their own sandbox. Here's the good news: I find that most people respond favorably to structure when presented with a clear outline of goals, role responsibilities, and specific priorities.
Early stage companies: responsibilities often overlap and everyone has to learn how to play in other sandboxes while the other person is still in it.
Growth stage companies ($10M+ in annual revenue): the stakes are even higher, the opportunity even greater, and the CEOs time becomes even more precious. The C-Team must focus primarily on their own sandbox.
Aligning a C-Team is an art.
They are usually Type-A leaders who have much to offer in their own area of responsibility and in other areas. How can the CEO create an open, winning culture where everyone on the team is aligned not only on corporate goals, but also on flawless execution in their own area?
In my experience it comes down to this: if CEO strategic direction is clear, then C-Team members have to believe in each other.
Sounds utopic, right?
Maybe…but while it's always good to have a little internal competition, too much will almost always diminish the power and potential of good teamwork. And, by definition that's what a C-Team is: A Team.
In my current interim role, the heads of product, sales, ops, and finance must maniacally focus on achieving success in their own areas AND help their teammates succeed. I sometimes think about the strategies and tactics of C-Teams in the form of a Venn Diagram.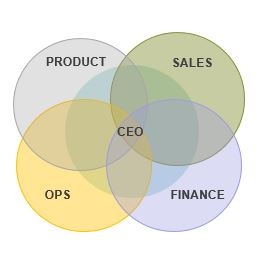 The CEO is at the center defining vision, goals, and strategies. All teams overlap because the success of the organization requires connection to the CEO and to other teams. The area that doesn't overlap signifies that each team has to focus on playing their part for the greater good.
So, while I remain a firm believer in "strategy before structure," in this case I think the structure must become crystal clear before a new and enhanced strategy can be implemented. That will take place over the next couple of weeks after we fix cash-flow and reduce expenses.
More to come…