Editor's Note - At Edison, we recommend account-based smarketing strategies for B2B tech companies selling high-consideration products/solutions into mid-market and enterprise companies. This typically means selling to accounts with buying committees (vs. individual decision maker), decision cycles of 3+ months, and "land & expand" potential. As such, we are pleased to feature this contributed excerpt from Account-Based Marketing For Dummies by Sangram Vajre, CMO and co-founder of Edison company Terminus.
In the hit television series Mad Men, the agency of Sterling, Cooper, Draper & Price is comprised of a team of creative people and account men. The enigmatic Don Draper is the creative director. Don works closely with Roger Sterling, who oversees all the activity of signing up new accounts and then keeping them happy.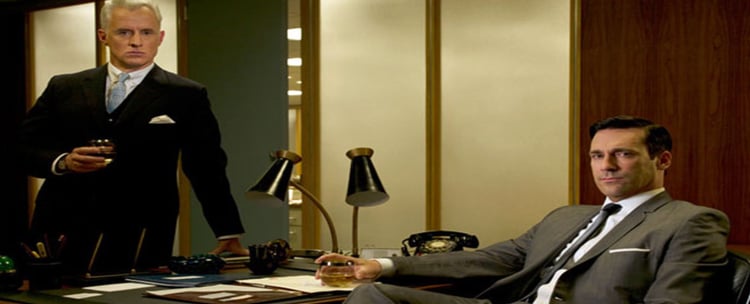 In many scenes, the team gathers in a boardroom to review the list of accounts, discussing where there are opportunities and which clients are in danger of leaving. Although the Mad Men story began in the 1950s, long before anyone had ever heard of a sales and marketing funnel, the agency actually was doing B2B account-based marketing.
For me, I define account-based marketing in four stages:
Identify

Expand

Engage

Advocate
Let's dive into each of these stages a bit further to understand how account-based marketing worked in Mad Men.
Identify target accounts.
The agency targeted companies in industries such as automotive, cosmetics, fashion, travel, and commercial goods because they had success with those types of companies before. In today's terms, we call this term an ideal customer profile (ICP). With modern marketing tools, B2B marketers today use data to identify best-fit accounts in your ICP.
Expand the account with contacts.
The account executives found the ultimate decision makers. They determined who else from the account needed to come in for a pitch about creative. For example, when the agency was pitching a big tobacco company, they would need to know all of the executive stakeholders.
Engage accounts on their terms.
As Roger Sterling said, "Big accounts require a golf-and-dining offensive." The account men would invite prospects and clients to the office for a swanky boardroom meeting, take them golfing, provide theatre tickets to a new Broadway show, or go to a fancy dinner to sip martinis.

There, the Man Men would find out their hopes and dreams for their product or service, then design creative to help tell the story. The big pitch with storyboards showing messaging that spoke to them and tugged at their heartstrings would help win the deal.
Create customer advocates.
They accounts were so amazed with the work of Don Draper and his colleagues that then the clients would tell all their friends about the amazing work the agency did to help increase sales at their business. This word of mouth marketing gave the agency its excellent reputation.
Because Mad Men took place throughout the 1950s to the early 70s, the agency didn't have access to the marketing technology we have today. Contacts were kept in a Rolodex on a pretty mahogany desk. When an account man left an agency, all he had was his Rolodex and his reputation. Today, your reputation follows you on social media, but the way you manage accounts is much more sophisticated. Imagine what Don Draper would think about all these B2B marketing automation software and sales prospecting tools.
To read more of Account-Based Marketing For Dummies, download the first chapter for free.
Bio: Sangram Vajre (@sangramvajre) is the CMO and co-founder of Terminus, a SaaS platform for account-based marketing. Before co-founding Terminus, Sangram led the marketing team at Salesforce Pardot. He has spoken on the topic of marketing technology around the world and is the mastermind behind #FlipMyFunnel.