The theme of the 2015 CEO Summit was, Strategic Agility: Harnessing the Power of Innovation. One of the sausage-making topics was all about inspiring innovation, and gave our CEOs the opportunity to discuss how each company is inspiring innovation in their own way.
The best examples were as follows:
1. Create a Culture that Nurtures Innovation
Creating a culture of innovation starts at the top - with the CEO.
You can't just talk about it, you need to act in a way that shows you really mean it. This means pushing down expectations of innovation to all levels of the organization. Former submarine commander David Marquet talked about the power of enablement at the 2014 CEO Summit, and we heard the same thing this year from Chief People Officer, USGA, Steve Schloss.
Culture starts at the top. Inspire innovation by cross pollinating team members to give people the opportunity to work with others in the organization.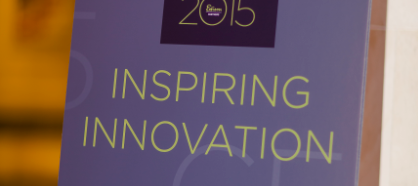 2. Top Down Support. Bottoms up Buy In.
Transparency by the CEO and his/her openness in admitting mistakes helps foster an environment where it is safe to take bets. As you push down responsibility, there needs to be a culture that embraces openness.
Also, in order to create this culture of innovation, it really has to come from the top down. You can't just say in your mission statement that you want to innovate, or that you're an innovation-centric company; you really have to support the idea and create that sort of environment and support it.
Congratulate people who are changing the status quo. Don't criticize ideas, and remember, hierarchy kills innovation.
3. Adopt a Lean Startup, Agile Scrum Mentality
This is an excellent framework for implementing new ideas. Set a short time to prove out a concept, then make a decision whether or not to continue. We heard the following tips from CEOs across the board:
Be prepared to fail quickly.
Be prepared to talk about dysfunction and fix it.
Everyone is responsible for teamwork.

4. Set Aggressive Goals
Set aggressive goals in order to make people think differently, not incrementally. A finance team that closes the books in 7 days instead of 21 days would be an example. Imagine the future self or destination of the company so the team can help figure out how to get there. As we heard from our keynote, Amy Wilkinson, 'Drive for Daylight,' like a racecar driver by focusing on the horizon.
This especially pertains to companies with fast product lifecycles. When you give people too much time, the door opens for internal politicking, which can derail the plan. It is important to set aggressive goals, keep deadlines firm, and budgets tight. This will keep people focused on getting the product to market as soon as they can.
5. Integrate Customer Input
We hear this same feedback in our session on buyer behavior, and can't stress enough how important your customers are to the growth of your business. Key take aways on customer input from our CEOs are:
Talk to customers and listen to their feedback.
Hold product innovation discussions at user group meetings.
Talk to customer support teams to improve on areas that cause support problems.
Analyze lost deals and hear why you lost.
Look at RFP trends for market direction.
This was a particularly lively sausage making session across the two days of the CEO Summit. Our CEOs know that to be successful, you can never be too good at inspiring innovation.
Let us know how you are inspiring innovation at your company in the comment section below.