Every now and then, we're lucky enough to run into a team that's truly working to make an impact at a global level. Perhaps, one could say these teams are trying to make the world a better place. While some believe in making the world a better place through "constructing elegant hierarchies for maximum code reuse and extensibility" or through "minimal message-oriented transport layers," we're proud to announce that the newest member of the Edison family is doing so by simply making the world a safer, more predictable place.
Following are the top three reasons why we invested in Predata.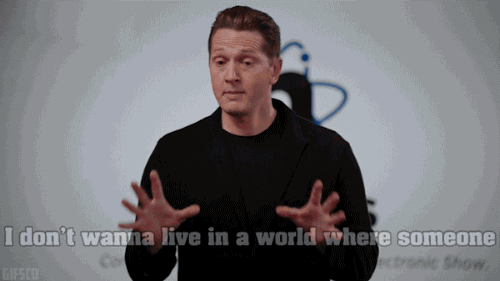 Reason #1 - The Opportunity
Predata is going after a big problem with a big idea. With all of the accessible information that exists on the Internet today, it's crazy (scary actually) to think that all of our innovation in predictive analytics has skipped the public sector. Peter Thiel recently touched on this in his RNC address.
So what is Predata doing about this, you ask? Well, they've built a predictive analytics engine that can forecast geopolitical risk and volatility.
What does that even mean? It means that for the first time ever, there's actually a way to quantify the near-term probability of terrorist activity in Western Europe, or a Russian invasion somewhere in Eastern Europe, or that North Korea will launch a nuclear test…you get the picture.
So how do they do this and what does this ultimately mean? We can dive into the "how" in a second, but what this ultimately means is a safer, more predictable world. For example, our government agencies will now have a better way to predict terrorist activity across the globe, giving them a chance to take preemptive measures versus reactive. Global organizations will now have a better view of when they should, or more importantly should not, send resources or personnel through certain geographic regions. And financial institutions and investment managers will now have a better lens into where volatility exists in the world and how they can reduce (or increase) their exposure as a result.
Reason #2 - The Product
To do this, Predata scrapes metadata from tens of thousands of digital conversations on social and collaborative media platforms (Twitter, YouTube, Reddit, Wikipedia, news articles, etc.) in real-time to measure chatter and contestation (essentially how loud and argumentative a conversation is). Regressing this data against a database of historical events allows Predata to ascribe a numerical value around the probability a certain event may take place. Predata can generate these probabilistic scores for more than 300 different topics in more than 200 countries.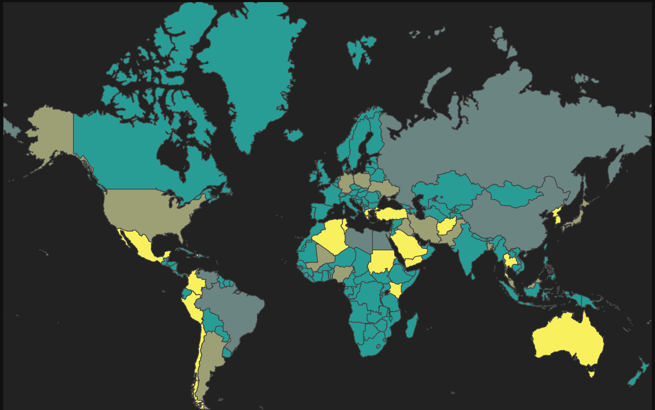 To date, the platform has correctly predicted a bevy of events ranging from terrorist activity to central bank decisions; most recently and famously they correctly predicted the electoral picture leading up to Brexit.
All of this is delivered in a platform that they've made available to federal agencies, major global organizations, and financial institutions. Additionally, they've also teamed with Bloomberg to develop the Predata PVIX (political volatility index), a rules-based measure of a country's political volatility that is available on any Bloomberg Terminal.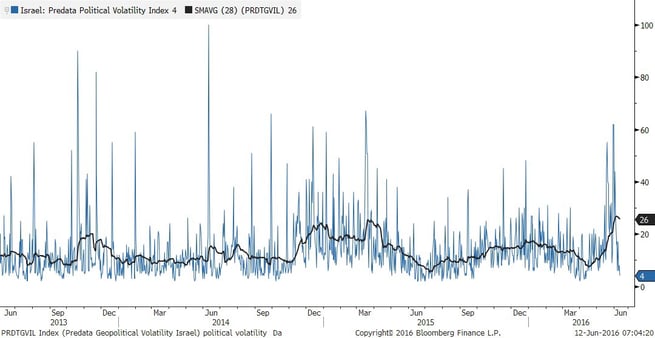 Reason #3 - The Team
To build something this transformative, you need a pretty exceptional team, and in this case, "exceptional" is a pretty mild description.
Let's start with their fearless leader, Jim Shinn. Jim is truly the most interesting man in the world. Not only has Jim been there and done that as the founder and leader of one of New Jersey's greatest technology success stories in Dialogic, but he has seen and experienced this very problem up close in personal as a Senior Intelligence Officer in the CIA and as Assistant Secretary for East Asia for the DOD. Needless to say, Jim gave us a hearty laugh when we said that a background check was required as part of our diligence.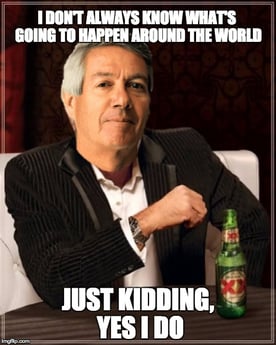 Jim brought the Dialogic band back together with VP of Sales, John Alfieri and Board Member, Ed Jordan (currently CFO of Edison company Billtrust), bringing an unparalleled amount of entrepreneurial success and experience to this team.
In addition to the grey hair that's been through the movie before, Jim has recruited some of the most exceptional young talent we've encountered in co-founder and CTO, Andrew Choi and Senior Engineer John Urbanik.
Lastly and certainly not least, Kenso's Daniel Nadler has been working with Jim since Predata's formative stages and serves as a Director, rounding out an already exceptional group of talent.
While this team is loaded with experience and brainpower, one of their most impressive traits is their ability to admit what they don't know. In our limited timeframe working together, they have been true partners, eagerly embracing everything the Edison Edge has to offer.
This brings me to my final point, "Edison's role."
As we've mentioned, this technology extends far beyond terrorism prevention, and that's a good thing for us, because this team certainly doesn't need any help navigating the federal vertical. However, their opportunity to sell this technology into major financial and corporate clients positions Edison to put its thirty years of history and world-class support platform to work. With nearly 100 investments in financial technology and enterprise software companies historically, we've learned a thing or two. Coupling this experience with the Edison Edge platform led by our CMO and Partner, Kelly Ford Buckley, results in a compelling opportunity to tremendously accelerate Predata's growth and overall impact on the world.