Last week, Edison hosted 30 of our Enterprise 2.0 portfolio companies and investment candidates in New York City for an afternoon of discussion and networking at the 2014 Edison Enterprise 2.0 Roundtable. Not only was it the most well attended E2.0 Roundtable yet, we had a stellar lineup of speakers including Ron Eliasek, Managing Director, Bank of America/Merrill Lynch who sparked some great discussion among the group. Ron covered the hot areas of M&A, how the large tech companies look at acquisitions, and key metrics that drive valuations.
Ron's session was one of the best tech M&A sessions I have ever seen. Below are three key take-aways from the session as well as some good advice for 2015.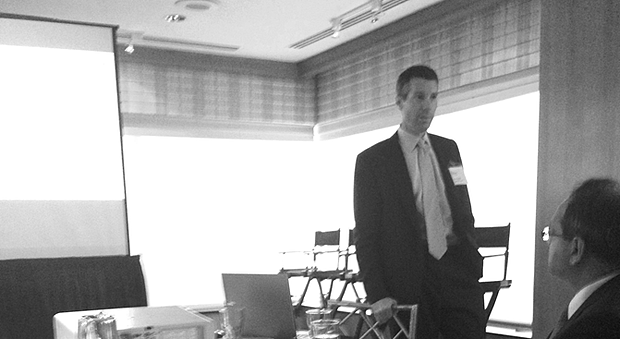 Did you know that the top 50 buyers account for only 47% of total deals above $10m over the past 10 years? Ron spends half of his time with large cap companies and noted that "When you have a large cap company that misses revenue three out of the last four quarters, they're having a hard time growing. Large cap companies need acquisitions to grow their business."
Buy-side Wants Growth and That Comes From Smart M&A.
The environment is ripe for M&A. Large cap companies are challenged to keep growing their top lines. Their balance sheets are in great shape with a half trillion dollars in cash for the top 15 tech companies. While large cap companies may want to acquire $500-1B companies to move their top lines more aggressively, they have to buy smaller companies as well because there aren't that many large companies available.
Some strategic acquirers look to fill the need of combining new markets and products and provide additional cloud-based solutions, while others pursue new key industry verticals, strengthen their position in a particular space such as digital media, and/or enhance their security strategy to name a few.
Ron provided the following chart to show the acquisition activities of five large cap tech companies, the most active of which has been SAP.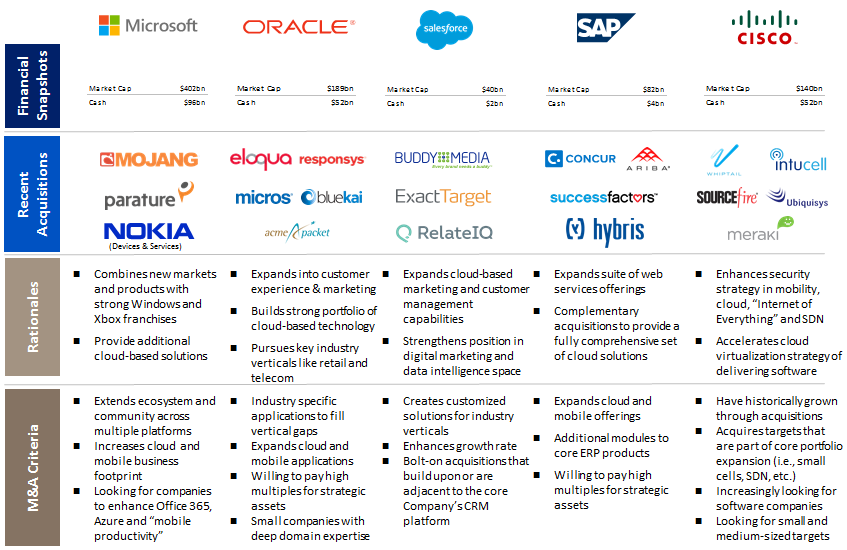 Key Value Drivers.
The IPO market experienced a resurgence in 2013. After a lull in the middle of the year, 2014 will have more IPOs than 2013. Ron discussed a few of the metrics that drive valuation, including revenue growth, gross margins, recurring revenues and profitability.
A key metric is revenue growth rate. There was a question of growth versus profitability. Which is more important: Growing fast with losses or growing slowly with profitability? We heard loud and clear that higher growth companies continue to receive richer exit multiples. When companies can't sustain high growth rates they need to become more profitable.
The holy grail of high value exits comes from recurring revenue, high gross margins and consistent revenue growth above 30-35%.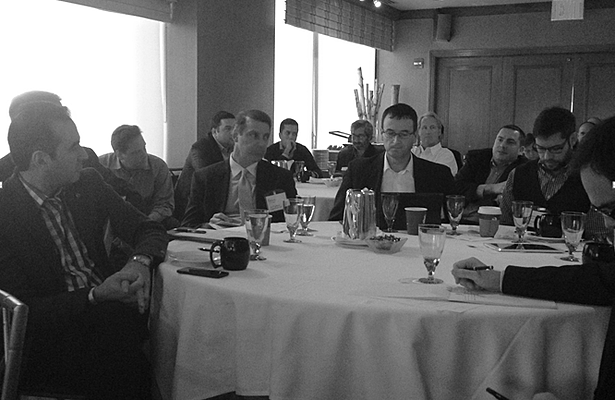 Know What You're Worth.

Companies are waiting longer than ever to go public. The average revenue at the time of the IPO is 100M with market caps post IPO at a minimum of $300M. 70-80% of tech exits are between $10 and $100M The cost of being public as well as the availability of late stage financing were some of the reasons for this delay.

If you want to impress a buyer, Ron suggested that you know these pieces five pieces of information:

1. Your market size. Be able to defend your current and future market. (Read our recent article on TAM and download our TAM modeling template)
2. Your target operating model. Perhaps not what it is today but what you are aiming for and how you will get there.
3. When you expect to take your last round of funding.
4. How you complement large cap tech buyers
5. Comparable public companies and M&A transactions


The best deals are the ones you're not expecting to get, so when you get that unexpected phone call, know your worth. A key driver of exit value is the ability to go public. When you achieve $15M in quarterly revenue, you can credibly turn down M&A offers by saying that you are considering a public offering. This is a great negotiating position!

All in all, 2014 was a good year for tech M&A and according to Ron, 2015 should be even stronger.

Ron's Advice going into 2015:
Proactively define your TAM; be able to defend it; track market share gains
Have an idea of target operating model (long-term margins and growth)
Recurring revenue is great; combining it with strong growth is the holy grail
Begin thinking about your exit early; if you find yourself competing with tech "gorillas", pivot
Know the market; keep tabs on trading multiples; understand what your business is worth (both today and in the future)
About Ron Eliasek:
Managing Director, Software & Enterprise Investment Banking, Bank of America/Merrill Lynch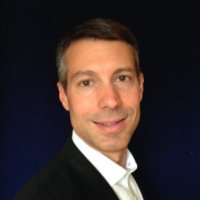 Mr. Ron Eliasek has been Co-Head of Software Investment Banking at Merrill Lynch & Co. since July 2012. Before Mr. Eliasek served as Co-head of U S Technology Group at RBC Capital Markets, with Wells Fargo Securities as Head of Software and Systems Investment Banking , and with Citi's Investment Bank. Mr.Eliasek has completed more than 60 M&A, public and private equity, and fixed income securities transactions in the technology sector, including M&A transactions with companies such as IBM, Oracle, Microsoft, EMC, HP, Dell, Cisco Systems, VMware, Red Hat, Citrix, SAP, and Autodesk.