We've talked a little about the Value Stick already on this blog as a framework companies can use to analyze their competitive strategy and positioning. While the theory behind it is intuitive, and seems simple in hindsight, actually applying it in the real world is where the art comes in.
Following the 2017 CEO Summit, I was interested to see how our CEO's had digested the concept and found ways to apply it to their own businesses. I spoke with Michael Murray, CEO of new Edison portfolio company ItemMaster, to see what had stuck in his brain and how he was finding ways to apply the concept in his business.

Edison: I thought the concepts captured by the value stick were fascinating. There is a big difference between the concepts of Price/Costs and WTP (willingness to pay) / WTS (willingness to sell) but that distinction is often lost in practice. What, if anything, resonated with you about this story?
MM: The first thing that stood out in the discussion was how frequently we use "easy" intuitive decision-making when presented with these questions. There are a wealth of these frameworks out there, and we (and I assume many other growth companies) are shorting ourselves by not stepping back to understand the tools that are out there to help us tackle these challenges.
For me, the takeaway I had from this was a structure to think about "growing the pie". While the concept is often discussed, there is little in the way of concrete structure or guidance on how to actually achieve it in a repeatable fashion. By analyzing your business through the lens of increasing your customers willingness to pay, or your suppliers willingness to sell to you, by increasing the value to them, we finally have a way to think about expanding the amount of surplus for everyone involved.
Edison: That's a fascinating concept, talk a little more about the value equation for your customers.
MM: There were two interesting tracks there. First was bundling. In the world of software and products with almost zero marginal cost, we're missing significant opportunities by not being more aggressive in putting together packages of products that make sense for our customers. The trick here is that customers often don't tell you what they want (or don't know), and the magic comes in by putting together existing building blocks in a novel way.
In our world, by layering in data like video, AR, and reviews on top of our traditional product data, we have a much more compelling solution for our customers. They are happy to pay more for that type of solution, but need to be educated on why it matters for their business and how much marginal value they can expect by building their own "Packaging 2.0".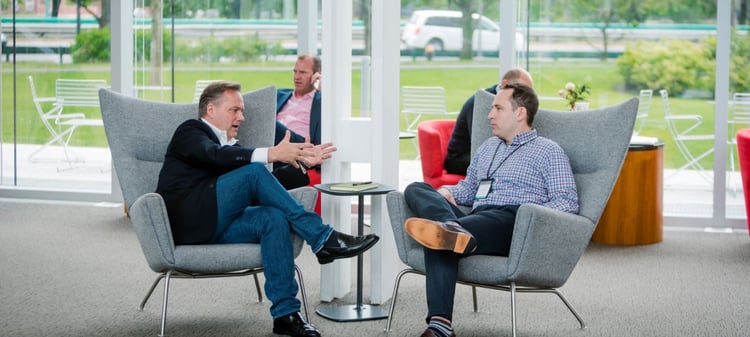 The second was about collaboration with partners and competitors. By working together, multiple parties in an ecosystem can drive substantially more value for customers than they could on their own. In our example, we work closely (and sometimes compete with) other data providers like Nielsen and IRI. We all have product content, but a great deal of it does not overlap, both in categories covered or data elements captured. Coming out of the HBS session, we've opened discussions with both about creating a collaboration agreement for structured product content that can serve all of our customers.
Back to the "grow the pie" concept, by working together ItemMaster can expand faster to new categories, Nielsen/IRI can go to market with stronger data products, and all of our customers will benefit from having a more complete set of product data to pull from. Of course we all think we can make a little more money at it too!
Edison: Ok, last question, we've focused quite a bit on the customer side of the equation so far. What about your suppliers and their willingness to sell?
MM: There are a couple of dimensions to that in our business, but one of the interesting ones is our relationship with retailers. In effect, retailers are a supplier for us, as they are one of the main avenues by which we ingest product data. We've been able to set up very favorable terms with our retailers by giving them tools and access to data that can help them run their business. We've become the "good guys" for them in that they now have insights and high quality product data that they've never had before, and they are more than happy to work with us and help us improve our content ingestion and distribution offerings for our brand customers.
By focusing on the value we can drive for retailers/suppliers early on in the life of our company, we've setup a strong foundation and unique position in the market that we think will put us in a much stronger competitive position down the road. With the consolidation happening in our industry, the importance of our solution is accelerating for both our customers (brands) and suppliers (retailers) and we're intensely focused on pushing out both ends of the value stick (WTP & WTS) to help them stay nimble and compete while navigating some of these tectonic shifts.