Last week, it was all about Healthcare IT in Philadelphia. PACT hosted their Digital Health Forum, the Philadelphia Health IT Circle hosted The Health System of the Future, and we had our 15th Annual Healthcare IT Roundtable. One thing's for sure: healthcare is rapidly changing, and everyone -- corporations, consumers, and tech innovators -- are trying to figure out what to do about it. The focus of our roundtable: How can we drive value in the changing healthcare landscape?
Put the Patient Consumer in the Center
Although the Affordable Care Act has formalized an exchange driven model, employers need to understand how to take advantage of the new infrastructure by moving employees onto the platform. We had the pleasure of hearing from Eric Steager, Director of Corporate Development at Independence Blue Cross, who is focused on addressing the question: How do we as a payer, change the way we work with consumers?
Eric said, "In 5-10 years, we will buy our health insurance like we buy our car insurance. Why are we innovating? We're the hub. We are the center for change and can help drive that change." The consumer's cost is the healthcare system's revenue and they need to create brand loyalty through a true consumer engagement model to maintain their relationship.
It's a great plan, but Eric pointed out one issue: consumers aren't necessarily ready to take control. At least not yet. Even though consumers need to be in the middle, many of them don't want to be in the middle not only because they're not ready to take control, but also because they are not yet held accountable. The nuance is collaboration and the facilitation of decision making.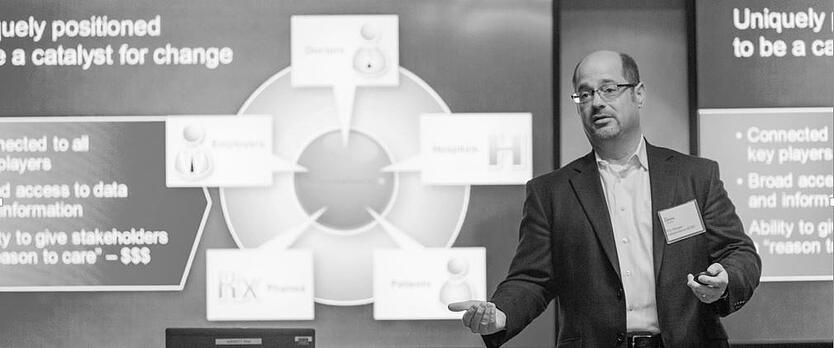 Change the Perception of Healthcare
The entire health system is only thought about when you're sick. The current system is based on a negative, reactive model rather than a positive, predictive model. We need to create proactive wellness centers, rather than relying on last resort, high-cost hospitals. Patients need to become true consumers, and businesses should address them as such.
There is also a need to transform the care delivery model. We should be focusing on migrating the epicenter of care from the hospital to the home. We are seeing bits and pieces of this in the M-Health movement where companies are bursting with innovation, but the industry needs to embrace innovation to change the delivery model itself. Currently, hospitals are under pressure to increase efficiency and reduce costs as they operate on paper thin margins; often, they do this by moving treatment to lower cost facilities, but as Meaningful Use has shown, these attempts to reduce costs are backfiring, and instead create higher costs for the whole system.
Changing the perception and transforming the care delivery model are where the innovative healthcare technologies are pushing the industry to new fronts. By leveraging data and analytics, the behemoth healthcare industry will begin to accept changes. Which brings us into the next point: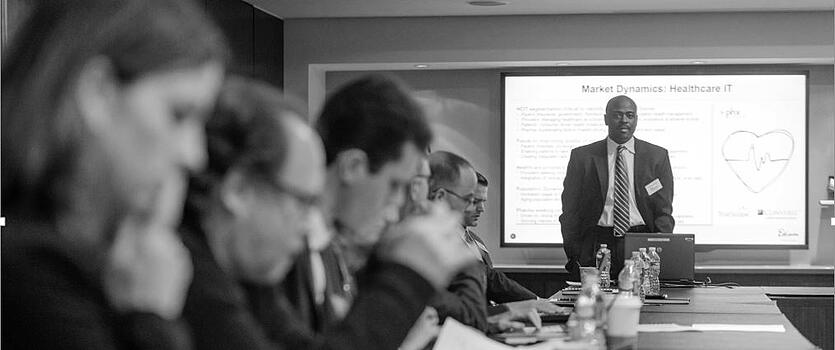 Make The Data Useful
Use it to identify who is going to get 'sick' (trend), and try to make an intervention (analytics). The internet of things has given the healthcare industry tons of data points such as contact lenses that monitor blood pressure. The important part is to make the data useful.
We heard from Max Kahn, Managing Director at Merck Innovations, who focuses on investing in early stage innovative healthcare technologies that create integrated solutions. He noted, "The government has started forcing providers to collect data, analyze it and use it so that information can be sharable." And, because of this, the market is drastically different than it was five years ago…this market literally didn't exist five years ago. With everyone having a smart phone and utilizing interconnected devices, data has never been more abundant.
We also discussed big data and analytics with Andy Colbert, Managing Director at Ziegler, who made it clear that big data is the currency of healthcare's future. Investments continue to occur in the space as Healthcare IT attracted $6.5 Billion in funding in 2014. The number one key driver for investments was in Big Data and Analytics; followed by population health and care navigation. Andy also honed in on the following considerations:
Do you own your data?
Can you analyze it?
Can you benchmark it?
It's obvious the M&A market is frothy, but seller beware. While deals are getting done at high valuations, there are a significant portion of deals that fail to close for the same reason.
Healthcare IT is an exciting innovation sector. The winners will be those companies that can truly deliver value while bringing the industry into the modern age. Consumer centricity, data and analytics were top of mind at our recent roundtable event, and continue to be top of mind for Edison. Is your healthcare tech company innovating in these areas? I would love to hear from you - jhill@edisonpartners.com.