IN THE SPOTLIGHT:

Eran Gilad, Tracx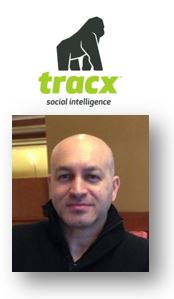 We were thrilled to announce the addition of Tracx to our Interactive Marketing portfolio last month, marking its 22nd investment. NYC-based Tracx is the next-generation unified social enterprise platform provider uniquely addressing the complexities of the modern social enterprise.
Today, we welcome Tracx CEO, Eran Gilad, to the CEO Spotlight to get his perspective on what's going on in the social space, what keeps him up at night, and what's next for Tracx.
Ryan: How did you end up leading Tracx and what is the biggest thing that has shaped your success?
Eran: I first met the Tracx team when a friend asked me to help validate the original business plan. I ended up joining as a board member, and then was asked to transition to the CEO. The social market was at a tipping point whereby enterprise scale architectures and real time insights were crucial to support big audiences populating outside companies firewalls. I decided to join when I witnessed the founding team in action. This team still amazes me and are considered to be the key to our success.
Ryan: Building the right team is crucial. What are some interesting insights on the key members of your team and the expertise they bring to the company?
Eran: We were fortunate enough to have an awesome team; multicultural, diverse, fun and ambitious. Each one brings such great experiences and skillsets that every brainstorm is a remarkable session. We have people from some of the most well-established and successful enterprise technology firms in the world, and others from boutique agencies and start-ups. The key members of our team share certain traits in common: smart, humble, hungry, and the desire to be #1 in the market.
Ryan: Tell us a little bit about your background, or roots.
Eran: My career is rooted in the enterprise market. I started as an engineer spearheading software development and implementation teams in enterprises, and then, as a management consultant helping European firms go global. After 8 years as VP, Business Development at Comverse, a large telecom vendor, I decided to tap into the Israeli start-up nation scene where you can freely make no money and still be considered a local hero. Go figure.
Ryan: I heard you've spent time in the IDF and have lived in Sweden - how were you able to balance cultures and distinct office personalities thousands of miles away as you were building the business?
Eran: I think that between spending five years in the military and working in the Nordics, you learn to build communications skills for the greater benefit of the role you assume. The communication and the brief needs to be short and concise at IDF, perhaps too short for the business world. The form of communications can also be a barrier. So when I have something to say, I try to pick up the phone and call someone. We've become so reliant on email, text, and other forms of digital communication. But they only serve to re-enforce the long-challenges of long-distance working relationships. It's amazing how much better you work with people, and how much better you know them, when you feel comfortable giving them a call.
Ryan: What do you think is the most exciting thing happening in digital media and enterprise software space today, from your perspective?
Eran: Everything we thought about audiences and the consumer journey is changing as the social economy shapes the way we consume content, products and services. We, at Tracx, feel that we are taking part of a great change in the way brands connect with consumers and are proud to be working with leading brands in facilitating this change.
Ryan: How would you describe your current product portfolio and your market opportunity?
Tracx, as a social enterprise technology, provides companies with global scale, secured big data architecture, advanced intelligence, and management tools to connect with customers across social media venues. Our positioning in the market is a unified one-stop shop for organizations to manage every data and insight across the organization. We want to be the system of record to any unstructured data within the organization. We build and partner, innovate and cooperate, to bring the best of breed to our clients.
Ryan: What is the next great milestone for Tracx?
Eran: Soon, we will be releasing the most intuitive and comprehensive smarter social engagement module where we combine our leadership in social intelligence with customer engagement workflows. We've worked with dozens of our partners and customers to come up with a brand new UX, and we are really excited about bringing it to the market this year!
Ryan: Now for the tough questions. What has been the most difficult decision you've made in the last two years and how did you come to that decision?
Eran: Like any fast growing start-up, we take quick decisions and make long-term adjustments on a daily basis. With rapidly shifting market conditions and a vision to implement a truly end-to-end enterprise solution, our game-plan often requires a lot of patience and pause in making some of these critical decisions. In many cases, I find that holding is the most difficult thing to do, but we always look to gain as much data and insight as possible before pulling the trigger.
Ryan: What keeps you up at night?
Eran: Tracx. We operate in a very dynamic environment. Everything our clients do today might radically change in a few months from now. Identifying the market and anticipating changes in time while being lean always keeps me thinking at night.
Ryan: Tell us a little known fact about yourself. (any hobby, personal accomplishment etc…)
Eran: When Im not at Tracx I love spending time with my wife and two kids. I'll stop here because everything else would be part of a wish list. As Im looking at colleagues, we all tend to agree that once one joins a start-up, the biggest hobby becomes work. But that's ok because we love what we do. At the same time, colleagues joining me in meetings outside the office always laugh and advise to take an extra ten minutes (and an umbrella) since they know I love stopping and taking photos, even on rainy days. NYC is such a great place to document life in motion.
Ryan: What's the book you think every executive should read?
Eran: There are a lot of great executive books. I would actually recommend Herman Hesse's Siddhartha. At the time written, it was definitely not meant to be a business book, but its all about seeking, determination, and self development – key for any successful entrepreneur. It has shaped my adult life and career path.
Ryan: If you could choose one superhero power, what would it be and why?
I would vote for the ability to cancel the super powers of others. I like to level the playing fields, and super powers have always made me uncomfortable.
Ryan: Good answer. Last question: What are your thoughts on mentorship? Who is/has been your biggest mentor?
Eran: I was lucky enough to have great mentors both at a young age and in the business world. Bill Nye once said that "Everyone you will ever meet knows something you dont." I think that its a healthy way to learn and share knowledge.
The biggest tip for any entrepreneur looking to raise capital came from Jeff Bussgang - He said to never wait for a round to start. Constantly be building a network that will be easy to tap into once the round starts. Most of the interest in our series C came from VCs that already knew us. We selected Edison as a springboard for our next growth momentum for many reasons – and the fact that we had an established relationship helped us jump into the process and execute quickly and with great trust.